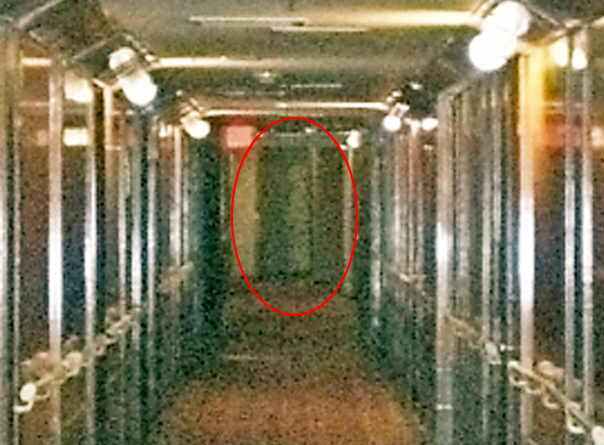 Article Source: The Sun
Photo Copyright: 2012 News Group Newspapers Ltd and/or its licensors.
A MYSTERIOUS woman floats at the end of a corridor - in a photo said to depict the ghostly inhabitant of a famous cruise ship.
Spook hunter Valentina Lomborg is convinced her snapshot features the Lady in White, who has 'haunted' the Queen Mary for more than half a century.
The ship was once a luxury liner, ferrying the rich and famous between London, Southampton and New York.
Retired in 1967 it's now a hotel, moored in Long Beach, Californa.
As well as a regular influx of paying guests, the hotel is rumoured to be home to a string of phantoms - including a Lady in White, who can sometimes be seen dancing in what was once the first class lounge.
Dane Valentina, a former model, checked into the floating hotel to search for the ship's spooky squatters - and she was stunned by what she discovered.
While onboard, the glamorous ghost hunter felt compelled to start taking photographs. When she later studied the snaps, she spotted the ghostly figure standing in a doorway.
Valentina said: "She wasn't visible to the naked eye. It was only when I got home and looked at the photos I picked it up.
"It could only be the Lady in White. She is often seen by workers, but as far as I'm aware nobody has captured her on camera in this kind of detail."
The Queen Mary's other ghostly inhabitants are said to include an 18-year-old engineer who was killed during a fire drill, a young girl who drowned in a swimming pool and a young woman who was murdered in a changing room.