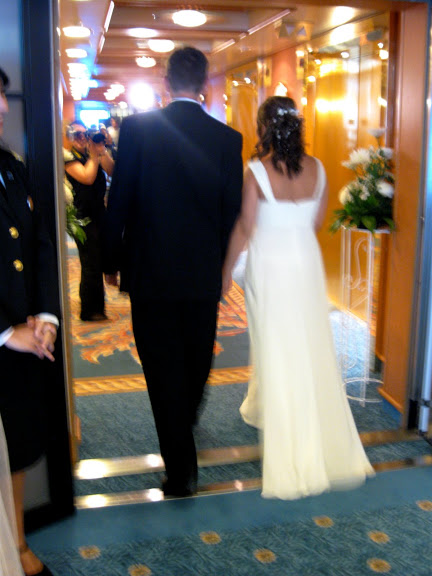 [Thinking about getting married on a cruise ship? Here's a rundown of the cruise lines and what they offer in the way of cruise ship nuptials.]
Couples looking to tie the knot will find cruise line wedding packages provide everything from the bridal bouquet to the champagne toast. Advance planning is required, and you should keep in mind that wedding package pricing doesn't include license/registration fees or cruise fares. But your cruise honeymoon is part of the deal — having your family and friends come along, optional.
Check out these lines for a romantic cruise wedding:
Carnival: Carnival does more than 2,600 weddings each year, with ceremonies held shipboard (including those held in the onboard wedding chapels on some ships) on embarkation day. The cruise line recently revamped and upgraded its options to include more beachside wedding venues in the Caribbean and more choices of wedding cakes.
Princess Cruises: The "Love Boat" line has been doing weddings at sea since 1998, and was the first cruise line with romantic shipboard wedding chapels. "Tie the Knot" ceremonies at sea are officiated by the ship captain. Friends who can't attend can watch online via Princess's webcam. Shore-side wedding options are also available.
Cunard: Cunard's wedding program includes at-sea ceremonies on the Queen Mary 2 in the middle of the Atlantic. Choose from ceremony venues including the lovely Winter Garden solarium. Packages include champagne breakfast in bed for the happy couple.
Celebrity: Captains can perform wedding ceremonies on all the Celebrity ships, with the exception of the Celebrity Xpedition The best onboard option might be vows exchanged under a special wedding canopy on deck. Creative shore-side options include a cliff-top wedding in Greece. Special perk: Rose petals strewn on your bed at turn down.
Holland America Line: Say "I do" at the lovely chapel on HAL's private Bahamas island, Half Moon Cay. Or go for adventure in Alaska — where HAL has a wedding package that involves taking a helicopter with an officiant to the top of a glacier. Many of the ships have wedding chapels for onboard, portside ceremonies in the Caribbean, U.S. or Canada.
Royal Caribbean: Royal Caribbean only recently began offering weddings at sea, officiated by the ship's captain and including special nautical vows. You can also publically declare your love on shore during cruises to places as diverse as Alaska, Hawaii and Greece, and at the cruise line's private beach locations.
Crystal: The luxury line recently updated its wedding options, working with event company Imagine VIP. Customized options ashore include an elegant ceremony in the hills of Tuscany. For shipboard weddings in port, the line provides such niceties as an 18-rose bouquet with hand-tied Swarovski crystal wrap for the bride.
Norwegian: Norwegian's recently updated weddings program has three plans including symbolic weddings at sea performed by the captain and legal weddings held shipboard at Norwegian's embarkation ports (including Miami on the new Norwegian Getaway) and at destinations in the Caribbean, Mexico, Bermuda, Canada and Europe.
Disney: Do a fairy tale wedding Disney style, shipboard on a cruise from Florida, or at Disney's beautiful private island, Castaway Cay, in the Bahamas. At embarkation day weddings you can have the captain or other officer presiding.
Windstar Cruises: Get married under the billowing sails of a Windstar sailing ship during a dockside ceremony — as you cruise the Mediterranean or the hidden harbors of the Caribbean. The cruise line works with tour operators to coordinate the romantic experience.
For help planning your romantic cruise wedding, contact a travel agent specialist.
By Fran Golden (USA Today, "Say 'I Do' to These Cruise Ship Weddings")
Re-posted on CruiseCrazies.com - Cruise News, Articles, Forums, Packing List, Ship Tracker, and more.
Please visit CruiseCrazies.com for more cruise news & articles.
Featured photo credit: J. Neves