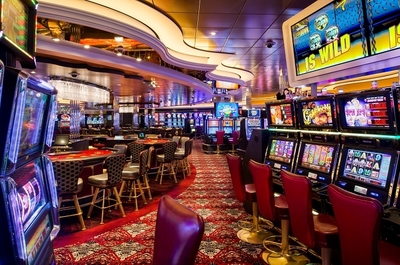 If your friends told you that they are considering their next vacation, and you didn't immediately suggest they go on a cruise, then, shame on you. You could have spiced up the pitch by telling them that they would be on a floating city that offers maximum value for any budget and an opportunity to visit multiple destinations on one trip.
When you're on a ship you don't have to worry about train schedules or your luggage. You wake up at a different spot every day, and all your stuff is with you. The ships come in all shapes and sizes, they are family-friendly, have gyms, fine dining, and top-of-the-line entertainment. The last one includes highly-equipped casinos.
If gambling is your thing, then, cruise ships are too. On them, you can enjoy one of your favorite pastimes, and then peer off into a vast body of water to where blue meets blue, as the ocean and sky merge on the horizon.
Online Casinos
That's right. A casino on your phone. If your ship doesn't have one, don't fret, because you do. Just reach into your pocket, access the Wi-Fi, and boom – gamble as much as your heart desires. There are many platforms to choose from, novibet.co.uk is one of the best ones.
The great thing about online casinos is that all the games are available right now and that you can play them from anywhere. If advance slots aren't your thing, maybe a live dealer is what you're after? You can play roulette, variations of poker, blackjack, everything you can think of. It's fast, easy, and you can win massive jackpots.
Allure of the Seas
It's no secret that the Royal Caribbean liners have some of the best casinos in the industry, and this Oasis-class ship is their king. It's the most-awarded ship in the world and it's a mini-Vegas casino on the water.
It's home to more than 500 slots and 27 tables where you can play poker, baccarat, and blackjack. It has a smoking and non-smoking section and works only from the hours of 10 am to 2 am.
Freedom of the Seas
When Freedom was first launched in 2006, it was the biggest cruise ship in the world, measuring almost 155,000 tons. Today, its class is only the third-largest in the Royal Caribbean fleet. Though, it's still an impressive ship, one that was remodeled in 2015 and can carry 4,500 passengers.
It also has one of the best casinos – Casino Royale, which features 308 slot machines and 19 live tables. Players can play for cash or use their Sea-Pass cards
Queen Mary 2      
The cruise industry may have hit a rough patch, and it might take some time to restore customer confidence, but if you're from the UK, one of the first companies that you should try when you're ready is Cunard Cruises, and their flagship – The Queen Mary 2.
The Empire Casino onboard this vessel has 12 table games on offer, including blackjack and roulette, and 75 slot machines can be found on its floor.