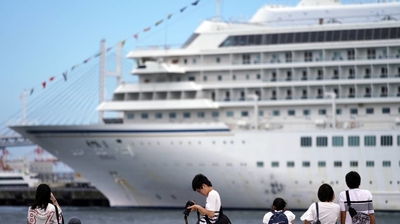 A Portland, Maine, man has proposed buying a used cruise ship and turning it into a giant offshore homeless shelter.
"It's a creative idea," said Ken Capron, founder of the nonprofit Memory Works and the proposal's promoter, NECN reports. "This is a solution to so many problems."
Capron said it would be possible to purchase a used cruise ship with enough space for 800 passengers and 300 crewmembers for between $5 million and $100 million, the Press Herald reports. He's hosting a meeting on Tuesday at Portland's city hall to get feedback on the proposal before applying for a grant this month from the Robert Wood Johnson Foundation to study the feasibility of the project, according to the newspaper.
Capron said a letter of intent he sent the foundation about his proposal got a "positive reaction," the Press Herald reports.  Last year, homelessness in the U.S. increased for the first time in seven years — and on a given night, more than half a million Americans experienced homelessness, according to the U.S. Department of Housing and Urban Development.  Buying a ship may seem like a novel way to solve cities' homelessness problems, but similar plans have been proposed several times before, from Seattle to San Francisco.
Art Agnos, a former mayor of San Francisco, penned an op-ped in the San Francisco Chronicle in 2016 proposing the city tackle its homelessness problem by transforming an aircraft carrier into a space for the homeless.  Agnos suggested using the USS Peleliu, "a small aircraft carrier complete with sleeping quarters, kitchens, medical clinics, offices and recreation facilities, carried 2,200 Marines, 2,500 sailors and 262 officers."
"If docked at the Port of San Francisco, the Peleliu, mothballed at Pearl Harbor, or a ship like it with similar facilities, could temporarily house most, if not all, of San Francisco's homeless living in tents on the streets while permanent housing is built," Agnos wrote.
A cruise ship has been turned into temporary, stationary housing in San Francisco before, though admittedly for a scenario more in line with the ship's intended use: During Salesforce's yearly Dreamforce convention, organizers dealt with a lack of hotel rooms by turning a luxury cruiseliner into a temporary hotel called the "Dreamboat," CBS reported.
"As soon as they announced they were going to do it I immediately wanted to stay on the ship," said Martin Zsembik of Long Beach, one of 1,100 who stayed on the ship, CBS reports. "New experience. First time."
Some neighbors were less excited.
Jon Golinger of the Telegraph Hill Dwellers Association said it amounted to "turning the cruise terminal into a private exclusive club that no one can get into unless you belong to it," CBS reports.  Capron said doing a feasibility study for his Portland proposal would also help other cities considering cruise ships as a way to house homeless people, Maine Public Radio reports. Capron added that the housing could benefit immigrants, single parents and others in need of more-affordable options.
"Portland just happens to be really the best laboratory I can imagine because we have all the pieces to do the study," Capron said, according to the radio station.  Portland's mayor said he's withholding judgment on the proposal.
"I have no idea if it's the craziest idea I've ever heard or the most brilliant idea I've ever heard," said Mayor Ethan Strimling, according to NECN.
By Jared Gilmour, Miami Herald
Re-posted on CruiseCrazies.com - Cruise News, Articles, Forums, Packing List, Ship Tracker, and more
For more cruise news and articles go to https://www.cruisecrazies.com