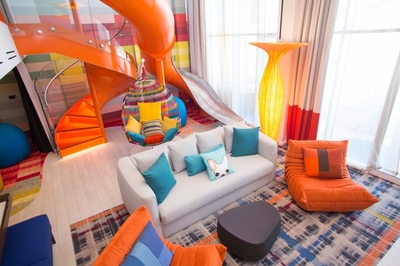 Royal Caribbean International's Oasis of the Seas inspired awe — and many headlines — when it launched in 2009 as the world's largest cruise ship with 2,742 staterooms, nearly two dozen restaurants, seven neighborhoods, and a Central Park.
More than eight years later, Royal Caribbean is still launching Oasis-class ships, and still commanding headlines for the latest "world's largest cruise ship." That would be Symphony of the Seas, the fourth and slightly larger version of Oasis, which started sailing earlier this year.
"The public reaction to Symphony of the Seas was surprising, even to us," Royal Caribbean Cruises CEO Richard Fain said during an earnings call last month. "Even though she's the fourth in the amazing Oasis class series of ships, she has so many new amenities and attractions that our guests and the media were simply blown away. Rarely has a sister ship received such press and rarely has it been so deserving of it."
In the cruise world, the brightest lights shine on the groundbreakers, the first of a new prototype of ship that introduces new concepts, layouts, approaches, and technology. But as operators seek to maximize their investment and build multiple vessels in a class, the pressure is on to make each new ship more special — and profitable. That's especially true for mass-market lines that cater to first-timers, younger travelers, and families.
"It's very important that we continue to innovate and stay relevant," said Andy Stuart, president and CEO of Norwegian Cruise Line. "We're being pushed by competitors at sea and we're being pushed by competitors on land."
For consumers, that competition results in plenty of options.
"People want new," said travel agent Ralph Santisteban, owner of Dream Vacations, a Cruise One franchise. "They want to go on the new ship. And they want to experience the two or three different venues that the ship has that the last one didn't."
NEW SHIPS AS DEMAND DRIVERS

That's how Norwegian Bliss, the just-introduced ship from Norwegian Cruise Line, ended up with a new barbecue restaurant, a longer and wider race track than the previous ship had, and the biggest Haven — a high-end, top-priced enclave — on any ship in the fleet so far.
Bliss is the third of four in its class, called Breakaway Plus. Its most recent predecessor, Norwegian Joy, is sailing in China.
"New ships are such an engine to drive demand for the brand that it really is important, as we bring every new ship out, that we generate excitement, we drive interest, and really get a lot of eyeballs to the brand," Stuart said. "Every time, you have to really drive disproportionate interest."
He added: "We work really, really hard each time we launch a new ship to find a way to meaningfully change the experience."
Norwegian Cruise Line expanded the race track on its newest ship, Norwegian Bliss. Norwegian Cruise Line
Colleen McDaniel, senior executive editor, said even lines that have quick delivery schedules run the risk that their product will become outdated.
"Say you've announced that you're going to do a four-ship class and you have a very accelerated schedule," she said. "There's still so much that can change in four years when it comes to technology and consumer demand, so you have to be flexible enough to add that to your new ships."
For Symphony of the Seas, Royal Caribbean went back to past guests who had sailed on the previous ship, Harmony of the Seas, and asked what else they would like to see. A sports bar and arcade and seafood restaurant emerged from the answers.
And then there were some other ideas, which led to the Ultimate Family Suite, a two-story room with a slide, air hockey, table tennis, and climbing apparatus that, according to reports, commanded $85,000 for Christmas week.
"The Ultimate Family Suite came because we were talking about how we could add a feature that really clearly communicated our sweet spots, in terms of summer vacations, how we think about families," said Royal Caribbean International President and CEO Michael Bayley.
Bayley said the company has always made changes to ships within a class, but that mostly happened to tweak areas that didn't work like the width of a corridor, shape of an entrance, or style of a lounge. These days, the changes are much more intentional.
"We've kind of accelerated the changing out and adding of fun features or new restaurant concepts," he said. In part, that's simply because the company can.
"We have a higher degree of competency, capability, and resources," he said. "We want to stimulate as much interest as we can and one of the ways of doing that is creating buzz or being able to tell a story that's exciting and new."
Even as they make tweaks for new ships, cruise lines go back and change older ones with the features that have proven popular. Royal Caribbean has a $900 million renovation program going on now that will upgrade 10 ships, including the first two in the Oasis class.
"Is it easier to sell and market a new product when you're evolving that product? Yes," Bayley said. "If you don't do it, your customer is going to be disappointed. They expect you to be innovating and evolving."
EVOLUTION WITH A MISSION

When Carnival Cruise Line builds new ships, executives add features with older vessels in mind.
For its newest ship, Carnival Horizon, there are some changes from the first in the class, Carnival Vista. The water park has become part of the line's Dr. Seuss children's programming. There's a teppanyaki restaurant, a first for the line. The piano bar has been relocated so it's next to the steakhouse. A barbecue restaurant has been mixed with an onboard brewery for a smokehouse-brewhouse mashup. And the onboard retail offerings have been changed up.
Terry Thornton, the line's senior vice president of port operations, guest care, and Carnival International, called the changes "evolutionary," and said the next ship in the class will have its own new offerings.
"What we are focusing on right now is to give these new features a try," he said. "We're pretty confident they'll work. As they do, we'll get them integrated into the existing fleet as best we can."
Kids play in the water park on Carnival Horizon. The line added a Dr. Seuss theme to the activities on the ship. Andy Newman/Carnival Cruise Line
Carnival rolled out a fleetwide refresh in 2011, adding Guy Fieri burger restaurants, live-action Hasbro games, George Lopez comedy clubs and several new bars. Its name was Fun Ship 2.0, referring to the line's reputation as the "fun ship" brand.
"It's more like 3.7 now," said Thornton.
McDaniel was recently on the new Carnival Horizon, and expected the experience to be pretty much the same as the previous ship. While it was similar, she called the changes "really smart."
"These little differences made it feel different and special," she said.
McDaniel said many of the Cruise Critic community members are devoted to a specific class. But even ardent fans want to be wowed.
"No one wants to sail the same ship over and over again," she said.
And for all the tweaks being made to generate excitement for sister ships, Santisteban of Dream Vacations said he's seeing the most enthusiasm for ships that are entirely new. Those include MSC Seaside, a first-of-its-class ship that launched last year, and Celebrity Edge, which comes out near the end of the year. Royal Caribbean, Norwegian, and Carnival are all working on new classes of ships, but those are still between two and four years away.
"It's a brand new class of innovative design and when you bring out something that's totally new, it's a game changer," he said. "These cruise lines, they can't bring out a game changer every year because they bring out a new class and now they've got to get all the bang for their buck out of the new class. Designing these ships is not cheap."
By Hannah Sampson, Skift
Re-posted on CruiseCrazies.com - Cruise News, Articles, Forums, Packing List, Ship Tracker, and more
For more cruise news and articles go to https://www.cruisecrazies.com
Edited by Jason