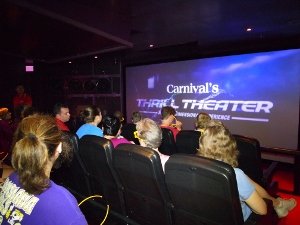 These days, video gamers don't ever want to unplug – even on vacation at sea. The generations of gamers who have grown up playing games, as well as the newer generation of always-connected kids, are influencing the cruise line industry. Carnival Cruise Lines recently launched the Breeze, the last of its massive Dream-class ships.
"My focus is on the integration of technology into the cruise experience, including how we allow guests to use the technology that they bring on board to enhance their experience," said Eric Merz, director of guest technology at Carnival Cruise Lines.
The former Walt Disney Imagineer has watched as more guests board with smartphones, tablets and portable gaming devices and want to stay connected while they're away from home. With most 7-day or longer cruises having at least two days at sea, there's plenty of time on vacation to connect online. Carnival offers a flat rate now for Wi-Fi on the entire cruise, which is something guests used to have to purchase by the hour. (Internet is much slower via satellite at sea than what you're used to on land.)
Carnival has transitioned much of what used to be paper-only communication over to the Net. As part of its FunHub service, guests can connect for free online to see daily events across the ship, check out dinner menus and review their folios on their TV or laptops or via tablets and smartphones via a free downloadable app.
"I want to get to a place where we can bring in software developers and partners to enhance the on-board entertainment experience," said Merz. "The challenge is to make sure that everyone – since more people are bringing smartphones and tablets on board – can enjoy Wi-Fi and these new offerings. We're taking an aggressive look at how we can improve things in this area."
Merz said that as the ships get larger and larger, Wi-Fi will play an important role in allowing guests to stay in touch via text or calls while on board. They'll also be able to book shore excursions as part of the new interactivity.
One way gamers can stay active aboard select ships is the EA Sports Bar. Currently available on the Conquest, Glory and Liberty, these bars feature multiple Xbox 360 kiosks for gaming on all of the EA Sports games like Madden NFL 13, Tiger Woods PGA Tour 13, FIFA Soccer 13, NHL 13 and NCAA Football 13. Players can also play games on the video wall, which is comprised of 16 46-inch HD TVs that wrap around the wall behind the bar. The new Sunshine will include an EA Sports Bar when it launches in April 2013. Additional ships will also feature this alternative to the traditional sports bar, which was part of the smoky casino area of other ships. Even if you don't want to play video games, this is a great sports bar that offers a quiet, smoke-free reprieve from the cacophony of the casino.
While the new Breeze doesn't include an EA Sports Bar (it's design was already locked in before the deal with Electronic Arts was signed), it does offer one of the largest arcades I've ever experienced at sea. The Warehouse Arcade, which does a nice job of keeping a warehouse theme throughout the long room on Deck 4, connects to the Club C and Club 02 teen clubs. The arcade is stocked with multiplayer sit-down driving games and stand-up light gun games, as well as Sonic air hockey tables, as well as traditional boardwalk games like skee ball. Rather than using quarters, the arcade runs on room keys. And at $1.10 per play for some of the games, I recommend parents keep an eye on their kids' playing habits in this area (you can limit the amount that can be purchased with the card). Kids are all but guaranteed to be able to game in any of the Carnival Kids Club or teen hangouts, where PlayStation 3s and Wiis are set up with huge libraries of free games to play with.
One cool piece of technology that the Breeze does boast exclusively is the Thrill Theater. This 4D experience was designed for sea for the first time. On the Breeze, there's a 24-person theater that includes 3D visuals, moving seats, water effects, fog and bubbles, and other sensory effects like air on the floor (to replicate scurrying animals) and in-chair seat pokes (to surprise riders at appointed times). Anyone that's been to the Nickelodeon Suites Resort hotel in Orlando can experience a full-sized theater featuring many of the same short 4D film rides from SimEx-iWerx.
"Our theater is as big as we could put on our ship," said Merz. "The reason we went with SimEx-iWerx is because they have a relationship with the major Hollywood studios and they help edit their major releases into 15 minute experiences. Any longer than that and it gets tiring with the seat moving around and all those effects coming at you. Studios provide edited versions of the film with main story elements and a focus on the most fun action-packed sequences."
Movies playing on the Breeze included a seasonal offering of The Polar Express and family shorts like Happy Feet, Ice Age: Dawn of the Dinosaurs and SpongeBob SquarePants: The Great Jelly Rescue. There are also shorts like Bamboo Express featured before some of the movies, which run two to three minutes in length. A collection of these shorts is offered as Just the Rides, which includes a roller coaster, log ride and skiing ride experience that take full advantage of the moving seats and other effects.
"The anticipation is that guests really like the Thrill Ride," said Merz. "We struggled with how to price it and to make it a value to our guests. We worked with the Nickelodeon Hotel in Orlando to come up with the unlimited use ticket because our experience is similar to resort people who are on their property for a number of days at a time. Kids want to try it over and over again, so we provided a mechanism to do it affordably. It's $7.95 for a single viewing and $14.95 for unlimited viewing of the five features."
Moving forward, Merz said that he'd like to explore more seasonal offerings like horror movies for Halloween, given the success of the Christmas movie The Polar Express. The most popular 4D film before the holidays was Planet Earth: Shallow Seas, which shows that an older audience also likes this technology. Carnival can choose from a growing number of 4D films, including Journey 2: The Mysterious Island and Ice Age: A Mammoth Christmas.
Carnival is already designing its next class of ship for 2014 and beyond. Merz said that he hasn't gotten his chance to go to bat for new technology on board yet, but he'd like to expand the Thrill Theater experience on the new ship.
"I'd expect to do something at least the size of what we have now on the Breeze," said Merz. "We're looking at introducing some really new elements to the new ship."
And gaming is likely to take a bigger role with these floating resorts moving forward.
By John Gaudiosi, Forbes