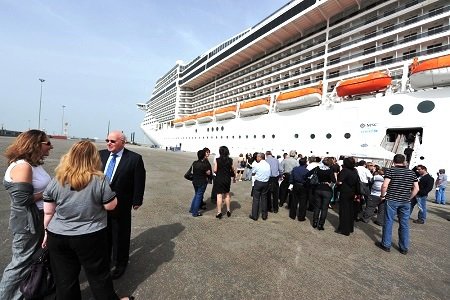 Are you drowning in debt and ready to consider a pretty drastic alternative to get rid of it? If you're ready to leave your regular nine-to-five life behind, let your lease expire and go on an adventure, cruise ships could be the place for you.
Pros of Ship Life
The number one reason to join a cruise line is to save money. Your housing is covered the entire time you're at sea. You will also be fed in the crew mess. Some lines allow certain positions to mingle with the guests and eat in their areas. This allows you to put nearly everything you make into paying off any existing debts and saving up a nest egg.
You get to travel the world for free. Cruise ships go nearly anywhere there's water – from transatlantic crossings to tiny river cruises. It's not uncommon on many lines for crew members to be allowed to escort tours for free.
Another perk is the crew bar. Whereas the rest of the ship often marks up drinks and food at a steep price to passengers, in the bowels of the ship where the crew bar resides, refreshments are served nearly at cost. That helps you save money while you unwind, too.
Another benefit is that you get to work with people from all walks of life, from recent college grads getting a taste of the world to cruise ship lifers from third-world countries. You'll have the chance to broaden yourself and your own life through your new friends.
Cons of Ship Life
The biggest con of working for a cruise line is your schedule. The majority of positions work four to six months on and two months off. It's not unusual to find that during your four to six months on, you do not have a single day off.
Another downside is that the hours can be very long. Cruise lines are required to adhere to laws set forth by the International Maritime Organization, but even then it is not unusual to work multiple (perfectly legal) 12 hour days in a row.
To get a job on a cruise ship, you have to submit to a rather extensive physical, complete with blood work. Some companies will cover all or part of this expense, while others will expect you to foot the bill which can be upwards of $300. Cruise ships are also germ magnets and if you haven't heard of Norovirus before, you will, and you don't want to go out to sea without making sure you're up on all available vaccines.
You may also have to pay for any luggage fees to get your belongings to and from the ship. If you're applying with an extreme budget line, you may even have to pay your own way to and from the ship, so that's another startup cost to consider.
That being said, don't apply to one of those lines! Covering your transportation to and from the ship is pretty standard with most reputable cruise lines, so make sure you're heading out with the best.
Types of Jobs to Consider
There's a good chance that almost any job you do on land has a cruise ship counterpart. Are you a teacher? You could work as youth staff member in the summer on a ship.
Got waitressing or bartending experiences? Cruise lines have multiple restaurants and bars on every ship. Been an accountant for the last 10 years? Each ship has a purser and a crew purser who deal with all the funds onboard.
Experience with security? Every line has a fleet of security guards employed to keep the passengers and crew safe. Ships have a wide variety of other positions like information technology officers, medical personnel, musicians, housekeepers, cooks, art auctioneers, tour guides, front desk help and many more roles.
How to Find Them
Is your interest piqued? The best way to find a job with a cruise line is to apply directly through each different line's website. There are also companies that work as cruise line recruiters and can help you get a job on a ship through them. Here are a few of the larger ones include Viking Recruitment, Steiner, Proship Entertainment and Stiletto Entertainment. Working on a cruise ship could be just what you need to get your finances back on track.
By Mel Bondar, U.S. News & World Report
For more cruise news & articles go to http://www.cruisecrazies.com/index.html
Re-posted on CruiseCrazies.com - Cruise News, Articles, Forums, Packing List, Ship Tracker, and more