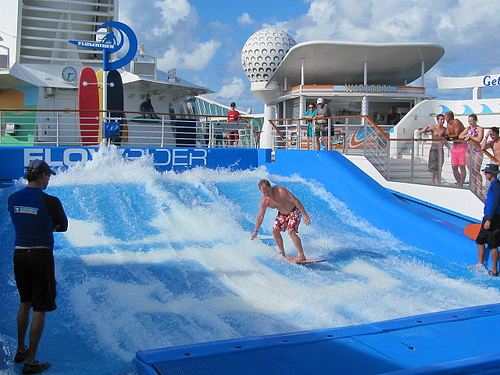 Cruise ships are self-contained towns unto themselves that just happen to float on the ocean, sea, or whatever body of water the captain chooses to traverse. They're big, full of entertainment options, and not a bad way to travel (and even live, as the case may be).
With that in mind, let us take a look at some intriguing things about cruise ships you might not have known beforehand.
The Biggest and Best
You knew, no doubt, that these babies were very large. Some of them are big enough to dwarf the Titanic, in fact, a historical, ill-fated vessel so large that its modern day meaning has become synonymous with colossal.
But did you know that the largest cruise ships in the world are 90 meters longer than the Titanic, measuring about the length of four football fields and reaching a full 16 stories high? The Allure of the Seas and Oasis of the Seas, the first and second largest cruise liners respectively, are both the property of Royal Caribbean International. These 6,000 passenger-bearing vessels unsurprisingly outweigh the Titanic by about four times as much mass. Finally, the Allure of the Seas has a total of 22 restaurants, virtually guaranteeing that you will not get tired of eating the same food.
Tons of Entertainment Options
There are tons of entertainment options onboard for the traveller of any taste. This includes:
· theatrical productions that Broadway would be envious of
· Olympic-sized swimming pools
· ice skating
· bars
· surfing
· table games
· casino games
It is nearly impossible for you to get bored while onboard. If you cannot find something that seems appealing to you, that is entirely on your shoulders, and not due to a lack of activities available to you.
One enduring games, both on the casino floor or on the cruise ship, is Bingo. One reason casino games have found life onboard is due to the number of retirees that are passengers on cruises who are looking for a fun social activity to meet others. If you are looking for a more solitary experience, there are some great reviews for online games like free no deposit bingo. With all these entertainment options, it is no wonder so many people choose to cruise. Which brings us to our next point…
Cruises as a Lifestyle Choice
This may sound crazy, but the cost of retirement nowadays in the Western world is prohibitively expensive, something to the tune of north of $100,000 for assisted care living. Taking into account rocketing health costs, the pittance they call a pension fund nowadays, and an overall low cash flow from what a newly retired person is accustomed to, choosing to live on a cruise liner is not as ridiculous as it might seem. Not only are there, as mentioned, tons and tons of entertainment options to keep you from being bored in old age, but retirees get to cross off destinations from their bucket list.
Cruise liners go everywhere from the Polynesian islands, to the Indian Ocean, to the Mediterranean and Dalmatian coasts, to the Caribbean Isles; one can literally travel the globe, something that may not have been possible raising a family while holding down a job. Health care is included in the cost as well, which is roughly the same as living in a retirement home.
Living and Dying at Sea
In the worst case scenarios, when health care just is not enough for someone facing critical health concerns, there are, believe it or not, morgues on board. In case you thought the above facts about retirees on board were dubious, here is a substantiating fact: the average age of a cruise ship passenger is middle-aged. In addition, the longer the voyage of the vessel, the older the guests tend to be, where anything lasting longer than a week will have a significant number of senior citizens.
Of course, any health complication is possible, and unfortunately, some people pass away. That is why there are morgues onboard with capacity for anywhere from one to three bodies. Ensuring that the bodies are sent back to the country of origin or point of embarkation, or taken off at the next port is an important decision for the family and the cruise line.