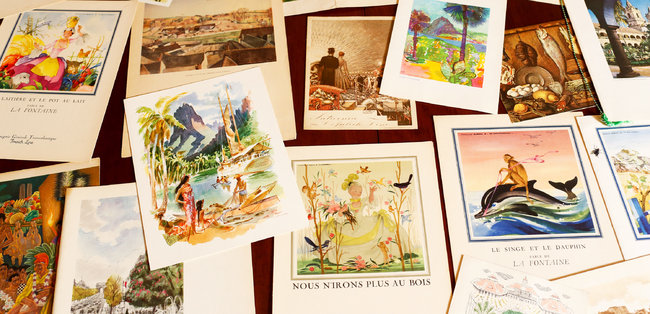 This is a story of love, the high seas and food. Our unlikely heroine is Norma Beazley, who is decidedly unromantic and unsentimental about most things but noticeably softens when she talks about her husband, our equally unlikely hero, Herbert.
"He would have been a real geek by today's standards, but he was the smartest man I've ever known," said Mrs. Beazley, 79, who with her husband's encouragement held management positions at Gulf Oil and Elf Aquitaine back when such jobs usually required a Y chromosome. Mr. Beazley, a lawyer, died in 2001, but his clothes still hang in the closet he shared with his wife.
Also undisturbed since his death are five lateral file cabinets crammed with thousands of vintage ocean-liner and cruise-ship menus he bought for her during their 30-year marriage. Dating to the late 1800s and documenting more than a century of shipboard haute cuisine, the menu collection is probably the largest (and perhaps the only one) of its kind in the world.
"I don't know of anyone else who collected the menus," said Richard Faber, a well-known dealer and appraiser of maritime memorabilia in New York who sold items to Mr. Beazley. "He had a good eye and spent a lot of money with me."
Mr. Beazley loved, in addition to his wife, all things nautical. If it was on a ship, he probably collected it: passenger lists, deck plans, advertising posters, ashtrays, linens, drinking glasses, plates, pennants, portholes: a trove of 19,000 pieces that Mrs. Beazley donated in 2011 to the Mariner's Museum in Newport News, Va.
The menus, which she kept, were his ploy to get her to share his passion.
"I love to cook and am sort of a foodie," Mrs. Beazley recalled, so Herbert thought it was a way to justify all the money he was spending on ship collectibles.
"He said, 'I bet you'd like the menus,' and I said, 'No, I wouldn't.' " But he gave them to her anyway and, she had to admit, "They were pretty neat."
Thumbing through them affords a fascinating tour of culinary history. Just about the only large passenger ship not represented in the collection is the Titanic. For obvious reasons, Titanic menus are hard to come by. One sold at auction last year for $102,508.
For first-class passengers during the grand era of ocean liners, from 1910 to 1960, the menu choices were staggering. On storied ships like the Normandie and the Mauretania, dinner might have had 12 courses, with 8 to 10 options for each course.
"I don't see how you could go from New York to Europe without gaining 20 pounds," Mrs. Beazley said, looking at a 1935 first-class dinner menu from the Normandie that offered three kinds of consommé, six types of ham and five choices of ice cream. "You could have everything you wanted and as much as you wanted."
Today's cruise ships offer a largess that may go even further, with 24-hour buffets. But before the jet age, when people used ships to get from Point A to Point B (the traversed route being the "line" in ocean liner) rather than just lazily cruising about, dining was a more genteel and orchestrated event, with assigned seating and waiters recruited from Europe's finest hotels.
The menu items were also more sophisticated: iced beluga caviar, clear green turtle soup, cauliflower mousseline and venison cutlets à la Nérac.
Besides the menus, Mr. Beazley tracked down the recipes for the dishes on them. He called cruise line chefs and historians, and went to the bowels of the Library of Congress to consult culinary magazines published for steamship stewards and chefs. An adventurous cook, Mrs. Beazley made many of the dishes, to the delight of her husband, an enthusiastic eater.
"You have to remember, meals were the highlight of the day out in the middle of the ocean," said Mrs. Beazley, who went on 15 cruises with Mr. Beazley, most notably on the Queen Elizabeth 2 and the ill-fated Achille Lauro, which was hijacked in 1985 and caught fire and sank in 1994.
Before the 1970s, passengers dressed formally for dinner every night. Tables were assigned, and diners ate with the same group for the entire voyage. Friendships were forged, and passengers often had dining companions autograph their menus at the voyage's farewell dinner.
"You met interesting people who were going places and doing things," said Theodore Scull, a ship historian who lectures on the Queen Mary 2 about maritime history.
Today's passengers tend to eat when they want, wearing what they want, with whomever they want.
On the Normandie, which sailed from 1935 to 1942, the likes of Ernest Hemingway and Marlene Dietrich might be seen descending the curved staircase into the dining room, which was longer than a football field, with a 25-foot-high gilded ceiling and walls made of sculptured glass. Think of the party scene in "The Great Gatsby," only afloat.
"Every night was like a special show," said Sirio Maccioni, who used what he learned as a waiter on the S.S. Atlantic in the 1950s to conceive his New York restaurant Le Cirque. "Everything — the food, the service — was absolute luxury."
The glamour of this bygone era is evident in the artwork on the menus in Mrs. Beazley's collection. Shipping lines often commissioned artists to create original menu covers for every meal served on the voyage. The covers were lithographed on shore, while the chef's daily selections were printed on presses aboard ship.
The covers include exquisite pen-and-ink depictions of European castles, dreamy watercolors of Asian landscapes and vibrant oil paintings of aquatic life. One Rousseau-inspired menu cover created by the American painter Eugene Savage for the S.S. Lurline in the 1950s has been reproduced as a mural in the trendy Tropicale restaurant in Palm Springs, Calif.
"The menus live on," said Michael Grace, a writer for the popular '80s television show "The Love Boat" who now runs the Web site cruiselinehistory.com. "You can hardly get a cocktail napkin under your glass on cruise ships today."
In the last few years, cruise lines have seemed intent on elevating the dining experience. Celebrity chefs like Jacques Pépin, Nobuyuki Matsuhisa and Marco Pierre White have consulted with Oceania, Crystal and P&O Cruises, respectively, to create restaurants aboard ships. Guided by Mr. Maccioni, the Holland America Line now offers passengers "A Night at Le Cirque," in a sort of pop-up site with the same menu, décor and orange plates that the restaurant is known for.
But these are alternatives to the main dining room, and cost extra. And the menus are nothing like, say, the ones given to Grace Kelly in 1956 when she crossed the Atlantic as a first-class passenger on the S.S. Constitution on her way to marry Prince Rainier of Monaco. Among her choices were broiled shad roe with lemon butter on the luncheon menu, and medallion de foie gras de Strasbourg for dinner.
"It's a lost era," Mrs. Beazley said. But delicious to remember.
This article has been revised to reflect the following correction:
Correction: September 10, 2013
An earlier version of this story misspelled one of the menu items available on some ocean liners in the past. The dish is cauliflower mousseline, not mouselline.
By Kate Murphy, NY Times (Sept. 11, 2013: "Savoring a Bygone Splendor - The Maritime Menu")
Photo Credit: NY Times
For more cruise news & articles go to http://www.cruisecra....com/index.html
Re-posted on CruiseCrazies.com - Cruise News, Articles, Forums, Packing List, Ship Tracker, and more