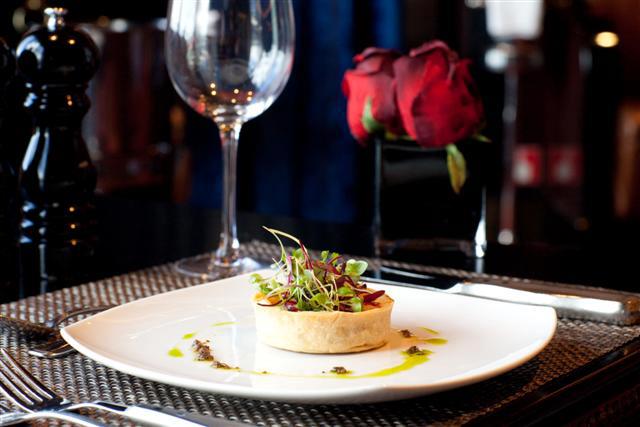 If you have ever wondered what all the fuss was about with the on-board "chef's table" experience, here is an excellent recount of one cruiser's experience.
One of my fondest recent cruise memories was taking part in the chef's table experience aboard Norwegian Cruise Line's Norwegian Breakaway. I did so during the Cruise Holidays Annual Convention, along with some fellow staff members and Norwegian Cruise Line executives, who were fabulous hosts.
If you are not familiar with the concept of a chef's table, here's a primer: the phenomenon is not limited to cruise ships; they have become popular at all sorts of dining establishments, especially the more upscale, chef-driven restaurants. The chef's table is limited to a small group of people who have often paid a premium to participate, and they are treated to an array of fine food and beverages, along with commentary from the chef throughout the meal.
The Chef's Table by Norwegian was my first chef's table experience, so I don't have others to compare it to, but as far as dining experiences (cruise ship or otherwise), it was first rate.
In reviewing the souvenir menu I was provided as a parting gift – signed by the Executive Chef himself – I can begin to recall the delight that each of those nine courses entailed.
Here's a recap:
My Cruise Ship Chef's Table Experience
We were greeted in the lounge area of The Haven, which is a private area reserved for cruise guests who booked a suite or villa in that portion of the ship. The Haven includes its own private restaurant and bar, plus an exclusive luxury pool and courtyard. Upon being greeted, we each received a glass of California sparkling wine and were told a bit more about the dining experience that lay ahead of us.
The meal began with an Amuse Bouche, a single, bite-size serving of spherical mango dressed in vodka and finely-chopped jalapeno. There was also a variety of lavosh (crisp bread) in varying flavors, such as tomato, basil curry and even lavender. Additionally, a delicious ahi tuna tartare glazed in orange wasabi was presented with a sesame crisp. All this was accompanied by a fruity sauvignon blanc.
Between many of the courses, the chef came to our table to provide us with a preview of what we'd be treated to next. It was quite fun to hear about the history of certain foods and amazing to think of the detail and care that went into each course.
The next segment of the meal probably included my favorite selections. Course three was a delicious soup, which consisted of a perfectly-shaped mound of cauliflower flan when it arrived at the table. Then the waiters came around with a dainty pitcher of asparagus cream, which they poured for each of us over the flan. It was followed by a tartlet consisting of goat cheese, sun-dried tomato chutney, basil oil and kalamata olive tapenade (possibly my favorite bites of the entire evening), and then a delicate pan-seared sea bass.
The chef went to great lengths to explain more about the sea bass and where it came from. This may be my one minor disappointment of the evening: because we had a fairly large table of 12 people, and I was toward the far end of the table, it sometimes became difficult to hear the soft-spoken chef. I admired his humble nature but only wished I could hear every last word. My advice is that if that there are those in your group who have difficulty hearing, make sure to ask for them to be seated closest to the chef, as it is assigned seating. This course was accompanied by a chardonnay from Napa Valley, and there was also a refreshing grapefruit and moscato granité served prior to the sea bass – think of an elegant slushy that you spoon out of a champagne glass!
Shortly after the sea bass, we dined on a veal chop. It was accompanied by Anna potatoes (thinly sliced), and sautéed spinach. They served it with a cabernet sauvignon that tasted of dark blackberry fruit.
As one might expect, the dessert course needed to leave a lasting impression, and it did not fail to do so! We were treated to individualized cheese platters accompanied by another food first for me – pickled watermelon. Each person also received either a yogurt mousse dome made of lychee raspberry crème, hazel sable and a lime vanilla reduction, or a "chocoholic's delight" – I would describe it as a cocoa mousse filled with a segment of spiced dark rum-infused banana. Quite a complex dessert, but what would you expect for a meal as extravagant as this?
After the meal, we were escorted back to The Haven lounge for more conversation and a selection of coffee drinks. Even though my stomach was certainly long-past full, it was nice to be able to mingle with the other members of our party who had been at the opposite end of the table, and compare our thoughts on the amazing meal we had just shared.
There is a cover charge and the chef's table is only offered once per cruise for a maximum of 12 guests, so you do need to make your reservations as soon as possible. At last check, Chef's Table by Norwegian is offered on most Norwegian Cruise Line Ships.
Other cruise lines also offer similar experiences, including: Royal Caribbean International, Holland America Line, and Princess Cruises.
Finally, due to the fact that the dinner is paired with wine, guests may need to be 21 to participate in a chef's table. Be sure to check beforehand so no one is disappointed.
By Maggie Blehert, CruiseSource ("Try a Cruise Ship's Chef's Table")
For more cruise news & articles go to http://www.cruisecra....com/index.html
Re-posted on CruiseCrazies.com - Cruise News, Articles, Forums, Packing List, Ship Tracker, and more
Photo credit: Norwegian Cruise Lines