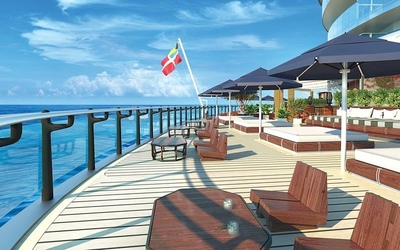 Virgin is headed to the open seas.
Virgin Voyages, the upcoming cruise line from Richard Branson, has unveiled a "shiptease" with information about the much-anticipated vessels.
The cruise line will launch with three ships, each with a capacity of 2,700 passengers, expected to set sail in 2020. Production costs are currently estimated to be around $2 billion.
Virgin Voyages is aiming to put a more sophisticated spin on cruising. Tom McAlpin, Virgin Voyages CEO, said at an event last week that the cruise line was out to "change the way this kind of vacation not only looks and feels, but most importantly, how it's experienced."
The cruise line will cater to an adults-only crowd (18 and up), meaning there won't be waterslides, characters in costume, or games. Instead, the ships are designed with an eye towards the sleek and stylish. A "creative collective" who have worked on trendy travel brands like Ace Hotels, the Standard, and the Mondrian designed the ships' interiors, which resemble a cosmopolitan nightclub. A rooftop terrace, dual-level art deco nightclub and a "catamaran net" (rope hammock that dangles off the back end of the ship) form the on-ship entertainment.
"Sailors" (as the brand is calling its passengers) will be able to dine at Pink Agave, an upscale-modern Mexican restaurant, or Test Kitchen, a "scientific dining experience," complete with beakers, test tubes, and volumetric flasks on the tables.
The cruise line is also expected to boast the "largest daybed at sea" and a workout space with a jogging track.
The first ship will sail around the Caribbean from Miami in 2020. Additional deliveries are scheduled for 2021 and 2022.
By CAILEY RIZZO, Travel and Leisure
Re-posted on CruiseCrazies.com - Cruise News, Articles, Forums, Packing List, Ship Tracker, and more
For more cruise news and articles go to https://www.cruisecrazies.com