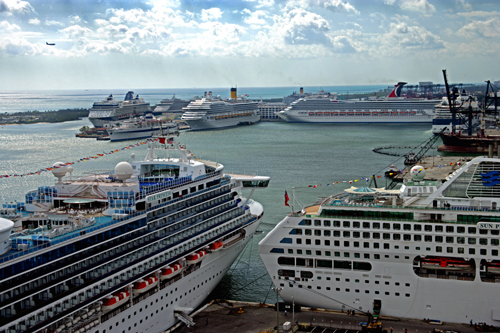 Carnival: Two ships -- Carnival Victory and Carnival Imagination replaced in January by Carnival Ecstasy -- sailing day cruises out of Miami (unchanged from last year), plus an additional ship, Carnival Freedom, sailing occasional five-day cruises, interspersed with longer cruises, out of Fort Lauderdale. Carnival Freedom will get Fun Ship 2.0 upgrades in the spring, the first ship used for short cruises to get them. www.carnival.com
Celebrity: Celebrity Constellation sailing four- and five-day cruises out of Fort Lauderdale til late April, after sailing a similar program out of Miami in years past. www.celebritycruises.com
Disney: Disney Magic, just back from a dry-dock makeover, set sail Oct. 25 on its first Caribbean cruise of the season from Miami; will do four- and five-night cruises until January, when it will be move to Port Canaveral. Disney Wonder will move from Galveston to Miami and continue the short-cruise schedule until early May. The Disney Wonder sailed similar itineraries out of Miami for the first time last year, but for a shorter season. http://disneycruise.disney.go.com
Norwegian: Norwegian Sky, which has been doing three- and four-night Bahamas cruises year-round from Miami since 2008, will continue that same program. www.ncl.com
Princess: For the first time, a Princess ship will sail a full season (December to April) of four- and five-night cruises out of Fort Lauderdale. The Ruby Princess, launched in 2008, is the line's second newest ship. www.princess.com
Royal Caribbean: Majesty of the Seas sails three- and four-night Bahamas cruises out of Port Miami; Liberty of the Seas sails four- and five-night Western Caribbean cruises out of Port Everglades, replaced by Vision of the Seas in late April. The short-cruise program is unchanged from last season. www.rccl.com
Here's a rundown of cruises of three to five nights sailing out of Port Miami or Port Everglades this season:
Carnival: Two ships -- Carnival Victory and Carnival Imagination replaced in January by Carnival Ecstasy -- sailing day cruises out of Miami (unchanged from last year), plus an additional ship, Carnival Freedom, sailing occasional five-day cruises, interspersed with longer cruises, out of Fort Lauderdale. Carnival Freedom will get Fun Ship 2.0 upgrades in the spring, the first ship used for short cruises to get them. www.carnival.com.
Celebrity: Celebrity Constellation sailing four- and five-day cruises out of Fort Lauderdale till late April, after sailing a similar program out of Miami in years past. www.celebritycruises.com.
Disney: Disney Magic, just back from a dry-dock makeover, set sail Oct. 25 on its first Caribbean cruise of the season from Miami; will do four- and five-night cruises until January, when it will be moved to Port Canaveral. Disney Wonder will move from Galveston to Miami and continue the short-cruise schedule until early May. The Disney Wonder sailed similar itineraries out of Miami for the first time last year, but for a shorter season. http://disneycruise.disney.go.com.
Norwegian: Norwegian Sky, which has been doing three- and four-night Bahamas cruises year-round from Miami since 2008, will continue that same program. www.ncl.com.
Princess: For the first time, a Princess ship will sail a full season (December to April) of four- and five-night cruises out of Fort Lauderdale. The Ruby Princess, launched in 2008, is the line's second newest ship. www.princess.com.
Royal Caribbean: Majesty of the Seas sails three- and four-night Bahamas cruises out of Port Miami; Liberty of the Seas sails four- and five-night Western Caribbean cruises out of Port Everglades, replaced by Vision of the Seas in late April. The short-cruise program is unchanged from last season. www.rccl.com.
By Pittsburgh Post-Gazette
For more cruise news & articles go to http://www.cruisecrazies.com/index.html
Re-posted on CruiseCrazies.com - Cruise News, Articles, Forums, Packing List, Ship Tracker, and more