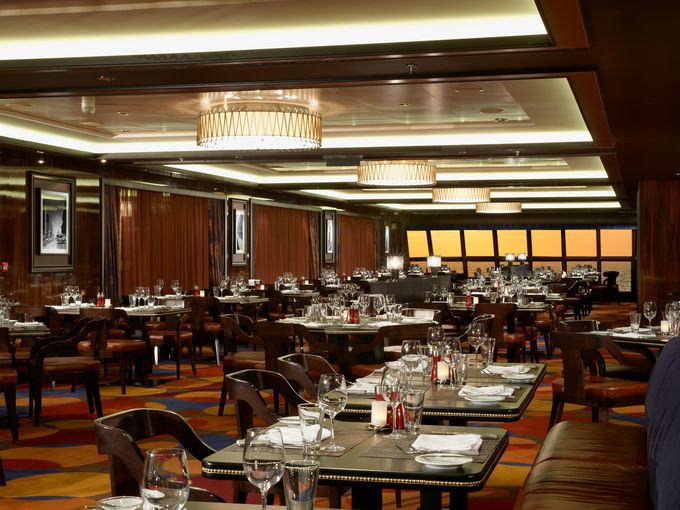 There is no shortage of choices for meat-lovers on cruise ship menus. But when you're craving a thick, juicy, perfectly prepared steak, the best place to go is the ship's classic steakhouse (keep in mind that an extra fee is typically charged).
Cagney's on Norwegian Cruise Line
Cagney's offers a classy, contemporary decor and a menu highlighting Certified Angus Beef brand steaks, aged 28 days. Start with a shrimp cocktail with Jack Daniels sauce or wedge salad with blue cheese and bacon bits, and accompany your 18-ounce bone-in rib eye, 14-ounce New York Strip or 8-ounce filet mignon with Cagney fries. Cover charge: $30 adults/$15 kids.
Polo Grill on Oceania Cruises
Oceania gives guests a choice of topnotch, complimentary specialty restaurants including this wonderful steakhouse featuring USDA beef, all Dry Aged a minimum of 28 days. Start with warm foie gras, Oysters Rockefeller or French onion soup before indulging in a New York Strip, Porterhouse, Filet Mignon, rib-eye or turf & turf. Grilled meats are available blackened on request. Sides include truffle fries and creamed spinach. Reservations required.
Prime 7 on Regent Seven Seas
Regent's steakhouses are classy in every sense. Steak lovers can indulge in a 32-ounce Porterhouse or sizeable rib-eye while relaxing in leather wingback chairs. Favorites on the menu include Maryland Lump crab cakes and Oysters Rockefeller, but USDA Prime and Dry-Aged (at least 28 days) beef is the star of the show. Surf & Turf mixes a filet with lobster or Alaskan king crab legs. Reservations required.
Crown Grill/Sterling Steakhouse on Princess Cruises
The steakhouses on Princess ships feature Sterling Silver Premium beef. Menus vary by ship, but classics include Carpaccio of beef tenderloin and a decadent black and blue onion soup. Steaks include a 12-ounce New York Strip, 16-ounce Kansas City Strip, 22-ounce Porterhouse and 8-ounce filet mignon (prepared on some ships in an open kitchen). $25 for Crown Grill, $20 for Sterling Steakhouse, half-price for kids.
Pinnacle Grill on Holland America Line
Hand-selected Sterling Silver Premium beef is a featured menu item in such options as a 32-ounce Porterhouse, 7- or 10-ounce filet mignon and double ranch steaks served along with sides including shoestring fries with truffle aioli. Appetizers include shrimp cocktail with brandy horseradish, jumbo lump crab cakes and steak tartare. $25 for dinner, $10 for lunch, half-price for kids.
Steakhouse on Carnival Cruise Lines
Juicy goodness on Carnival ships comes in the form of aged prime beef, such as a 14-ounce New York Strip, an 18-ounce Cowboy Steak (rib chop), Spice-rubbed Prime rib-eye and a 9-ounce filet mignon. Or go with surf & turf. Starters include escargot and classic Caesar. Save room for the chocolate sampler dessert. $35
Chops Grille on Royal Caribbean International
Choose Béarnaise or deliciously tangy chimichurri to accompany such choices as an 18-ounce Porterhouse served on the bone or a 7- or 10-ounce filet mignon. Classic appetizers include shrimp cocktail or try the shrimp and crab cake and non-traditional Caesar, made with chive dressing. $25.
Tuscan Grille on Celebrity Cruises
An alternative-dining choice on Celebrity's Solstice-class ships and Constellation, this Italian steakhouse has a menu big on both steak and pasta. In a contemporary space, you'll find such steakhouse classics as blackened Angus rib-eye, but also linguine Alfredo and fried calamari. Even the onion soup gets a Tuscan twist. The beef is all corn-fed, USDA Choice. $35
The Lawn Club Grill on Celebrity Cruises
Home grill masters can show off their skills cooking alongside the ship's chefs at this unusual open-air eatery on Celebrity Silhouette and Reflection. The setup includes custom-made gas grills and a meat locker where you can chose your own USDA Choice beef steak from such selections as a 12-ounce rib-eye, New York Strip, filet mignon and beef kabobs. $40.
The Grill on Silversea Cruises
Onboard the Silver Spirit, this ultra luxury line offers a casual, complimentary steakhouse with a twist. Head up to Deck 10 and with views of the pool and sea you can dine al fresco on steak you help prepare tableside on super hot lava rocks. Your servers will tell you how to turn the meat to the desired degree of doneness. The beef is Sterling Silver Premium.
By Fran Golden, Special for USA TODAY
For more cruise news & articles go to http://www.cruisecrazies.com/index.html
Re-posted on CruiseCrazies.com - Cruise News, Articles, Forums, Packing List, Ship Tracker, and more