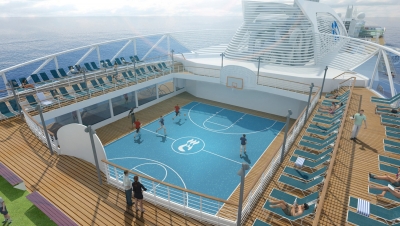 Going on a cruise trip is one of the very best ways of seeing new places with style and comfort. But what if you are a big sports fan who doesn't want to miss out on any action while you are sailing the seas?
Well, you could use the following ways of enjoying a cruise filled with sport. 
Check Out the Sports Bar
All good cruise ships offer a variety of bars and restaurants for you to enjoy. Among them, you may find a sports bar just like those that you enjoy on dry land. Here, you can watch the likes of the NFL, the NBA and other major leagues in comfort.
This is a great way of enjoying some snacks while catching up on games that you might have otherwise missed. Just remember to take into account that you will need to check the time that the events will take place in your current location.
With on-board Wi-Fi now widely available, you can even carry out the likes of NHL and MMA betting online as you watch. Click here to know more: https://extra.betamerica.com/mma/odds/

If you plan to travel when a huge event like the Super Bowl or World Series is on then this is a great way to enjoy it.
Play Your Favorite Games
You might worry whether spending time on a cruise ship is going to lead to you being inactive the whole time. The good news is that the majority of cruise ships offer a good selection of areas where you can play games.
A smaller ship will have at least table tennis, a golf driving cage or nets, and a putting area. Bigger ships often have mini golf courses and tennis courts among the options.
If you are looking for a certain type of sport, then you will want to check what facilities are available on the ship you plan to travel on. On the other hand, if you just want to remain active then you are sure to find something suitable on any ship you choose.  
Look for a Themed Cruise
One of the most interesting trends in this industry is the emergence of themed cruises. These are special trips that are aimed at certain groups, like foodies, people who want to lose weight, or music fans.
A sports-themed cruise is sure to appeal to anyone who loves some games. There aren't a lot of sports themed cruises on the market, but it is something that has the potential to grow if the major cruise companies see that there is a demand for them.
Best of all, this would let you spend time with other sports fans as you travel, giving you lots of opportunities to discuss your favorite teams and players as you sail together.
See What the Ports Offer
There are lots of different things that you will want to do when you get to the best ports on your cruise. These stops are perfect for doing some sight-seeing and trying out new types of food, for example.
One of the most popular ways of getting some sporting action in this way is by looking for a golf course close to where you are due to spend some time. There are plenty of places where this can be done, with the UK and Spain a couple of great golfing destinations.
You could try and tie in a visit to Monte Carlo with the Grand Prix there, or else look to catch a soccer match in Latin America. Take a few minutes to see what other sports take place close to your port and you are almost certain to find something of interest.
Edited by Jason