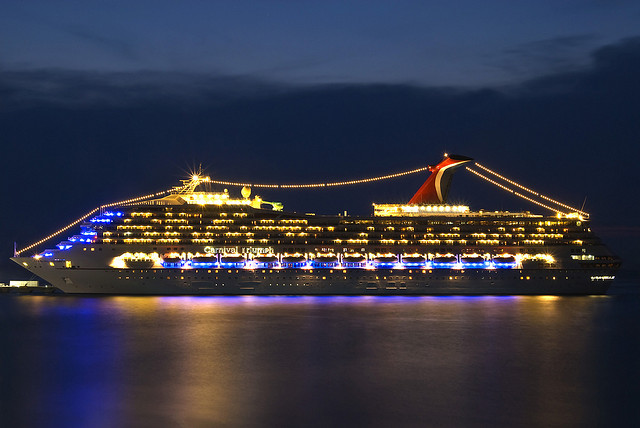 For the last week, we have been inundated by reports, mostly negative about the failed sailing of the Carnival Triumph. These negative reports came from mostly the media but had also been introduced by lawyers, using an undertone of "Let's sue 'em". Much as the reporting that has been ongoing in a mostly negative manner by major media outlets about the war against terror, without an open mind, you will come away from these reports with a negative attitude towards either. I do not want to stray away from my story and get too political, but what you never hear reported by the media is the POSITIVE outcome we have had in many areas overseas during the war on terror. How do I know? I served in Desert Storm and am a 12 year Veteran of the United States Army. Removal from power of dictators such as Saddam Hussein, the assassination of Osama Bin Laden and the rebuilding of schools in those countries are just a FEW of the positive things our brave, volunteer Military, has accomplished. BUT, you never hear of these positive things being reported and there is where you get the negative attitude about the war from many.
Such as the media reporting of the war, the media takes a negative approach towards the unfortunate failed sailing of the Triumph. Granted, in NO means should this situation be sugar-coated and I am not going to do that. What I am trying to do is attest to my sailing on the Triumph on a previous cruise where my wife and I renewed our marriage vows and try to show somewhat of a positive attitude regarding the Triumph incident and cover a few sea mishaps and disasters that seem to be what most of the uninformed public seem to harp on regarding taking a cruise. Let's take a look at some of the most know cruise disasters and incidents at sea.
The Titanic
On her maiden voyage to New York, the "Unsinkable" Titanic hit an iceberg and sank causing the death of 1502 of the 2224 souls onboard. Even with her double hull and water tight doors, she had been unable to maintain her buoyancy and sank because five water tight compartments were breached. The Titanic had been designed to withstand only four of those compartments being breached. The Cunard lines "RMS. Carpathia" was able to rescue only 705 of those souls. The failed planning came with the lack of life boats and the crew allowing life boats to be lowered and released sometimes less than half full. The designers were more interested in uncluttered decks which is why some of the life boats were removed prior to her sailing. Although only 705 passengers were saved, this disaster could have produced a much worse response. In 28 degree water and those jumping overboard to try to swim clear of the sinking vessel, many more could have perished. At the time of the sinking, cruise ships were designed less for leisure and more for transportation. Maritime laws and cruise line regulations have come a long way since 1912.
The Costa Concordia
On Friday, January 13, 2012, the Concordia ran aground and partially sank off the coast of Giglio Italy causing the loss of 32 souls. Although still under investigation, it seems the Captain ventured onto the rocks to get closer to land to entertain those on land. The Captain insists he was ordered by his Corporate office, knowing of the shallow conditions, to take this dangerous course. In my opinion, even "IF" ordered to do so, it is still his responsibility to make the final decision in the best interest and safety of his passengers. This disaster is one where I can see even veteran cruisers would shy away from cruising in the future, if only for some time. It has been reported that the disaster of the Concordia had absolutely no effect on the cruise industry and people still chose cruising as their vacation.
The Carnival Triumph
The Triumph, a ship I have sailed on in the past, developed a fire in the engine room knocking out power to a majority of the ship and due to the failure of toilets, sewerage had been found in many areas of the ship. Comfort equipment such as air conditioning, lighting and some cooking equipment were disabled. Emergency systems such as fire suppression equipment, communications and exterior lighting remained in service. But did you know that the bilge pumps, used to evacuate accumulated water in the hull was also operational after the power outage? Without the bilge pumps operating, the vessel may have sank! When we sailed the Triumph, we renewed our wedding vows during an itinerary that was the same as we had for our honeymoon cruise aboard the Carnival Celebration some 20 years earlier. We absolutely loved the Triumph and found new friends onboard that had sailed her numerous times prior. The cruise agent we had said that the Triumph seemed to always sail at full passenger capacity. After this mishap on the Triumph, would I sail on her after repairs....YES!!!
The Celebrity Meridian
The Meridian, also a ship we sailed on back in 1992, had been the flagship of Celebrity cruise lines. Built in 1961 and commissioned as the "Galileo Galilei" for Lloyd Triestino, she was renamed and sold to Celebrity cruises in 1990. She remained in service with Celebrity until 1997 when she was then sold to Sun Cruises and renamed the "Sun Vista. On May 20,1999, the vessel suffered an engine room fire, which cut all power and caused her to sink on May 21,1999. All 1,090 passengers and crew were safely evacuated and the ship sank near Malaysia.
Let me get to my point. I have been on 8 cruises and have experienced inconveniences on only one. It was a minor one at that where the ships turbo chargers broke down and the vessel was only able to cruise at 50% of it's max speed causing an itinerary change. If you have never been on a cruise before, hearing of and reading stories such as have been reported lately by the dramatic media outlets may cause you to second guess ever going on a cruise. Taking into consideration reports of airplane crashes over the years, "There are approximately 25 plane crashes a year since records began in 1950"(wikianswers.com) as opposed to cruising, "In 2000/2001 we had 3 ships on their way to the breakers sink off our shores and over the past 20 years 2 ships which were part of our cruising industry were lost, fortunately without serious loss of life."(allatsea.co) , it is obvious that cruising is still the best choice you can make. You MUST approach your cruise vacation with an open mind. Speak to others that have cruised in the past. Read and ask questions of my fellow veteran cruisers regarding their cruise experiences right here on the Cruisecrazies forums. When you consider you can cruise for as little as $149 for a three day cruise (just to get your feet wet, so to say), you have an amazing opportunity to see what cruising really is. When reading reviews, take only into consideration the average reviews of positivity or negativity. It is very easy to be "Arm-Chair Quarterbacks" and draw our own conclusions on what was done or not done in the above situations. But do not allow yourself to be swayed by a news agency or the report from an attorney on how you should approach one of the only inexpensive, fun and beautiful vacation choices you could make. Hope to see you onboard soon.
By CruiseCrazies Member Sarge6870