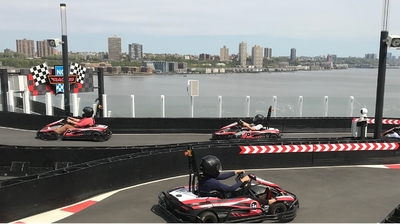 NEW YORK -- The Norwegian Bliss' arrival here on May 3 marked the U.S. debut of the largest racetrack at sea and the Tony award-winning Broadway Show "Jersey Boys" on a cruise ship.
Elvis Duran, the morning radio show host who is the ship's godfather, hosted his May 4 show from the Bliss and along with his entourage, spent the weekend taking full advantage of all the ship had to offer. Duran was spotted racing around the go-kart track; eating barbecue at Q, the line's new Texas smokehouse; and dining at Los Lobos, the second outpost of Norwegian's upscale Mexican restaurant. 
"This is a whole new time for cruising," Duran told the media, adding that it's not about "blue hairs" and "buffets" anymore. He gave a specific shout-out to the ship's crew: "The people who work here are the magic of the Norwegian Bliss. "
Also onboard was Franki Valli, whose story is portrayed in "Jersey Boys." He caught the Bliss' production of the musical, featuring hits by Valli's 1960s-era band, The Four Seasons. They include "December 1963 (Oh What a Night)," "Sherry," "Walk Like a Man," and "Working My Way Back to You."
The two-level go-kart racetrack occupies the top aft of the ship. The track made its debut for Norwegian on the China-based Norwegian Joy, so this iteration is a first for the North American cruise market and the largest at sea, about 40% bigger than the Joy's. Cruisers here were excited about the $7 ride, on which up to ten electric go-karts can race each other day and night. Two-person cars allow young children to ride with someone else.
Other firsts on Norwegian's 16th ship is Coco's, an a la carte dessert venue with several types of house-made chocolates, gelato and sundaes. Coco's serves Instagram-worthy Mad Milk Shakes, which are definitely sized for sharing. The $14.99 Snickers Bar has pieces of its namesake candy bar, chocolate gelato, marshmallow and whipped cream and is garnished with a jumbo rainbow lollipop.
The Bliss also brought to the U.S. the open-air laser tag course that debuted on the Joy, and Norwegian's first Starbucks cafe, in a nod to its Seattle homeport.
The 4,000-passenger, 167,800-gross-ton Bliss has the line's largest Haven area, which has 50 luxury suites within the Haven complex and another 30 outside which offer access to its facilities and perks, such as a private restaurant, bar, concierge, lounge,and the two-story Haven Courtyard with a retractable roof over a pool, two whirlpools and a sundeck.
The Bliss' Haven area has a two-story Horizon Lounge with panoramic views, designed with Alaska sailings in mind.
By Johanna Jainchill, Travel Weekly
Re-posted on CruiseCrazies.com - Cruise News, Articles, Forums, Packing List, Ship Tracker, and more
For more cruise news and articles go to https://www.cruisecrazies.com