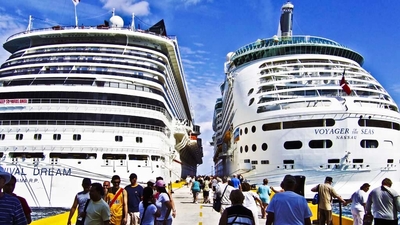 It seems like most of the time, the news about cruising is about the ship, as in onboard race tracks, ice rinks, laser tag, basketball courts, water sports decks and an array of specialty restaurants; things designed to keep you onboard. However, that's not necessarily true. In fact, for many lines, the emphasis is now on the destination. The idea of steaming into port in the morning and sailing at 5 p.m. is changing with more late night departures and overnights, sometimes even staying for two or three nights. It's not just luxury cruise lines either. Dondra Ritzenthaler, a senior vice president with premium Celebrity Cruises, says in the past three years her company has extended port time, particularly for South America and Europe.
During Virtuoso Travel Week which wraps up today in Las Vegas, Forbes.com was exclusively invited to attend a series of training sessions for the nearly 3,000 travel advisors who were attending. Cruise executives spent as much time talking about the places their ships visit as the actual ships. "It's destination, destination, destination," a sales rep from Oceania Cruises told the agents.
In addition to longer stays, programming has evolved from those days of walking between a guide holding a sign and being herded from tour buses to attractions and back. Oceania offers beach yoga, meditation and tai chi classes that enable its guests to see a different side of the places they are visiting, says Nikki F. Upshaw, senior vice president, sales. In Tahiti, guests who sail with Paul Gauguin Cruises are taken on small motorboats to swim and snorkel alongside stingrays before learning how to split a coconut during a private island barbeque.
Robert Fitzgerald, a business development manager at Azamara Club Cruises, which is owned by Royal Caribbean International, said 80% of its cruises are spent in ports and nearly 50% of ports feature either late night departures or overnights. "Most cities are different during the day and at night and when you sail at 6 p.m. you miss that side of the destination," he says.
To better attract consumers who never thought they would cruise the line is doubling down on destinations by offering itineraries that focus on single countries, including New Zealand, Japan, Cuba, Iceland, France and now Chile. While in the past the cruise model was to keep people on the ships so they could spend money in the casino or at the bar, Azamara has partnered with Micato Safaris, the Venice Simplon Orient Express, and Perry Golf to create custom land experiences as well. Guests get perks like VIP access to the final round of the British Open or in Japan, access to play private courses not open to the public.
On Silversea Cruises, which earlier this year sold a major stake to Royal Caribbean, its smaller ships can sail up the Thames River right to London Bridge. It recently hired award-winning National Geographic photographer Steve Mc Curry to provide eye-catching "I need to go now" images for its website and promotional materials highlighting some of the over 960 destinations it visits.
A sales rep from Crystal told advisors, "Guests don't want to say they just stopped somewhere. They want the entire experience." One 17-day Asia itinerary includes overnights in Tokyo, Osaka, Shanghai and Hong Kong. In 170 of its ports, Seabourn has partnered with UNESCO to help its guests experience world heritage sites such as the temple complex of Borobudur on Java, Machu Picchu in the Peruvian Andes and ancient Thebes in Egypt. Cruises to Cuba include overnights in three different ports, including Havana.
Regent Seven Seas brings guests to Andrea Bocelli's private estate in Tuscany where they get to tour his recording studio, and its included in the price of the cruise as are all of its shore excursion. Some of what the cruise lines are offering you can't get on your own say the executives. "You can't Google (to find these experiences). They're exclusive to us," Azamara's Fitzgerald told several advisors.
The trend is expected to get stronger. Windstar Cruises will increase the number of its voyages that have overnights in port from the current 50% to 70% next year, says Windstar Cruises president John Delaney. For its shore excursions, groups range between four and 10 people, designed to provide a more localized experience.
By Doug Gollan, Forbes
Re-posted on CruiseCrazies.com - Cruise News, Articles, Forums, Packing List, Ship Tracker, and more
For more cruise news and articles go to https://www.cruisecrazies.com