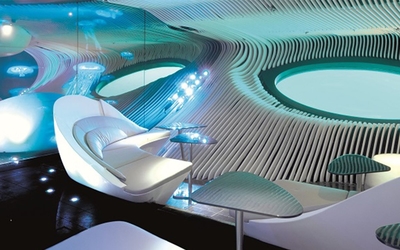 We hate to say it, but you know as well as we do that a cruise ship can attract the sort of travelers who take whistle stop tours of their port then climb back on board for bottomless pizza and frozen drinks. There's a time and a place for this — college spring break? — but such is not the case for Ponant. The luxurious fleet of small cruise liners does away with the usual trappings found in mammoth vessels.
Le Lapérouse recently hit the high seas and gave travelers a first look at the future of the company, which is slated to introduce three more state-of-the-art ships within the next three years —including one masterpiece that boasts the world's first electric hybrid cruise icebreaker. Using an innovative "clean" technology, the ship will travel to never-before explored polar destinations such as the true geographic North Pole.
Le Lapérouse is a feat of engineering in itself. With just 92 coveted state rooms and suites, all with their own private balcony or terrace, the expedition feels much more "yacht charter" than "cruise." There are two intimate dining options, a library filled with books and board games, and a spa offering treatments using products from Parisian beauty brand SOTHYS.
The piece-de-resistance, however, is the Blue Eye, created by architect Jacques Rougerie. The first of its kind, "multi-sensorial" underwater lounge seeks to insert guests into the role of explorer. This begins with the furniture. Inspired by cetaceans and jellyfish and referred to as "Body Listening Sofas," these curved beauties gently vibrate in unison with the sounds of the ocean.
These lead into two eye-shaped porthole windows that look into the sea below the ship, as well as three digital screens used to stream live footage captured by a set of non-intrusive underwater cameras.
If that wasn't enough, the stimulating visuals are set to a soundtrack naturally transmitted from the surrounding sea through hydrophones designed by music composer and sound design expert Michel Redolfi. Altogether, you'll be seeing, hearing, and even feeling the ocean.
Following her successful maiden voyage out of Reykjavik, Le Lapérouse will continue sailing year-round through Northern Europe, The Mediterranean, Asia, and the Pacific and Oceania with fares beginning at $3,990 based on double occupancy.
By Zachary Weiss, RealClearLife.com
Re-posted on CruiseCrazies.com - Cruise News, Articles, Forums, Packing List, Ship Tracker, and more
For more cruise news and articles go to https://www.cruisecrazies.com