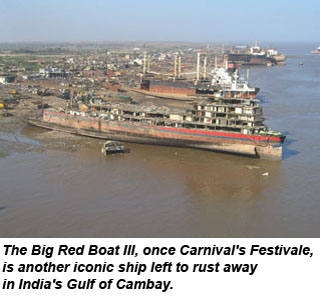 When cruise ships – or any maritime vessel for that matter – are no longer able-bodied to fulfill their usual itineraries, where are they sent to?
We often think of these mammoth steel structures as indestructible and, like the legendary Titanic, unsinkable. But none of that is even close to the truth.
Ships have an average lifespan of 25 years, and sooner or later it is inevitable that they are going to show signs of aging. Depending on how much of a beating they took during their prime, and how well they were originally constructed, they can enjoy a new lease on life, sport a new paint job, a fancy new name, or even explore new waters. Eventually, however, a ship will be too old to bring in sufficient cash or may even pose hazard to her passengers rendering her unseaworthy.
Once in limbo, cruise ships await any one of these fates.
Stripped to her core. A 40,000-ton vessel is bound to yield some useful parts and components even if her most important ones are starting to decay. 'Ship breaking' is a thriving industry in developing parts of the world, where salvaged steel, metal and other materials can be profitably reused for a slew of applications. In Alang, Gujarat (India), ship breaking is the prime mover of the region's economy. Everything that can possibly be sold, in whole or in part, is dismantled, cut, melted and rerolled into metal rods and other useful industrial implements. Some ships, even legendary ones, face this inglorious end, and it would seem that Pacific Princess of 'The Love Boat' fame, a television show of the 1970s and 1980s that inspired many Americans to go on a cruise, is likely to be in for this fate.

Beached. If there is nothing left to salvage, cruise ships are altogether abandoned in a dry dock and left to die a rusty death. Staten Island in New York is a well-known ship graveyard.

Sunk. The Soviet navy was notorious for leaving their wartime vessels to rot in abandoned bays. While this is more convenient, sinking the ships is another way to go. When ships are sunk, they are done so to provide backbone to the marine life in the vicinity (think coral reefs) and serve as underwater laboratories for marine biologists. Sometimes, they are deliberately plunged into pitch-dark depths to provide diving attraction to scuba enthusiasts. Of course, they first need to be detoxified before they are exposed to the fragile ecosystem underwater.

Refitted and floated. The highest honor that can be bestowed to an iconic ship, or even less popular one, is to dress her up another way and keep her moored in someplace historical or touristy. This is what happened to RMS Queen Mary, christened in 1934 and officially retired in 1967, the now 78-year-old ocean liner is still welcoming guests in Long Beach, California, as a floating hotel. The SS Rotterdam is put up on display as Holland's must-see museum on water. The RMS Queen Elizabeth 2, presently moored in Port Rashid, Dubai, is being refurbished as a first-rate hotel and museum.

Ships run the course of their sailing lives and, like all else, inevitably face their ends. When they do, the best an avid cruise passenger can hope for is for them to remain standing reminders of fond memories and journeys taken.