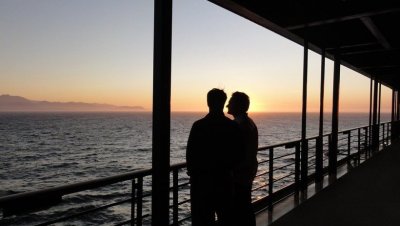 More people than ever before are going on cruises, and the industry expects record-breaking numbers for 2017, with over 24 million people expected to take a cruise this year. Another trend hitting the high seas is cruising for an extended period of time. Around-the-world cruises have long been the retirement dream, and today some people are even choosing to live aboard cruise ships for part or most of the year.
Actually, the decision to live on a cruise ship isn't revolutionary or new. A Florida man has spent almost 20 years living aboard cruise ships in Florida's coastal waters, the Caribbean, Europe, and even China. Another full-time passenger hails from New Jersey, in addition to others who had careers, children, and lives in states across the country. Today all these individuals call cruise ships home.
The decision to move onto a cruise ship permanently can't be taken lightly, but there are several reasons why doing so offers a wonderful lifestyle. For some, full-time cruising might even make sense financially.
Life Aboard a Cruise Ship Can Be Cost Effective
You might think it would take a billionaire to live aboard a cruise ship for most or all of the year. However, several retirees are proving this isn't the case. These people are accessing activities, entertainment, meals, and even social benefits for about $100 a day. Of course, there are additional expenses for excursions and alcohol, with which most people would spend around $70,000 or slightly more living on a cruise ship. For many retirees, life on land costs less than this amount, but that isn't true for everyone. People who live in larger cities, continue to pay mortgages, or carry other considerable living expenses, might find these numbers enticing.
Also, it is important to consider that living aboard a cruise ship provides other benefits that impact your spending. There is no need to splurge on a fancy restaurant, as meals are always prepared for you in the dining room. The cost of transportation and vacation is bundled into your daily living expenses, and so are other luxuries, such as nightly entertainment. When you consider all that is provided on a cruise, the amount could become a bargain. Moreover, there is no paying for utilities, cable, and other home expenses.
Other reasons to live aboard cruise ships revolve around the experience. First, it is a unique opportunity to wake up somewhere new most days of the week. Cruise ships pull into ports across the globe, visiting even locations in Indonesia, Vietnam, Israel, and Egypt. It is possible literally to see the world while traveling by cruise ship. Few other life-style options can provide this opportunity with the same ease and consistency.
Second, cruise ships offer plenty of social opportunities. Whether it is taking part in the scheduled entertainment or having a nightly drink in one of the cruise bars, there is always the possibility of conversation and interaction. While living aboard a cruise reduces the chances of building long-term friendships, it does provide an interesting way to meet people on a regular basis. People who live on cruise ships tend to spend very little time in their staterooms, opting instead for the activities and social events on the boat. Besides meeting fellow passengers, many people who live on cruise ships say the crewmembers and other staff adopt them into the cruise family.
Lastly, living aboard a cruise ship is much more adventurous than the typical lifestyle in a townhome, assisted living facility, or retirement community. Even those passengers who forgo the activities and excursions still enjoy varied experiences and new places to visit every week. Quite simply, cruise ships can offer people a better quality of life than alternative lifestyles on dry land.
How Cruise Companies Are Accommodating Those Who Live Aboard Their Ships
The growing number of retirees and adventurous individuals who choose to live on cruise ships is catching the attention of certain cruise lines. Consequently, these companies highlight their loyalty programs and similar benefits, hoping that a good rewards program might entice people to take back-to-back voyages on their boat or book consistently with their company. Plus, people who choose to live on a cruise ship are likely to book with the same company because of practicality and familiarity. Accordingly, ships are doing more to pull in these passengers.
Cruise lines have also introduced longer voyages, with routes between the United States and China, and itineraries all over Europe, calling at ports from England to Turkey. Cruise companies continue to introduce these longer voyages because they are preferred by some full-time passengers.
While life on a cruise ship isn't for everyone, this sector of the cruise market continues to grow. More people are choosing long-term cruise options, such as Oceania Cruises' 180-day option, and a growing number of patrons are trying out a full 365 days aboard a cruise ship.
By Spencer Aronfeld , Contributor - Huffington Post