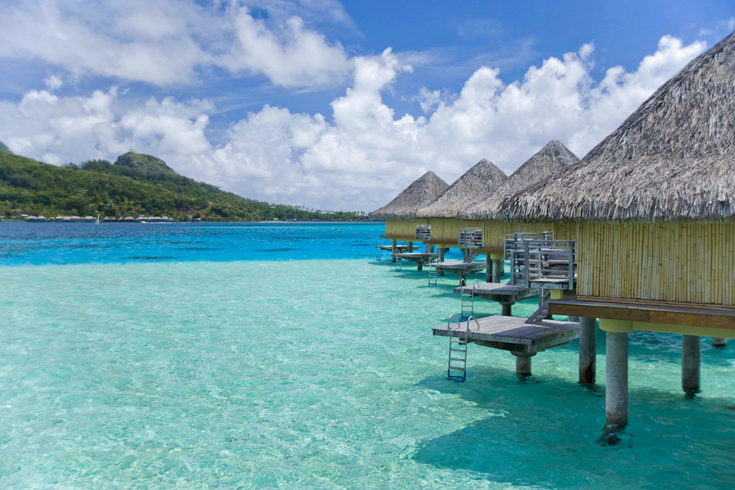 It was bound to happen. Tried and true cruise itineraries to the Mediterranean were getting a wee bit stale.
This spring, Princess, Royal Caribbean and Regent were among some of the major cruise lines that announced cuts to European destinations, citing dampening demand due to Europe's weak economy and the high price of airline tickets from the U.S.
As a result, several cruise lines have responded by introducing more exotic voyages, including to destinations like French Polynesia and the South Pacific.
Paul Gauguin Cruises, which has dominated French Polynesia in past years, is offering a new line of destinations through Tahiti and the Society Islands, the Cook Islands, the Tuamotus, and the Marquesas for the 2014 season. The line even offers trips as far as Guadalcanal in the Solomon Islands, Papua New Guinea, and Indonesia.
Windstar Cruises—with its fleet of intimate motor-sail-yachts and mega yachts—returns to Tahiti for the first time in 12 years, offering 7-night round-trip voyages out of Papeete, Tahiti, aboard the 148-passenger Wind Spirit starting in May, 2014.
Windstar CEO, Hans Birkholz, told FoxNews.com the return of Windstar was due to customer demand.
"Windstar's return to Tahiti has always been the number one request from our guests, even a decade later," said Birkholz. "The expansion of our fleet, with the addition of our three new power yachts (formerly Seabourn Legend, Pride, and Spirit), made this the perfect time to return one of our sailing yachts to Tahiti."
Bill Goodwin, author of Frommer's Tahiti & French Polynesia and Frommer's South Pacific guidebooks, told FoxNews.com that exploring the region on a boat is one of the best ways to see it.
"The Society Islands are close enough together that no overnight passages are necessary among Tahiti, Moorea, Huahine, Raiatea, Taha'a, and Bora Bora," said Goodwin. "Consequently, cruise ships spend many nights at anchor inside the lagoons, giving opportunities to play in the water and take excursions into the mountainous interiors."
Goodwin, who's been visiting this region since 1977 when he made a trip there on a 41-foot yacht from Annapolis, Md., going through the Panama Canal, says experiences like climbing to Moorea's Le Belvédère Lookout or going shark-feeding on Bora Bora are not to be missed.
If you're looking to add some exotica into your cruise itinerary, there are more than Paul Gauguin and Windstar cruises. Here's a list of some of the best options available:
1 - Paul Gauguin Cruises
Paul Gauguin Cruises
Accommodating just 332 guests, the Paul Gauguin is a fixture in French Polynesia. In fact, according to the line's president, Diane Moore, the ship is the "longest continually sailing luxury cruise ship in the South Pacific." Pick from 7-, 10-, 11-, and 14-night itineraries throughout region. What's so special about the Paul Gauguin? "On each sailing, we offer two exclusive retreats," Moore told FoxNews.com. "Off the coast of Taha'a lies our private islet of Motu Mahana. Here, our guests can relax on chaise lounges, savor a barbecue lunch, enjoy drinks from our full-service bar or floating par, take part in Polynesian activities, snorkel, and kayak. In Bora Bora, our guests have access to our exclusive private beach."
Price: Per person cruise fares start at $3,995 for the 7-night Tahiti & the Society Islands itinerary.
2 - Windstar Cruises
Windstar Cruises
Windstar hasn't sailed inter-island voyages in French Polynesia since 2002, but the itineraries were a hit back then. Birkholz says, "One of the best things about Windstar is our size. With only 148 guests, we will be the smallest ship in Tahiti so it's easy for us to tuck into the hidden harbors and coves that other ships can't get to. Another unique feature of our private yacht experience is the water sports marina. At ports where the yacht is anchored, the platform comes down, and guests can kayak, waterski, wakeboard, sail, paddleboard, and swim right off the back of the yacht."
Price: The 7-night Papeete to Papeete voyage starts at $2,999 per person.
3 - Aranui
Aranui
Here's an option for the adventurous: hop Aranui III—a freighter with passenger accommodations—to spend 13 nights exploring the Tuamotu and Marquesas Islands of Fakarava, Ua Pou, Nuku Hiva, Hiva Oa, Fatu Hiva, Tahuata, Ua Huka, and Rangiroa.
Price: Per passenger fares begin at $2,975 for dormitory-style accommodations or $4,982 for a standard cabin aboard Aranui III's 13-night Marquesas Cruise.
4 - Princess Cruises
Pacific Princess (Princess Cruises)
In 2014 Princess will offer more than a dozen 10-night voyages aboard both Ocean Princess and Pacific Princess. Both ships carry 680 passengers. Ports include Tahiti, Huahine, Rangiroa, Raiatea, Bora Bora, and Moorea. Like many of the other cruise lines, Princess overnights in both Bora Bora and Moorea so passengers can spend as much time as possible exploring the islands.
Price: Princess' 10-night Tahiti & Polynesia voyage starts at $2,059 per passenger.
5 - Oceania Cruises
Oceania Cruises
Oceania's Marina, with a capacity of 1,250 guests, is one of the larger cruise ships sailing the South Pacific next year. Select from the 10-night South Pacific Isles itinerary with stops in the Society Islands as well as the Tuamotus, or the 14-night Tahitian Pearls option that adds one of the Cook Islands, Rarotonga, to the mix.
Price: Each passenger will pay $3,299 and up for the 10-night South Pacific Isles journey.
6 - Silversea
Silver Shadow (Silversea)
Two of Silversea's luxury ships will visit French Polynesia in 2014: the 382-guest Silver Shadow and the 132-passenger expedition ship Silver Explorer.Silver Shadow will visit Tahiti, Huahine, Aitutaki, Rarotonga, Bora Bora, and Moorea. Silver Explorer has programmed some longer voyages with interesting itineraries like Guam to Fiji, Fiji to Tahiti, and Tahiti to Easter Island.
Price: Passage on Silver Shadow's 10-night Papeete round-trip cruise starts at $3,950 per person. Silver Explorer cruises in the region begin at $6,950 per person.
7 - Regent Seven Seas
Seven Seas Mariner (Regent Seven Seas Cruises)
Regent's Seven Seas Mariner will sail one 10-night round-trip voyage out of Papeete in 2014 with calls on Moorea, Raiatea, Bora Bora (an overnight), Nuku Hiva (an overnight), and Rangiroa as well as two sea days.
Price: The December 7, 2014, 10-night Papeete round-trip starts at $5,999 per passenger. That price includes nine shore excursions.
By Andrea M. Rotondo, FOX News
For more cruise news & articles go to http://www.cruisecrazies.com/index.html
Re-posted on CruiseCrazies.com - Cruise News, Articles, Forums, Packing List, Ship Tracker, and more