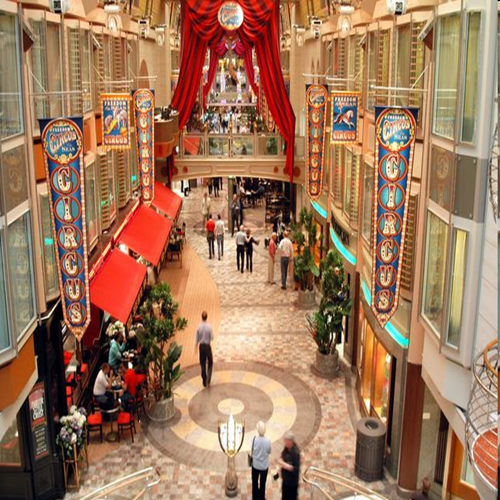 Shops on cruise ships make money for cruise lines but that doesn't mean you won't find bargains. Items from liquor to makeup to designer sunglasses and jewelry are sold without sales tax and are duty-free. That means automatic reductions.
From there, the lines (and Starboard Cruise Services, which runs the shops for most major cruise companies) sweeten the pot with omnipresent sales and promotions, such as two-for-one pricing on T-shirts and the like.
Most large ships have several shops and some have shopping malls with designer boutiques — Coach shops on Oasis of the Seas and Allure of the Seas, for instance.
Before you go too crazy, you should familiarize yourself with U.S. Customs and Border Protection rules on what you can bring back into the U.S. duty-free. Also, make sure you understand the cruise line's return policy and any applicable warranty information.
Here are the best deals at cruise ship shops:
Booze
Liquor is a top-seller, says William Butler, vice president of retail services for Carnival Cruise Lines. It's easy to see why when you compare prices. Pay $21.99, for instance, for a 1 liter bottle of Crown Royal (U.S. retail price $36.99) or $30 for Grey Goose (retail price $42.99). There are also duty-free exclusives you can't find on land such as Johnny Walker, The Gold Route ($94.99). Note: Your duty-free liquor will be delivered at the end of the cruise. If you're flying home, the bottles have to go in your checked luggage, not your carry-on.
Cigarettes
Cigarette prices vary by state so how much of a bargain you get will depend on where you live, but you will save. Cruise ship shops sell only cartons, starting with 10 packs. We've seen Marlboros priced from $21.00.
Fine jewelry
Carnival's Butler says savvy shoppers will find bargains on gold and diamonds (Carnival advertises up to 40% off wedding and engagement rings). One of the best times to buy is when manufacturers' representatives are onboard doing trunk shows from such companies as EFFY. Of course, it helps to know what you're buying. We suggest you do some price research before you leave home (or even get online from the ship and compare prices).
Costume jewelry
You may find yourself going crazy here. Cruise ships are a great place to shop for trinkets. There are sidewalk sales where glamorous cocktail rings are all priced under $50, gold-by-the-inch promotions (it's actually gold-filled or silver chain) and everything-for-$10 offers.
Designer watches
Just as with fine jewelry, you'll want to do some research but you will find deals. Carnival in its shipboard catalog (delivered to each cabin) advertises Citizen and Bulova watches reduced by up to 40%, and even better deals on the Invicta collection. There are some price-matching guarantees, says Butler. Look, too, for deals on cheap watches (just don't expect the watch to last forever).
Apple products
This one is exclusive to Celebrity Cruises. As the first Authorized Apple Reseller at Sea, on most of the ships you can buy Apple products, such as MacBook Pro, iPad, iPhone and iPod touch. Quantities are likely to be limited; if you have your heart set on a purchase, you'll want to do it early in the cruise. You save sales tax.
Perfume
Expect to save about 25% whether you prefer Chanel No. 5. Obsession, Tommy Girl or Pure Poison — a great buy if they carry what you like.
Makeup
You'll find lotions and other products by Lancôme, Estée Lauder and other manufacturers, including items packaged exclusively for sale at duty-free shops. There are decent prices and savings to be had. What you won't find is the same sorts of bonus-added giveaways you see in department stores.
Sunglasses
We've seen prices reduced about 10% for Oakley, Ray-Ban and other brands (plus you don't pay sales tax). Cruise line shops also stock a good variety of cheaper options — including in the $30 range.
Logo merchandise
If you're looking for souvenir T-shirts, sweatshirts, magnets and other logo items, watch for sales, which will be held throughout the cruise. You always save sales tax — even on Disney merchandise on Disney Cruise Line ships. If your ship is wrapping up a season — say repositioning from Alaska to the Caribbean — look for additional bargains.
By Fran Golden, USA Today
For more cruise news & articles go to http://www.cruisecrazies.com/index.html
Re-posted on CruiseCrazies.com - Cruise News, Articles, Forums, Packing List, Ship Tracker, and more