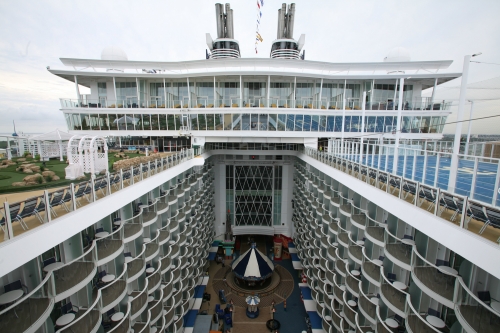 Big is still in — at least for cruise ships — judging by the dimensions of the new vessels South Florida-based operators are ordering or may soon be adding to their fleet.
Norwegian Cruise Line and Carnival Cruise Lines have ordered ships that will be the biggest in their fleet when delivered in October 2015 and winter 2016 respectively. The ships' passenger capacity will range from 4,000 to 4,200 people, slightly more than other large fleet vessels.
And Royal Caribbean International, operator of the world's largest cruise ships – the 5,400-passenger Allure of the Seas and Oasis of the Seas, is considering building another of these mega ships for delivery in mid-to-late 2016.
What's fueling this big-ship trend?
"Before ships like Royal Caribbean's Allure of the Seas and Oasis of the Seas, customers wanted to book a certain destination, but in this case, the ship is the destination," said Vicky Garcia, executive vice president of sales and marketing for Coral Springs-based Cruise Planners/American Express Travel.
The $1.5 billion each, Oasis-class ships offer a unique setting of themed 'neighborhoods', which includes Central Park, an open-air park in the center of the vessel where several restaurants and bars are located, and the Board Walk, with its handcrafted carousel and aquatic amphitheater
Part of the appeal of big ships is cruise lines have more room and opportunity to offer customers more variety, which helps to set them apart from competitors, said Anthony Hamawy, president of Cruise.com in Dania Beach, one of the Internet's largest cruise specialists.
Others agree.
Despite their typically higher cruise rates, the Oasis-class ships are top draws, Hamawy said.
Many cruise lines in recent years have added new features such as zip lines, Flow riders, 3-D moviescreens and a slew of unique or signature casual and formal restaurants to make their ships stand out.
Exactly what features some of these new big ships will sport are top secret.
Spokespeople for both Norwegian and Carnival said the designs, features and itineraries of the 2015 and 2016 ships weren't yet available, but hinted at what's to come.
"New ships such as these provide a larger canvas to create some truly exciting and groundbreaking spaces," Carnival spokesman Vance Gulliksen said.
Norwegian's Breakaway Plus will sport attributes of its previous biggest ship Norwegian Epic that launched in 2010, plus features from other vessels now under construction Norwegian Breakaway and Norwegian Getaway, Norwegian CEO Kevin Sheehan said.
"This new order further solidifies our commitment to continued innovation in terms of guest experience and will incorporate technical and environmental advances as well," said Sheehan.
The new Carnival ship will be a different class of vessel and will have a variety of dining and entertainment offerings that are part of Carnival's $500 million-plus Fun Ship 2.0 enhancement strategy and several yet-to-be announced unique features, Gulliksen said.
Another Oasis-class ship could make sense for Royal Caribbean because it's a "very successful and proven product," said Rod McLeod, a Coral Gables-based cruise industry consultant.
The lower costs and financing terms and concessions likely to be associated with this project will probably make it "very attractive to build another Oasis," he added.
Still vessels the size of the Oasis ships are often limited in terms of the number of ports that can accommodate them, said Chiron.
Port Everglades' Terminal 18 underwent roughly a $75 million renovation and expansion to accommodate Oasis and Allure, which debuted in late 2009 and 2010 respectively.
Since then, more ports and destinations are pumping dollars into new or upgraded terminals to accommodate these kinds of mega-ships.
"Royal Caribbean has been aggressive in spurring infrastructure that can handle this type of ship," Royal Caribbean International President and CEO Adam Goldstein said recently.
For example, Royal Caribbean built a pier and other amenities at Labadee, its private beach destination in Haiti and it also partnered with the Port Authority of Jamaica to create the new cruise port in Trelawny, to better accommodate its larger ships.
If another Oasis-class ship is ordered, its itineraries wouldn't be available until about early 2015, Goldstein said.
Still Port Everglades' folks say they have room for one more.
"Royal Caribbean is our partner and we would be pleased to and could accommodate another Oasis-class ship at Cruise Terminal 18 operating on different days," said Chief Executive and Port Director Steven Cernak.
By Arlene Satchell, Sun Sentinel