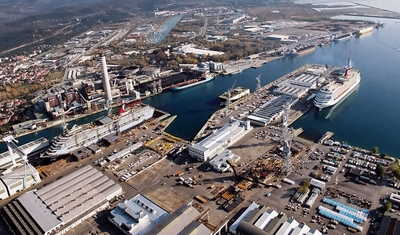 Cruise ship and defense builder Fincantieri has reported a record-setting first half, with revenues up 10 percent and a total backlog of nearly $35 billion through 2026. The firm says that its 109-ship orderbook is enough to guarantee work for all of its yards in Italy for years to come. 
Fincantieri is the world's largest cruise ship builder, and new cruise orders have led the way for the rapid growth of its revenue stream. In the first six months of the year alone, it took in nine new orders in the category, including hulls for Cunard, Viking, Princess, Tui Cruises and NCL. In addition, Princess returned last month to sign an MOU for two new LNG dual-fuel vessels, which will be the 10th and 11th LNG-powered vessels in the Carnival brand portfolio. NCL also ordered two additional Project Leonardo-class hulls in early July.
"Standing already at a record level at the end of the first half, with the new orders acquired during July our backlog now exceeds [$37 billion] and testifies our ability to build and deliver on time high value added products," said CEO Giuseppe Bono in a statement. 
To ensure continued success for its commercial work, Fincantieri recently appointed Luigi Matarazzo, a 27-year veteran shipbuilding executive, to head up its cruise ship and merchant ship businesses. He has worked with Fincantieri since 1991, and he took on the role of chief designer in 1998. He was in charge of the engineering and design of the firm's merchant vessel and cruise ship business lines from 2006 to 2016, when he was named EVP for newbuildings. 
Fincantieri will soon see a boost to its cruise ship backlog from the acquisition of a 50 percent stake in STX France (now Chantiers de l'Atlantique). It has signed a purchase agreement with the French government to take control of the yard, and while the deal has not yet closed, it is expected to be finalized soon. "Italy and France share the same desire to wrap up the STX-Fincantieri merger, which will produce one of the biggest civilian shipbuilders in the world," said French Finance Minister Bruno Le Maire during a recent visit to Rome. 
Fincantieri Marine Group appoints new CEO
Fincantieri Marine Group, Fincantieri's U.S. subsidiary, has appointed Dario Deste as its president and CEO, replacing outgoing head Francesco Valente. Over the course of six years at the helm of Fincantieri Marine Group, Valente secured multiple large government and commercial contracts and oversaw steady growth at Fincantieri's U.S. operations, the firm said. He is stepping down in order to take on another leadership position within the Fincantieri group. 
Mr. Deste, who will work alongside Valente during a transition period, has been with Fincantieri for 11 years. He was previously the CEO of Fincantieri's maintenance and repair division in  North America, which provides services for several U.S. Navy programs. 
"I would like to thank Francesco for building up our presence in the United States and preparing us for an even greater future. We wish him the best in his new position. At the same time, we are excited to welcome Dario in his new role, where he will be able to put his considerable knowledge of the international shipbuilding markets at the service of the growth of Fincantieri in the United States," said Fincantieri CEO Giuseppe Bono in a statement. 
By Maritime Executive
Re-posted on CruiseCrazies.com - Cruise News, Articles, Forums, Packing List, Ship Tracker, and more
For more cruise news and articles go to https://www.cruisecrazies.com