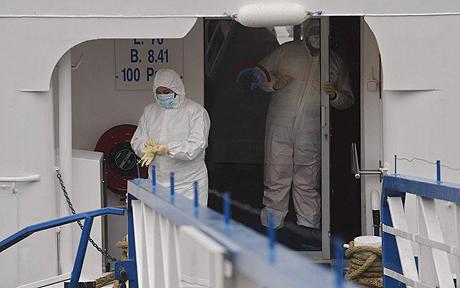 WEST PALM BEACH, Fla. - The Contact 5 Investigators discovered something alarming on board that's not often mentioned. Could cruise ship workers be putting you at risk?
NewsChannel 5 searched through hundreds of inspection reports for every cruise ship that comes in and out of U.S. ports and discovered it's not always passengers that are getting sick, it's also the people who serve you.
Cruise ships are huge floating resorts that are ready to whisk passengers away from it all. But there's a flip side to that reality – getting sick.
"I started feeling nausea and the diarrhea came in," said Jose Nasuti. He has been on more than two dozen cruises. "I really just feel it's the best bargain out there," said Nasuti.
But he didn't bargain for what happened on his last adventure.
"I lost eight pounds in four days… and literally you're going at both ends," he said.
Nasuti claimed he picked up the stomach bug at the tail end of his vacation on board the Carnival Freedom last year. "I found out three of the six people I went on the cruise will all got sick, all had the same problems," he said.
Passengers can spread the norovirus, but who's watching out for the crew members?
Inspection reports for a different cruise over the last year on the Carnival Freedom show a butcher got sick on board back in June and didn't tell the on board doctor until the next day. Plus, they claim he continued working while having symptoms.
If you'd like to look up medical reporting problems for any ship, click here.
"There's no excuse for that, once a guy's feeling sick he has to be quarantined," said Nasuti.
It was a similar case for a waiter back in January. Reports show the worker was "given a warning. "
Inspectors with the Centers for Disease Control say workers are required to report an illness right away. Plus, food workers are supposed to be isolated for at least two days, but that's not always happening.
The Contact 5 Investigators checked on about 170 ships that come in and out of U.S. ports. Fifty nine of those ships had workers that didn't report the illness properly, according to inspection reports. There was a total of 130 workers from waiters, to bartenders, to workers who wash the dishes.
Inspection reports for the Allure of the Seas show a café attendant worked the day she was sick and "broke medical isolation" to go to the laundry room and to the ship's café.
On the Freedom of the Seas, a worker who cleans the ship had diarrhea and stomach cramps but didn't report it until 12 hours later and continued cleaning.
The Centers for Disease Control is in charge of inspecting cruise ships at least once a year while they're docked at a port.
"If you have a food worker who's ill who's working with food, that' a common, really a classic way to transmit illness," said Captain Jaret Ames, Chief of CDC's Vessel Sanitation Program
"It's absolutely wrong and it's absolutely a famous way to make people sick," said Captain Ames.
The CDC can lower the ship's inspection score because of it but it's up to the cruise companies to discipline its own workers.
For more than a month, the Contact 5 Investigators tried calling, emailing and even showing up at the cruise line headquarters in Miami. No one was talking.
In a statement, Carnival said the company maintains a "zero tolerance policy" and that it has fired workers in the past for not reporting an illness.
"If you have nausea, vomiting, or diarrhea you should go to the medical facility as soon as possible," said Dr. Bradley Feuer.
Feuer is a doctor who has traveled on more than 150 cruises. He said, for the most part, cruise companies do a good job of policing their own workers. It's in their best interest to do so.
"They will take disciplinary action for employees who don't report in a timely fashion," he said.
As for Nasuti, he said it won't stop him from cruising. "Are you kidding me? No way, I'm definitely going to go on cruises, I love it," he said.
But it will change how he cruises. "I'm carrying my own hand sanitizer with me this time," he said.
In the past year, there have been 14 outbreaks of norovirus on board cruise ships. Almost 230 crew members have reported having the virus along with almost 2,400 passengers.
By Dan Krauth, WPTV.com - Impact 5 News
Re-posted on CruiseCrazies.com - Cruise News, Articles, Forums, Packing List, Ship Tracker, and more