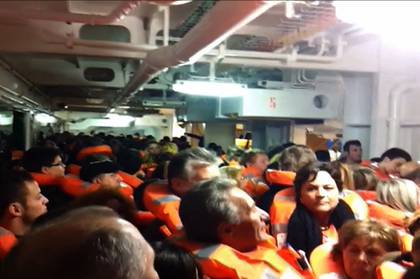 Cruise ships around the world will hold a drill with a fully loaded lifeboat at least once every six months as part of a new safety policy announced today by groups representing the industry.
The new Life Boat Loading for Training Purposes policy, announced jointly by the Cruise Lines International Association and European Cruise Council, will apply to all ocean-going vessels operated by member lines such as Carnival, Royal Caribbean, Princess and Holland America. Nearly every major cruise line in the world is a member of one or both groups.
Only crew members who have been assigned a role in operating or loading of lifeboats will be required to attend the drills. The training will involve lowering a lifeboat into the water, filling it to capacity with crew members and then maneuvering it in the water to familiarize the crew to lifeboat operations. The crew will not practice lowering a fully loaded lifeboat.
"Under this policy, only the crew that is essential for operating the lifeboat will be onboard when it is lowered," Cruise Lines International Association spokesperson David Peikin tells USA TODAY. "The additional crew members will be loaded once it is in the water, which is a more appropriate way to conduct the training called for under this policy."
The new policy comes eight months after 32 people died in the capsizing of the Costa Concordia off the coast of Italy, and it is one of several new safety policies implemented by the industry in the wake of the accident.
The preparedness of cruise ship crew for a major accident that involves a lifeboat evacuation has come into question since the Costa Concordia capsizing. A recently completed report by court-appointed experts who examined the Costa Concordia accident found the vessel's crew bungled directions, didn't understand orders and weren't trained or certified in security and emergency drills, according to the Associated Press.
"The cruise industry continues to work on a global level to improve the safety of passengers and crew, which is our number one priority," Cruise Lines International Association CEO Christine Duffy says in a statement accompanying today's announcement.
By Gene Sloan, USA Today