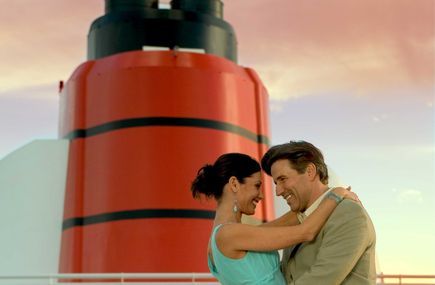 The huge business potential of weddings at sea and in ports is clearly on the radar screens of cruise lines and travel agents alike.
As the cruise industry rolls out new wedding packages and programs, agents are deriving considerable revenue from the market, despite the non-commissionable nature of cruise line wedding packages, which include the wedding elements but not the cruise itself.
Cunard, Cruise Planners get on board
Cunard launched its first weddings program this year. And executives from Norwegian and Royal Caribbean/Celebrity have talked up weddings at recent industry events – hinting they're planning changes to their wedding package offerings.
Meanwhile, Cruise Planners – American Express Travel, a large home-based agent network, has entered the weddings business by launching its own Destination Weddings by Cruise Planners program, in partnership with Imagine Weddings & Events.
Revenue potential (but no commissions)
For agents, the number one deterrent to selling weddings is that packages offered by the cruise lines – which typically include the ceremony, flowers, a cake, a photographer and a bunch of optional extras – are not commissionable.
Agents in the business, however, say that the potential exists for significant commissions on the multiple cruise bookings that weddings generate – for the wedding couple and their family and friends.
For instance, a typical wedding booking for Carolyn Waffle, CTC, an independent affiliate of Avoya Travel in Binghamton, N.Y. is 10 couples, and she's had cruise ship wedding parties as large as 32 couples.
Waffle said she enhances her take by booking the wedding party on commissionable shore excursions and selling travel insurance – de rigueur for a life event of this magnitude.
Cruise Planners' product
Cruise Planners – American Express has taken a different approach by creating its own product.
Vicky Garcia
"Our partnership with Imagine is pretty much a marriage made in heaven," Vicky Garcia, executive vice president of sales and marketing for Cruise Planners – American Express, told Travel Market Report.
"We've provided Cruise Planners travel advisors with the tools and training to be the experts in booking all travel arrangements, which is why we saw a perfect fit with Imagine taking on the wedding planning portion of it.
"It's not only an added service to the client, but the agent also earns commission on the package, so it's a win-win for everyone."
The Destination Weddings by Cruise Planners packages start at $995.
Cunard responds to customer demand Peter Shanks
Cunard's major move into the weddings market for the first time in its 172-year history was a direct result of customer demand, Peter Shanks, president and managing director of Cunard Line, told Travel Market Report.
"People are looking to do things differently, from the wedding perspective and value too, because in tougher times weddings are expensive," Shanks said.
"We'd been observing growth in the market at Princess and P&O, our sister brands," he added.
Selling the value
Although Cunard's new cruise wedding packages, like those from other cruise lines, are not commissionable, they hold benefits for agents in terms of multiple bookings and offer considerable value for clients, according to Shanks.
"You're talking two people getting married spending $3,000 to $4,000 on a cruise," he said.
"Our wedding package, which comes with included bits and pieces – the captain being there, flowers, wedding cake – is $2,500. Compare what we offer to a land-based wedding and it's great value," he said.
"It's a great opportunity for agents to say, 'How about saving money and doing an intimate wedding on the Queen Mary?'"
Tapping the market
The ease of breaking into the weddings market is another plus for agents, according to Shanks.
"The wedding fairs are very popular in big cities and small towns. You can work with wedding organizers, wedding dress shops. There's a whole industry happening around weddings," Shanks noted.
Support for agents
Cunard has an attractive wedding brochure that agents can use to show clients. "Our sales team is working with agents, and we are developing an academy program to support agents on weddings," Shanks said.
Training, he added, is essential. "You don't want to mess up someone's wedding. Agents should have great confidence. We will support them in training."
Cunard also provides a wedding planner as the sole point of contact, through its customer services team. This leads to a more "controlled experience," which is a benefit for both the wedding couple and their travel agent alike, Shanks said.
Healthy interest
Bookings this year are showing "healthy interest," both from North Americans, Germans, Australians and British passengers, Shanks said.
The first two Cunard weddings took place onboard the Queen Mary in May.
The first wedding was an intimate affair with just the happy couple and two of their best friends. But most weddings will likely have at least 15 to 20 guests, Shanks said.
2013 will be the test
Cunard sees next year as the first real test of the wedding program, as people tend to book such important events well in advance.
Shanks has big expectations for next year – 500 to 1,000 weddings aboard Cunard ships. "Based on our sister brands, that's achievable," he said.
"We believe getting married on the Queen Mary in the mid-Atlantic is a cool thing, and word of mouth will spread."
Bermuda bars same-sex unions
Shanks said he expects the couples marrying on Cunard ships to be older, perhaps on their second marriage. "The whole nature aims at a mature audience," he said.
Cunard would like to expand the wedding option to same-sex couples, but is currently prohibited from doing so by the laws of Bermuda, where its three ships are registered, according to Shanks.
"But we can do same-sex renewal of vows. And if Hamilton changes the legislation, we very much would offer same-sex weddings. We have a strong following in the 'pink' market."
By Fran Golden, Travel Market Report