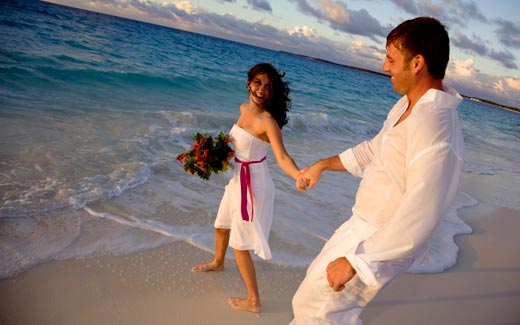 If you can't decide if you want your destination wedding to be on a cruise ship or a sunset beach ceremony, why choose?
Cruise lines are increasingly offering a complete wedding experience that is part cruise, part beach paradise.
Cruise passengers board vessels with their betrothed in hand and their wedding parties in tow -- all of whom will jump ship to celebrate the big event on, and then re-board where the party continues.
Travel agents say the Caribbean and the Bahamas are the overwhelming favorite destinations, and the price -- compared to ceremonies in the U.S. -- can be a fraction of the cost.
"It is a great trend and it's cost effective. They can have their wedding in a beautiful venue on land while local wedding planners do the paperwork and make all arrangements in advance and the couple gets back on the ship for the honeymoon," says Susie Wagner, founder and publisher of Honeymoons.com.
With the trend toward smaller, more intimate affairs on the rise -- such as 100 guests or less – cruises can offer unparalleled value. And now they're making easier than ever to make tie the knot during an island stopover.
Cruise lines have wedding planners to produce every detail – from marriage licenses, to ministers and witnesses, to boutonnieres and bouquets. And many lines have even purchased their own private islands to hold the ceremonies.
Always ahead of the pack, Disney Cruise Lines' Fairytale Weddings has been organizing off-the-ship weddings since 1998 when the cruise line purchased a Bahamian island, Castaway Cay.
Packages include flowers, music, an officiant, a cake (complete with a keepsake Mickey & Minnie figurine), and more. Since Castaway Cay is not a U.S. territory, couples are first officially married in a brief civil ceremony while still in Port Canaveral, Fla., and have a vow renewal ceremony on Castaway Cay. The price tag for this is around $3,500, plus cruise costs.
Royal Ocean Events coordinates weddings for many of the cruise lines, including Holland America, Carnival, Norwegian Cruise Lines and Princess Cruises.
"You have the luxury of a destination wedding which would normally be very costly to have all of your wedding party attend and all the benefits of a cruise vacation for prices ranging from $1800 to $2700 depending on location," says NCL spokesperson Anne Marie Matthews.
Holland America offers a wedding destination for the couple and 10 guests at its own chapel on Half Moon Cay, the cruise line's private island, as well as at Bluebeard's Castle or Lime Tree Beach on St. Thomas, Pigeon Point Beach on St. Lucia, Cockle Shell Beach on St. Kitts, Valley Church Beach on Antigua and Grand Old House on Grand Cayman.
Carnival also offers destination wedding packages at just about any port of call in the Caribbean from Barbados, Montego Bay, Ocho Rios, Grand Cayman, St. Thomas, Half Moon Cay, Grand Turk and Nassau.
If you're not too keen on the islands offered by the cruise line, don't worry. Local wedding planners work within the confines of a cruise line schedule to get you what you're looking for –while ensuring you won't miss the boat. Even local governments have helped smooth the way.
"Back in 2006 when Antigua was named Wedding Destination of the Caribbean the government scaled back its regulations so that couples could get married quick and easy," says Beverly King, wedding planner at the Jolly Beach Resort & Spa in Antigua.
A few of the easiest destinations to hold a legal ceremony on itineraries cruising to the Caribbean include U.S. embarkation ports, St. Thomas, Grand Cayman, Nassau and Cozumel." says Valerie Brizuela Mahon marketing director for Imagine Weddings & Events, which has arranged cruise ship / destination weddings in the Caribbean since 1999.
A couple jumping ship can get married on the beach at the Jolly Beach Resort & Spa when they purchase the Dream Wedding Package –which includes a day or half-day pass, per person, and an optional day-use room for $399.
On-shore weddings can be classic in style or can come in a range of themes from fairytale, to Goth, to nautical -- and even special requests are handled in stride.
"We had a wedding in St. Thomas where the couple really wanted their dogs in the ceremony. The ships do not allow this -- so they sailed and had a friend fly in their beloved dogs for the ceremony," says Mahon.
She also recalls an "adventure" wedding when "the groom surprised the bride with the wedding; and rented five helicopters with their guests who all landed atop a glacier in Alaska for the wedding," technically on dry land.
Over-the-top request like these clearly come with additional costs. Mahon says it is important to double-check what's included in wedding packages, and what's not. She says one couple wanted to "rent" a ring-bearer and flower girl -- no cruise line offers this as an option.
So if you want to make your destination wedding as splashy and memorable as you can, you can easily have the best of both worlds.
By Maria Lisella, FoxNews.com