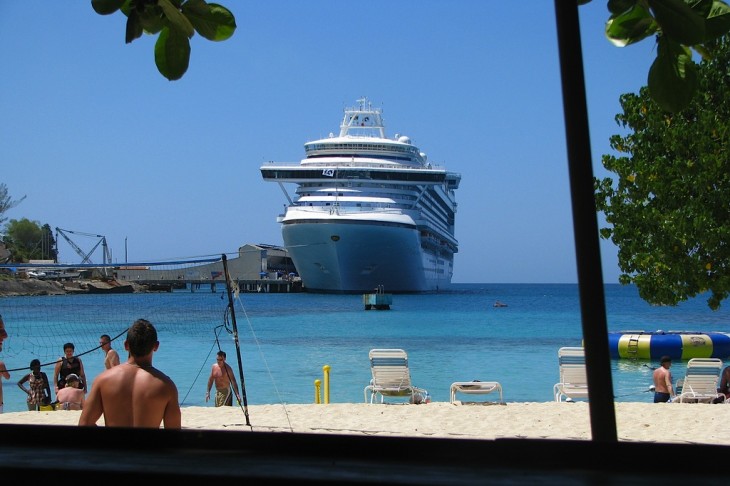 Just a few years ago, if you wanted to take a short cruise, you didn't have many choices of ships or destinations.
However, the trend now is for people to take shorter vacations of all kinds — by land, sea or air — or to combine a short land vacation with a short cruise. Cruise lines are responding by directing more of their resources toward cruises of three to five nights, especially in South Florida, the capital of the short cruise.
This season, six lines — more than ever before — will offer short cruises out of Miami and Fort Lauderdale. And unlike the days when there were few options other than a three-night cruise to Nassau, ships are also sailing to Key West, Cozumel, the Cayman Islands, Grand Turk, private islands in the Bahamas, and sometimes as far as Jamaica.
"What we found is that short cruises are very convenient, they're affordable because of the shorter itineraries, and there is a real variety," said Terry Thornton, a senior vice president with Carnival Cruise Lines, ticking off the islands where short-cruise ships out of South Florida call. "So you're not sacrificing destinations for the shorter cruise. It's a good, convenient, affordable cruise that takes you great places."
This year, for the first time, a Princess ship will sail a full season of four- and five-night cruises out of Fort Lauderdale, starting in mid-December. Carnival, which for several years has had two ships doing short cruises out of Miami, has added a ship doing occasional four- and five-night cruises interspersed with longer cruises out of Fort Lauderdale. And Disney, which last year dipped its rudder into Miami waters for the first time, this year extends its Miami short-cruise season from four months to six, sailing its first cruise out of PortMiami on Sunday.
For consumers, short cruises are cheaper, give them another option for a short getaway, and offer a chance for first-timers to sample cruising or a new cruise line at less cost than a week-long cruise. For cruise lines, they are a way to introduce themselves to new customers and maybe win them over for a longer cruise.
"For a lot of people, there is a money issue and there is a time issue," said Stewart Chiron, CEO of CruiseGuy.com. "If they only have two weeks [vacation per year], they are breaking their vacation time into smaller increments. … The four- and five-night cruises play into that very well."
Ships assigned to short cruises usually are smaller, older vessels without amenities like surf pools and alternative restaurants, Chiron said, but they offer bargain rates. Currently some short cruises are going for less than $200 a person, he said, and plenty of four-night cruises start at $299. "It's a great entree into what cruising is all about."
Jan Swartz, an executive vice president at Princess Cruises, said the company surveyed its customers and learned that many of them — in addition to cruises of a week or longer — take short vacations, such as a long weekend in New York or Las Vegas, and are open to taking those shorter getaways aboard a ship.
The purpose of adding short cruises "is to offer a short vacation break, not just for our regular customers but also for people who have not tried our premium offerings," Swartz said. Unlike other cruise lines, however, Princess assigned its second youngest ship, Ruby Princess, which debuted in 2008, to the Fort Lauderdale short cruises. The response has been so good that Princess has scheduled short cruises again for the 2014-15 season, she said. For the most part, so have the other cruise lines.
"We've certainly found that shorter cruises will appeal to families that are cruising Disney for the first time," said Lauren Falcone, a spokeswoman, "and they are often eager to go with us again. … The family will get a taste of everything Disney has to offer."
While South Florida is the biggest market for short cruises, it's not the only market that's growing. Princess added short cruises out of Los Angeles in September, and Carnival is adding a ship at Port Canaveral in 2014 for five-night cruises, interspersed with longer sailings.
Even one of the luxury lines, Crystal, is selectively breaking some of its 10- to 12-night cruises into smaller segments to fill empty staterooms on some European cruises and has been surprised by the enthusiastic response.
"In the fall of 2012, we were looking at a number of sailings in the Mediterranean that had some space. We thought, let's just carve out some shorter segments," said Mimi Weisband, Crystal's spokeswoman. The line expected the shorter sailings would be filled with Europeans who didn't have to travel far to the ship, but "to our surprise, it was so successful, we had people flying from the U.S., South America, Asia.
"More than 70 percent of them were new-to-Crystal guests, and they were an average of 10 years younger. They were affluent but time-strapped. …We started a whole new market."
Crystal has since started offering shorter cruises in other regions, although unlike other cruise lines, it first waits to see if longer cruises are filled. If not, Crystal opens shorter segments closer to the sailing date. "We've got short cruises available till April," Weisband said, "but we have others standing by, and I expect we'll be announcing more this fall."
The king of short cruises is Carnival, which offers cruises of three to five nights out of nine U.S. ports — Miami, Fort Lauderdale, Canaveral, Jacksonville, Charleston, New York, New Orleans, Galveston and Los Angeles. Almost half of its just under 4.5 million passengers will sail short cruises this year, Thornton said.
"We've been following this trend for a long time," Thornton said. "We've worked very hard to attract first-time cruisers. We know once we get a shot at that, we've got a good chance to keep them as customers. It's a good way for them to try cruising, to get their foot in the door.
"As you've seen, some of our competitors are increasing short cruises. I think what they're seeing is the same trends. They are looking for any way to create more interest in their cruises."
By Marjie Lambert, Miami Herald
For more cruise news & articles go to http://www.cruisecrazies.com/index.html
Re-posted on CruiseCrazies.com - Cruise News, Articles, Forums, Packing List, Ship Tracker, and more