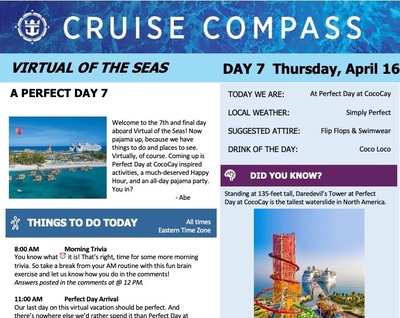 As their ships idle in ports around the globe, cruise lines are offering virtual experiences on their social media pages.
Formal nights. Towel animals. Fruity cocktails. Karaoke contests. And lots of tropical excursions.
Some consumers are charmed and play along. Others aren't impressed and hijack comment sections below the playful posts with angry demands for refunds for canceled cruises.
On Facebook, Royal Caribbean offers #VirtualoftheSeas with daily itineraries that include trivia games, DIY spa sessions, towel folding lessons, videos of popular excursions and port calls, and late night comedy shows featuring Cruise Director Abe Hughes.
Norwegian Cruise Line is offering #NorwegianStaycations. One recent post encourages consumers to "dip in the warm waters from the comfort of your couch." Another features a recipe for a popular cocktail, the Moscow Mule.
Pointing out that everyone would be stuck at home again on a recent Friday night, Carnival Cruise Line invited families to have "a Carnival-style Elegant Night" at their homes by "dressing to the nines," and posting photos of the events on the cruise line's Facebook page.
For dinner, fans are encouraged to follow a video recipe for Cucina Del Capitano's Chicken Parmagiana, followed by one for Carnival's popular Melting Chocolate Cake.
John Heald, the company's brand ambassador, promotes virtual cruise fun on his own Facebook page, posting drink recipes, asking fans to name their favorite piano bar entertainer and conducting Carnival-themed polls that seek answers to such questions as "Today's breakfast highlight is Eggs Benedict from the dining room brunch menu. Have you had any?" (Fifty-two percent said yes.)
On Thursday, Heald promoted a karaoke contest coming next week to Carnival's Instagram page, which also features a video montage of cruise line service workers declaring how much they miss the company's guests.
Comments under many of the cruise lines' posts express appreciation for the virtual efforts.
On Thursday, past guests posted hundreds of their own photos from visits to Royal Caribbean's private island, "Perfect Day at CocoCay," under the cruise line's video post of the "last day" of this week's virtual vacation.
"I was there before everything was shut down, very beautiful!" said Judy Lynn Cestertnino, along with her photo of the island's kayak stand.
Another commenter got into the virtual cruise spirit by threatening not to tip his virtual stateroom attendant for leaving a towel lobster on his floor.
By RON HURTIBISE, Sun Sentinel
Re-posted on CruiseCrazies.com - Cruise News, Articles, Forums, Packing List, Ship Tracker, and more
For more cruise news and articles go to https://www.cruisecrazies.com
Edited by Jason