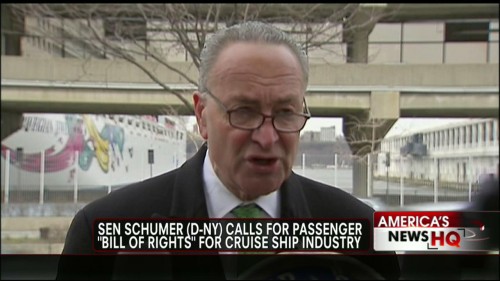 Following some highly publicized recent problems that left cruise passengers stranded without power or stuck on board with broken sewage systems, Sen. Chuck Schumer (D., New York) is proposing a Cruise Ship Passenger Bill of Rights. The plan is modeled after the Airline Passenger Bill of Rights, which became law in 2011, and outlines six rights that cruise ships can voluntarily adhere to.
But consumer advocates point out that the plan has no enforcement and may do little to ensure that passengers are protected.
"It's a misnomer to call this a bill of rights," said Paul Hudson, executive director of FlyersRights.org, which helped push the Airline Passenger Bill of Rights.
A handful of cruise ships have floundered recently, with the Carnival Triumph losing power for four days in the Gulf of Mexico in February and the Carnival Dream's diesel generator breaking down while in St. Maarten in March. Along with these very public episodes, there has been growing concern about the cruise industry. The Centers for Disease Control reported 16 outbreaks on cruise ships in 2012 and the U.S. Senate Commerce Committee found in a hearing that Carnival had experienced 90 serious incidents in the last five years.
"Cruise ships, in large part operating outside the bounds of United States enforcement, have become the wild west of the travel industry, and it's time to rein them in before anyone else gets hurt," said Schumer in a press statement announcing the bill of rights.
It is exactly the fact that cruise ships operate outside U.S. enforcement that may make regulating them challenging, however. Often, ships are registered in foreign ports with far fewer regulations, meaning they have to comply with those laws and with international maritime law when at sea – not with U.S. law.
"They can ignore any state, local, or federal laws," said Hudson. Airplanes, by comparison, follow the laws of the countries where they're registered and where they fly to or from.
In a blog post arguing that the bill of rights isn't the answer to any existing problems, Dori Saltzman wrote that legally the Bill of Rights has little ground: "How, then, could a U.S.-based bill of rights law apply to passengers once they were beyond 200 miles from the United States?"
Saltzman also argues out that a number of the outlined rights aren't logical or necessary, such as the requirement that passengers have access to full-time, on board professional medical attention.
"I don't know what cruise lines or ships Senator Schumer has sailed on, but every ship I've ever been on has had a fully staffed infirmary with medical professionals," wrote Saltzman.
The rights that Schumer calls for are these: to disembark a disabled ship, to backup power in case of generator failure, to a crew properly trained for emergencies, to real-time information updates, to a refund for trips cancelled because of mechanical problems, and to professional medical staff.
Schumer is calling for cruise providers to adopt this pledge voluntarily and for the government to also begin an investigation into the cruise industry.
"International cruise lines should pledge a written, unbreakable set of rights and values to their customers to insure both the integrity of the industry and the welfare of the passenger," Schumer wrote in his letter to the Cruise Line International Association and to the International Maritime Organization. The Cruise Line International Association has said it favors industry-initiated guidelines instead of governmental pressure.
If this bill of rights isn't the answer to recent bad press – and it likely won't be – then something else will have to revamp the damaged, limping image of cruise lines.
"It probably would be helpful to the industry, as well as consumers," said Hudson.
By Kelly O'Mara, Yahoo Compass
For more cruise news & articles go to http://www.cruisecrazies.com/index.html
Re-posted on CruiseCrazies.com - Cruise News, Articles, Forums, Packing List, Ship Tracker, and more