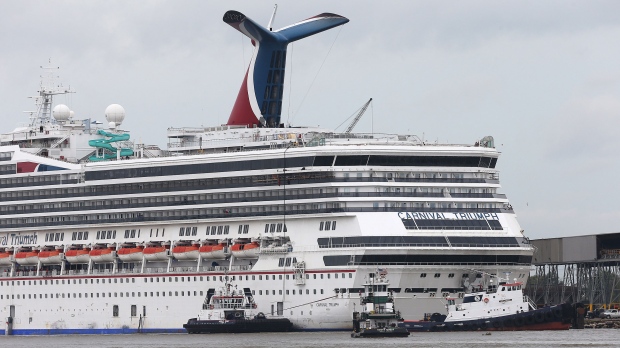 NEW YORK -- The cruise industry said Wednesday that it's adopting a passenger bill of rights that guarantees the "safety, comfort and care" of guests.
The bill of rights promises, among other things, full refunds for trips that are cancelled due to mechanical failure, and a backup power source on every ship to keep emergency systems running in the event of a main generator failure.
The announcement by the Cruise Lines International Association, which represents 25 major companies including Carnival, Royal Caribbean, Norwegian, Holland America and Cunard, comes in the aftermath of the Carnival Triumph debacle. The ship drifted for several days earlier this year without power as passengers endured filthy conditions.
Christine Duffy, president and CEO of CLIA, said the idea for the bill of rights came about in response to demands from U.S. Sen. Charles Schumer, D-N.Y.
In March, Schumer asked the industry to guarantee passengers minimum standards and protections while on a ship, including sanitary conditions, back-up power, medical care and refunds in the event of a power failure.
Schumer's office said a comment on the industry announcement was forthcoming.
In a phone interview, Duffy acknowledged that many of the steps outlined in the bill of rights are already standard practice for most major cruise lines -- such as providing refunds for trips disrupted by mechanical failure and equipping ships with backup power for emergency systems like lighting.
But she added that while "some of our members are already doing these things, a big part of the bill of rights is being consistent across the cruise industry, making these things transparent so that they do become part of the contractual agreement between the passenger and the cruise lines."
CLIA said the bill of rights would be effective immediately for U.S. passengers who purchase their cruise in North America on CLIA's North American member cruise lines. The association also said that it had submitted the bill of rights to the International Maritime Organization, "requesting formal global recognition and applicability."
The bill also gives passengers the right to disembark a docked ship if "essential provisions such as food, water, restroom facilities and access to medical care cannot adequately be provided onboard," subject to safety, security and local customs and immigration laws.
In addition to a full refund for trips cancelled due to mechanical failure, the bill guarantees partial refunds for voyages that are terminated early due to those failures.
The bill also guarantees "the right to transportation" to the ship's scheduled final port or the passenger's home city in the event the trip is terminated early due to mechanical failures.
By Beth J. Harpaz, The Associated Press
For more cruise news & articles go to http://www.cruisecrazies.com/index.html
Re-posted on CruiseCrazies.com - Cruise News, Articles, Forums, Packing List, Ship Tracker, and more