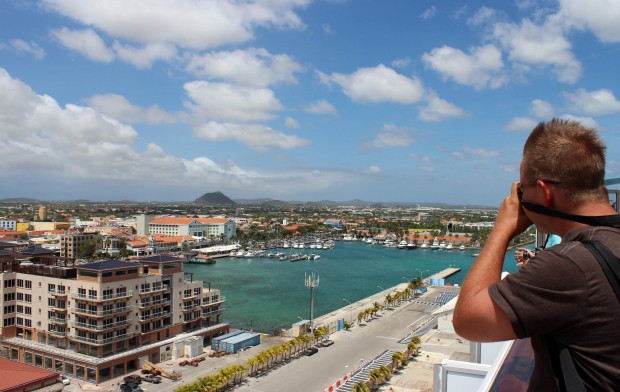 There is absolutely nothing wrong with Cozumel or the Bahamas.
But once you've seen them, it's time to branch out.
Cruise lines are experimenting with all kinds of interesting Caribbean itineraries that expose travelers to a broader swath of the region. Some feature islands that are hard to visit on your own. Some mix exotic with familiar, giving travelers a taste of wildly different cultures.
"The thing is, these islands represent different regions, and many are more European," says Carnival Valor Capt. Luigi De Angelis, who has captained ships throughout the Caribbean. His favorite islands are Aruba and Roatan, Honduras. By visiting more exotic islands with Dutch, French, English or Spanish roots, "you get a taste of all these different places on the other side of the ocean. That is why it seems to me it is more culturally interesting," he says. "On Curaçao, the people speak five languages. It's not often you go to an island where the people speak five languages."
More sophisticated than your basic western Caribbean or Bahamas itinerary, cruises labeled 'southern Caribbean" or "exotic Caribbean" usually are at least eight days long. Most leave from Miami, Fort Lauderdale or San Juan, Puerto Rico. And most cruise distances of 4,000 miles or more.
Admittedly, the exotic Caribbean isn't super trendy. Right now, the in-the-know cruise folks are flocking to the Mediterranean. The Caribbean cruise sector grew less than 1 percent in 2011 because lines redeployed ships to Europe, especially in the summer, according to Caribbean Tourism Organization data.
Caribbean cruising overall this year is expected to rise 2 percent to 3 percent, a figure that's probably optimistic. Southern Caribbean islands have been especially vulnerable to the downturn.
But that's all the more reason to go now. Exotic Caribbean cruise prices are as low as $600-$900 per person for a week or more. It's easy and cheap to get to departure ports like Miami. So seek your best deal. Look for the unusual islands. Do you know how hard it is to fly to Guadeloupe on your own? But you can get there on Brilliance of the Seas in December. And look for those bonus sea days, when the ship doesn't stop, but just glides through the turquoise water like a floating cocoon.
Looking for an unusual Caribbean itinerary, I chose a Carnival Valor cruise out of Miami in late May because it visited four spots I'd never been — Turks and Caicos, the Dominican Republic, Aruba and Curaçao.
But it was hard to choose. Some Royal Caribbean ships stop in cool places like Bonaire, St. Vincent and the Grenadines. Celebrity Cruises stop at ports in St. Croix, St. Kitts, Dominica and Grenada. Silversea and Seabourn cruises call on sophisticated St. Barts.
Yes, most of the smaller destinations don't have the tourist development of a St. Thomas or Grand Cayman. Some are poor. Not every island has duty-free shopping. But that is their charm.
Aboard Carnival Valor at the end of May, I was surprised to find that our ship was the only one in every port. In eight days, I never saw another cruise ship. It was weird, but nice.
While walking peacefully along the cruise piers, I happily imagined 8 zillion cruise ship passengers elbowing and swearing at each other at the Italian port of Civitavecchia.
It's a good question. What makes one Caribbean island more exotic than another? Think of places other cruises generally do not visit. Places hard to get to on your own. Places you may never have heard of or couldn't find on a map. Places without a Columbian Emeralds store (OK, this is hard). Places distant from tourist meccas.
For instance, our cruise stopped in Grand Turk. It delightfully turns out that while Turks and Caicos is a hip, hot destination, all of that trendy stuff is happening way over in Providenciales, about 65 miles away by sea, and definitely not in Grand Turk, where the most exciting event is watching the tide go out. Fantastic.
I likewise was pleasantly surprised by the Dominican Republic, the most visited island in the Caribbean. However, few arrive by cruise ship. Carnival Valor docked way down at La Romana, on the southern coast, hours from Punta Cana and other giant tourism hot spots. The dock was near the sugar cane fields and orchid farms. It was warm and relaxing and real. And no Columbian Emeralds shop! Maravilloso.
Down in Aruba and Curaçao, both islands with Dutch heritage, the pastel buildings seemed to shout a happy welcome to our lonesome ship. Offseason, these islands near Venezuela still were hot and friendly. Curaçao, with its swinging pedestrian bridge, is definitely different from any other Caribbean island. The citizens do speak four or five languages — Papiamentu, Dutch, English, Spanish and sometimes French.
And Aruba, with its divi divi trees bending to the wind, with its giant cacti spreading across the landscape like the old west, with its brand new Ritz Carlton rising on the shore, and with the scenic Alto Vista Chapel a sturdy outpost on a seaside cliff, was just plain fun.
EXPLORE THE EXOTIC CARIBBEAN
I like these itineraries for their breadth, combining the familiar with the exotic — especially those that stop in Curaçao; Grand Turk, Turks and Caicos; Saba; Bonaire; St. Barts; St. Croix, U.S. Virgin Islands; Tortola, British Virgin Islands; Dominica or Guadeloupe. Most of these cruises are offered on more than just these dates. Prices shown are per person based on double occupancy.
Royal Caribbean Vision of the Seas • Departs Dec. 3 for 11 nights. Fort Lauderdale; Antigua; St. Vincent and the Grenadines; St. Lucia; Barbados; Bonaire; Aruba, Fort Lauderdale ($1,019 oceanview).
Royal Caribbean Brilliance of the Seas • Departs Dec. 29 for seven nights. San Juan, Puerto Rico; Tortola ; St. Maarten; St. Kitts; Guadeloupe; Barbados, San Juan ($1,249 oceanview).
Carnival Valor • Departs Aug. 18 for seven nights. Miami; Grand Turk; La Romana, Dominican Republic ; Aruba; Curaçao, Miami ($979 oceanview).
Celebrity Summit • Departs Dec. 8 for six nights. San Juan; St. Thomas, U.S. Virgin Islands; St. Croix; St. Kitts; Dominica; Grenada, San Juan ($598 oceanview).
Seabourn Spirit • Departs Jan. 13 for 13 nights. St. Maarten; Jost Van , British Virgin Islands; St. Barts; St. Kitts; Guadeloupe; Martinique; St. Vincent and the Grenadines; Barbados; St. Lucia; Antigua; Saba, St. Maarten ($5,022 oceanview).
Norwegian Star • Departs Oct. 21 for 14 nights. New York; St. Thomas; Antigua; Barbados; Curaçao; Aruba; Cozumel, New Orleans ($2,199 balcony; oceanview sold out)
Silversea Spirit • Departs Nov. 30 for nine nights. Fort Lauderdale; Grand Turk; St. Barts; Antigua; St. Kitts; Tortola, Fort Lauderdale ($4,199 vista suite).
Prices are from Expedia, Silversea.com and Seabourn.com as of June 2012.
BUSIEST CARIBBEAN CRUISE PORTS
1. Bahamas (4.2 million cruise visitors in 2011)
2. Cozumel (2.9 million)
3. U.S. Virgin Islands (2 million)
4. St. Maarten (1.7 million)
5. Cayman Islands (1.4 million)
6. Jamaica (1.1 million)
7. Puerto Rico (1 million)
8. Belize (700,000)
9. Barbados, Antigua, Aruba (600,000 each)
10. Bermuda, British Virgin Islands, Curaçao, Haiti, St. Lucia (400,000 each)
11. Dominican Republic, Dominica, Grenada (300,000 each)
12. St. Vincent and the Grenadines, Trinidad and Tobago, Martinique (less than 100, 000 each)
Source: 2011 data from Caribbean Tourism Organization
By Ellen Creager, Detroit Free Press