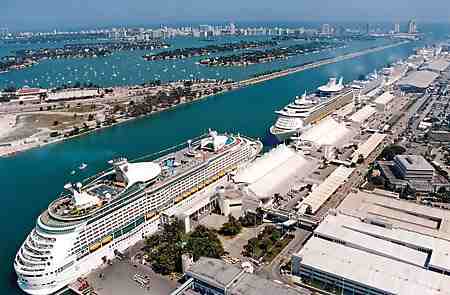 After being delayed — by several hours or a couple days — cruise ships that call South Florida home are back at sea.
Carnival Valor, Carnival Imagination, Norwegian Sky and Royal Caribbean International's Majesty of the Seas all departed PortMiami late Monday night or in the early hours of Tuesday morning.
Norwegian Sky was first to depart at nearly 10:45 p.m.; Majesty of the Seas followed as midnight approached. Carnival Imagination departed at about 1:30 a.m. and Carnival Valor was last to go around 2:30 a.m.
Most of the ships had been scheduled to leave earlier Monday, but were delayed because the port didn't reopen until later than expected Monday afternoon following the nasty weather associated with Tropical Storm Isaac. Carnival Valor, a 2,974-passenger ship, was supposed to turn around in Miami Sunday, but the port was closed all day.
Royal Caribbean's Allure of the Seas was scheduled to return to Port Everglades on Sunday, but had to wait until Tuesday. The ship arrived at the Fort Lauderdale port Tuesday morning and headed out for the next sailing, a shortened five-night voyage, later in the day.
By Hannah Sampson, Miami Herald