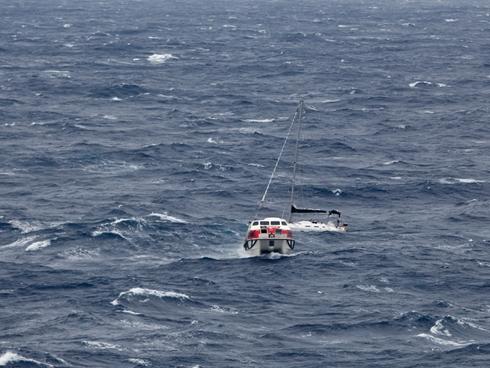 In South Florida it's not uncommon to hear of cruise ships offering assistance to distressed boaters at sea.
Claims, however, that a Princess Cruises ship recently failed to help three Panamanian boaters are raising questions about the crew training and industry obligations.
Experts say it's both a tradition and an international maritime mandate for ships to help.
"The duty to respond to persons in need of assistance at sea is based on the moral obligation to save human life," said James Walker, a South Miami maritime lawyer and publisher of Cruiselawnews.com.
Mariners also are obligated to offer aid based on International Maritime Organization rules, Walker said. The IMO regulates industry safety, security and pollution.
The organization's International Convention for the Safety of Life at Sea states: "A master of a ship at sea, which is in a position to be able to provide assistance on receiving a signal from any source that persons are in distress at sea, is bound to proceed with all speed to their assistance."
At STAR Center in Dania Beach cruise ship officers often receive instruction concerning assistance of distressed vessels in a bridge resource management course, said Capt. Gerard Pannell, director, member training and officer development.
This training stresses the value of team building and effective communication and also addresses response to onboard emergencies, said Pannell.
Every ship also has a set of procedures and "standing orders" for handling distressed vessels, he added. A ship's watch keeping officer is trained to first identify there's a problem with a vessel by recognizing distress signals such as waving of hands, flares or through radio messages.
The International Code of Signals manual, which lists and illustrates distress signals is also required to be on the bridge of every ship, he added.
For example, "the slow and repeated raising and lowering of arms outstretched to each side," is an internationally recognized distress signal, Pannell said.
Once deemed in distress, the watch officer would notify the captain and take steps to offer assistance such as maneuvering the ship and preparing a rescue boat.
The training and protocol says "if you encounter an unusual situation notify the master," said Pannell.
If the captain isn't notified there's a breakdown in communication.
Princess' cruise ship deck officers receive bridge and emergency response training including a course on assistance to other vessels at the Center for Simulator Maritime Training in The Netherlands, a company spokeswoman said.
"In the bridge management courses, the bridge team is challenged in the simulator on various emergency scenarios," spokeswoman Karen Candy said.
According to the website Panama-Guide.com, three American bird-watchers on Star Princess alleged recently that the ship's captain failed to assist the fishermen after a crew member was told of their plight. Two died in the ordeal, and the survivor was rescued after 28 days at sea.
The boaters were spotted waving frantically for assistance as the ship sailed from Ecuador to Costa Rica early on March 10, the Panama-Guide said.
In its statement Princess — a unit of Miami-based Carnival Corp. — said it was "very sorry for the tragic loss of life."
After an internal review, Princess said it suspects it was a "case of unfortunate miscommunication," as the ship's captain was never notified of the passengers' concern.
Passenger accounts however seem to conflict with the line's findings that the ship's captain was unaware of their concerns.
Princess said Tuesday it's continuing its review of the incident and that it's unclear when authorities in Bermuda, where its ships are registered, would release findings of their investigation.
The line's ships have been involved in more than 30 rescues at sea in the last decade.
Maritime lawyer Walker said based on Bermuda law, there's the potential for the ship's captain to be imprisoned and fined along with his employer.
The fishermen's families also will likely pursue civil action for compensation against the cruise line and the captain in the United States and or in Panama, he added.
For some, the Star Princess incident is an anomaly.
"The cruise industry has an incredibly good record overall of rendering assistance at sea," said Brad Schoenwald of the U.S. Coast Guard Cruise Ship National Center of Expertise in Fort Lauderdale.
Last month Royal Caribbean's Oasis of the Seas rescued 23 Cubans on a small boat as the ship sailed from Falmouth, Jamaica, to Cozumel, Mexico. They received food, water and medical treatment.
By Arlene Satchell, Sun Sentinel