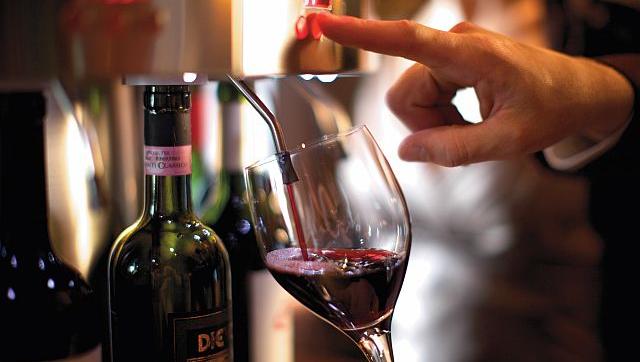 At home, you want a beer or a glass of wine you help yourself. Cruise lines are increasingly adapting a similar style. Self-serve is becoming the rage.
Celebrity Cruises started the trend in a rather elegant way, with Italian-made "enomatic" wine dispensers installed in the Cellar Masters wine bar on CelebritySolstice (launched in 2008), featuring fine wines from around the world.
The idea was that cruise passengers can try a sampling whenever they want – just a 1-ounce taste in up to a 5-ounce glass – by swiping their shipboard spending card at the fancy dispensary machines. Only cards coded for those 21 and older will work on the self-serve machines. The machines can now be found on nearly every Celebrity ship.
Recently, Norwegian quietly added wine dispensers to its fleet, starting with the Norwegian Breakaway, which debuted in the spring. They will also be found on the Norwegian Getaway, which debuts from Miami in January.
On Breakaway, the self-serve machines are in the atrium, buffet area and Studio Lounge (for solo travelers in Studio accommodations). On Getaway, the dispensers will be in the buffet, The Haven suite complex and Studio Lounge.
Wes Court, director, Restaurant & Beverage Development and Operations at Norwegian, said passengers can pour themselves a taste (starting at about $2.75 for 1.5 ounces), a half glass or a full glass, choosing from several reds and whites at each machine.
Carnival has likewise added self-serve wine as an option in the Library Bar on its Carnival Breeze and on the newly revamped Carnival Sunshine (formerly Carnival Destiny).
Self-serve beer is also a new option on Carnival Sunshine.
From dispensers in the Sunshine's Pizzeria del Capitano and in the deli area of the Lido Marketplace buffet, passengers can pour themselves a cold one with a swipe of their shipboard card – up to a 14-ounce glass of either Bud Light (for 28 cents per ounce) or Carnival's own branded beer, ThirstyFrog Red (for 29 cents per ounce).
The trick here, though, is beer requires some experience to pour from a tap. If you don't know what you're doing you may get a glass of foam.
The line is evaluating feedback from guests to see if the offer will be expanded to other ships, a Carnival spokesman said.
Norwegian is also looking at possibly adding self-serve beer down the road.
"The whole philosophy behind this with wine is pretty cool and on the beer side too when you start talking about craft beers, the idea of trying a small sampling." Court said. "You could try two ounces of Opus One (the Bordeaux blend) and it's not $200 per bottle."
By Fran Golden, USA Today
For more cruise news & articles go to http://www.cruisecrazies.com/index.html
Re-posted on CruiseCrazies.com - Cruise News, Articles, Forums, Packing List, Ship Tracker, and more