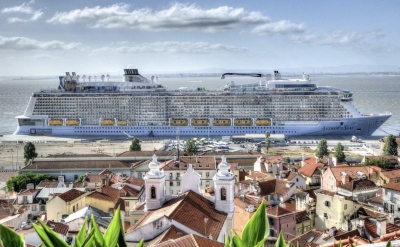 The European Union this week issued a document that it says should serve as the guidelines for the cruise industry's restart in Europe.
The guidelines, called Healthy Gateways and published in full here, include a number of health and safety measures that the EU says will, and should, keep the risk of COVID-19 infection down for both guests and crew on ships sailing European waters.
Healthy Gateways includes lines having contingency plans for COVID-19 outbreaks onboard that may include quarantine for guests and repatriation for crew members, cruise ships sailing with a reduced capacity, adequate testing either onboard or arranged prior to embarkation, enhanced crew member training, and more.
It also implores cruise lines to look toward shorter sailings with ports of call when the industry undergoes its initial restart and for cruise lines to explore bringing the check-in processes outdoors, if possible, and moving to electronic payments. 
"It is recommended to use electronic alternatives for check-in and check-out (e.g. mobile concierge or use of electronic devices that can be disinfected after each use). The possibility of using an outdoor based check-in may also be considered. It is recommended that passenger expenses are paid electronically where possible (cash should be accepted only in exceptional cases) and that bills, invoices and receipts are sent electronically, as well," the guidelines read. 
The EU also recommends that buffets, which have been a signature of a lot of sailings, be changed. 
"It is recommended that self-service food operations are avoided, and if this is not feasible, these facilities can operate only if additional specific hygiene management precautions are implemented as described in the following paragraphs. It is preferable that food is delivered by crew to passengers in closed packages or wrapped when it is delivered."
The EU's guidance also addresses a face mask requirement for guests—the EU does recommend both guests and crew wear masks while in cruise terminals and in indoor spaces on ships when physical distancing is impossible.
"Physical distancing of at least 1.5 metres (or otherwise as per national/local health authority requirements of the home port or the port of call) should be maintained at waiting areas and during boarding at transport stations, by adopting special markings and controlled entry measures. When physical distancing cannot be maintained, the use of face masks should be required," the requirements read.
In a statement responding to the guidance, CLIA called it an "important marker" for cruising's restart in Europe.
"The primary concern of CLIA and its member lines is the health and safety of its passengers and crew. This guidance from the public health authorities in Europe provides a useful resource for cruise lines as they prepare to resume operations," CLIA Europe secretary-general Tom Boardley said.
_______________________
By Daniel McCarthy, Travel Market Report (July 2, 2020); Image by Rudy and Peter Skitterians from Pixabay 
Re-posted on CruiseCrazies.com - Cruise News, Articles, Forums, Packing List, Ship Tracker, and more
For more cruise news and articles go to https://www.cruisecrazies.com