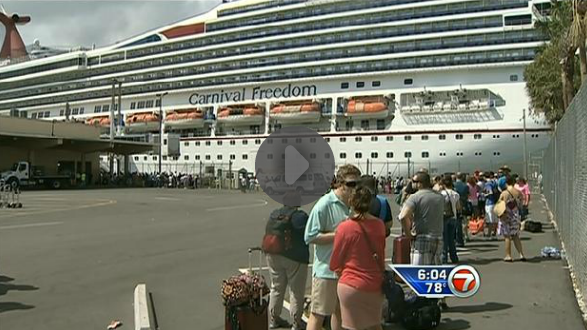 PORT EVERGLADES, Fla. (WSVN) -- Passengers at a South Florida port waited in long lines to get on dry land.
A sea of people were hot and frustrated, and sick of waiting. "Everybody is stressed out," said a woman. "We've been in line for about four hours."
Passengers were ready to debark the Carnival Freedom cruise ship before the long lines ruined what was left of their relaxing vacation. "This was my honeymoon cruise," said Jermaine Lee, "so they had me a little upset."
Many passengers said they never experienced such long lines. "I've cruised many times before and never experienced anything like this," said Mike Hoag.
Passengers blamed the lines moving at a snail's pace on federal budget cuts. They said there were only two or three U.S. Customs Border Protection Officers working. "It's crazy to try and clear 4,000 people off a ship with three agents," said Hoag.
"They said there were only three custom agents because of the budget cuts," said Damon Slone. "They've got less personnel to get people through."
Not only is it affecting the people getting off the ship, but those waiting to get out to sea as well. "It's very frustrating," said Jessica Boggs. "we're hot, we have bags, there are 17 of us in our party and we drove down from North Carolina so we're just ready to get on board and have a good time."
Carnival Cruise Line said in a statement, "The customs and immigration process for debarking guests has taken quite a bit longer than normal. It is out understanding that more than one cruise line at Port Everglades is experiencing similar circumstances. We regret the inconvenience experienced during the debark and clearance process."
From the sea to the sky, passengers at the Miami International Airport also experienced a similar situation just a few weeks ago as they waited in line for hours because of the federal budget cuts.
That cruise ship is still waiting to debark. Passengers are finally on the ship but they did have to wait up to four hours to board.
Several employees at Port Everglades said this has been happening to several cruise lines recently.
Source: WSVN.com
For more cruise news & articles go to http://www.cruisecrazies.com/index.html
Re-posted on CruiseCrazies.com - Cruise News, Articles, Forums, Packing List, Ship Tracker, and more