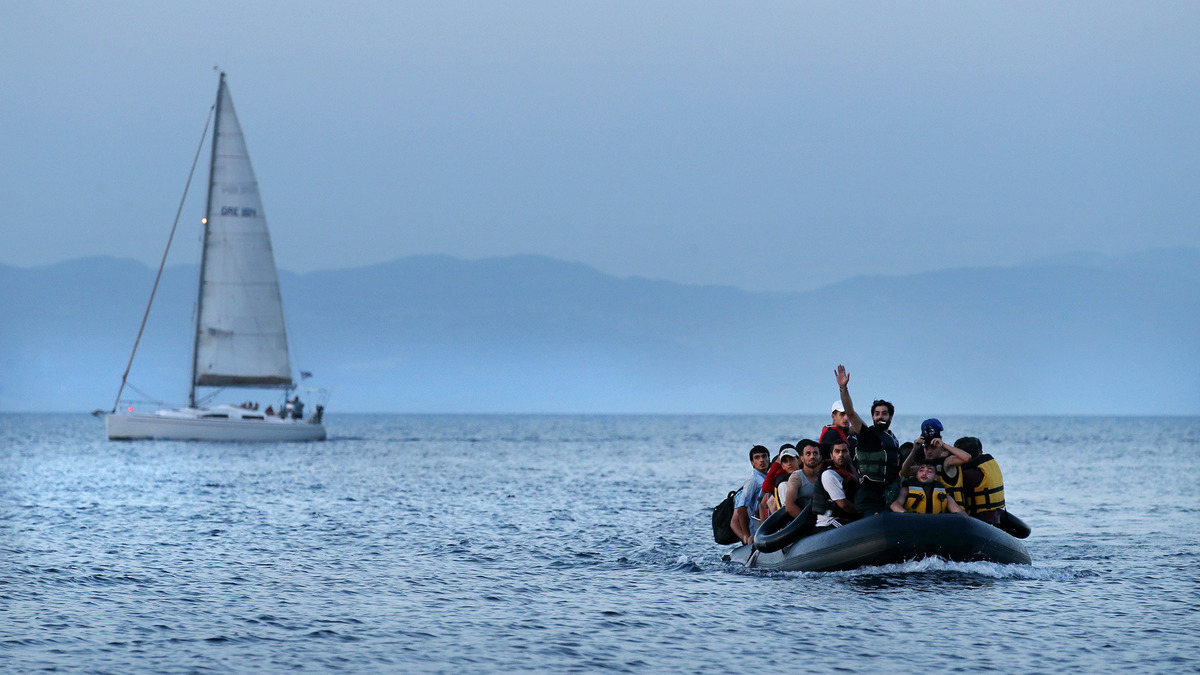 The refugee crisis in Europe is having an impact on cruise-ship travel in the region, according to Arnold Donald, chief executive officer of Carnival Corp., the world's largest cruise-line operator.
Images of bodies washing ashore and refugees packed in rafts are having a psychological impact on customer behavior, Donald said in an interview Tuesday. Would-be guests are sharing their concerns in Carnival's customer research and in questions posed to its call-center operators.
"They're asking, 'Do I want to go to sea and have my vacation disrupted?,'" Donald said. "'What if the ship has to stop to pick up refugees? I don't know who they are, what am I exposing myself to?' There is a consternation."
Carnival got 36 percent of its $15.8 billion in revenue from Europe last year. On Tuesday its shares fell fell after the company issued fourth-quarter guidance that missed analysts' projections.
The refugee crisis, coupled with an overall economic malaise, is affecting the entire tourism industry in Europe, but the cruise industry is hurt disproportionately because it involves ocean travel, Donald said.
Carnival has had to stop its ships twice this year to pick up refugees in the Mediterranean Sea. That's a fraction of the voyages the company's ships have made, Donald said.
In July, a Carnival ship, the Island Princess, rescued 117 refugees off the coast of Greece, according to the Migrant Report.
The Miami-based company reported third-quarter profit on Tuesday that beat analysts' estimates. The stock fell 5.5 percent to $49.79 at the close in New York, after Carnival forecast fourth-quarter profit, excluding some items, of 36 cents to 40 cents a share. Analysts projected 46 cents, the average of projections compiled by Bloomberg.
Donald said the business is still strong and he can't control what analysts anticipate. "We feel pretty good," he said. "We feel like we deliver results."
The refugee crisis could have a negative impact on Royal Caribbean Cruises Ltd., the world's second-largest cruise-line operator, Norwegian Cruise Line Holdings Ltd. and closely held MSC Cruises Ltd., Patrick Scholes, an analyst with SunTrust Robinson Humphrey Inc., said in an e-mail. Royal Caribbean and MSC declined to comment.
Two Norwegian lines, Regent Seven Seas Cruises and Oceania Cruises, have altered itineraries that call on Mytilene, the capital of Lesbos, a Greek island where thousands of Syrian refugees have landed.
Seven Seas Mariner's scheduled call on Sept. Sept. 29 will be replaced with a stop in Kavala, Greece, according to Vanessa Picariello, a spokeswoman for Norwegian. Kavala will also replace Seven Seas Voyager's scheduled call to Mytilene on Oct. 29, and one by Oceania Cruises' ship Nautica's on Oct. 6.
"We continue to closely monitor the situation and will make future itinerary adjustments should the need warrant," Picariello said in an e-mail.
All ships are bound by international law to assist those in distress at sea, the Cruise Lines International Assocation said in a statement Tuesday. The group said it supports efforts by the international community to address the crisis.
One advantage cruise-ship operators have over other leisure businesses is the ability to move vessels, according to Jaime Katz, an analyst with Morningstar Inc.
"If any particular coastal cities become worrisome, or if violence were to rise in a specific location, the cruise operators would alter their itineraries to visit other, more calm port locations in response," Katz said in an e-mail.
By Christopher Palmeri, Bloomberg
For more cruise news & articles go to http://www.cruisecrazies.com/index.html
Re-posted on CruiseCrazies.com - Cruise News, Articles, Forums, Packing List, Ship Tracker, and more