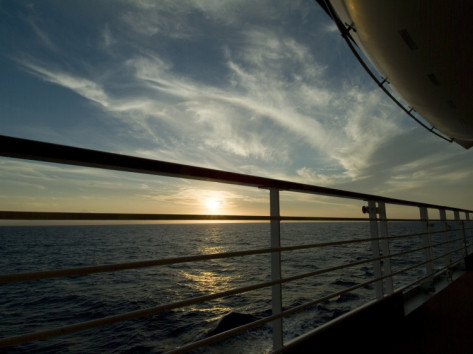 Mark Brimble, the former husband of Dianne Brimble who died aboard a P&O cruise ship in 2002 and now the Australian representative for the group International Cruise Victims, says passengers who go overboard are usually not discovered until the ship docks.
He said cruise ship operators need to raise the alarm about missing passengers much earlier, as the search continues today for two people who were discovered missing when the Carnival Spirit docked in Sydney yesterday morning, according to an ABC report.
Mr Brimble said that when the vessel arrives in port is when they find that people have gone overboard, when they check the passengers that went onboard and the number that go off, they find they've got missing passengers, adding it seems all too late after you've steamed 14 hours into Sydney Harbour to find that you've lost two passengers 14 hours before.
He added that since 1995, 198 people have been reported overboard on cruise ships around the world that's basically one person every two weeks.
Asked if the industry doing enough to keep track of this and report on it appropriately, he replied, "Well, the answer is simply no."
"There is no regulation."
"This is an unregulated industry that is taken the law into its own hands and saying that it's doing its best practices or zero tolerance to certain items, but regulation needs to be put in place where there is accurate recording of what's going on board these ships, that there's sufficient training and personnel put in place, even CCTV cameras, they need to be manned and watched."
"There is technology out there now that allows for an alarm to be made when a person goes overboard."
That would get a ship to stop, that would get a ship to go back and see if they can find any person that may or may not have gone overboard."
Source: e-Travel Blackboard
For more cruise news & articles go to http://www.cruisecrazies.com/index.html
Re-posted on CruiseCrazies.com - Cruise News, Articles, Forums, Packing List, Ship Tracker, and more