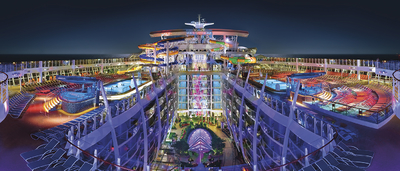 Both Miami and New Orleans this week are welcoming their biggest cruise ships ever with the arrivals of Royal Caribbean's Symphony of the Seas and Norwegian Cruise Line's Norwegian Breakaway, respectively. Miami also is just days away from welcoming another giant of the seas, Norwegian's Norwegian Bliss. 
The arrivals come just a month after Los Angeles saw the debut of its biggest cruise ship ever with a short-term stay by Bliss. Bliss will be back in the City of Angels early next year. Details: 
► Miami
With the arrival of Symphony on Friday, the world's biggest cruise hub became home to the world's biggest cruise ship. Initially unveiled earlier this year in Europe, the 228,081-ton vessel is 18 decks high and nearly 1,200 feet long. It can hold up to 6,680 passengers plus a crew up 2,200. 
Symphony will be christened Thursday at Port of Miami by actors and megacruise fans Carlos and Alexa PenaVega, along with their 17-month-old son Ocean. It then begins year-round, week-long sailings to the Caribbean out of Miami on Saturday.  
Symphony is built on the same platform as Royal Caribbean's 2-year-old Harmony of the Seas, the previous size leader in cruising. But it eclipses its sibling by more than 1,000 tons and offers new features including a first-of-its-kind, two-deck-high family suite with a slide between floors and a laser tag attraction. 
Like Harmony, Symphony also offers such gee-whiz attractions as a thrill slide that plunges nearly 100 feet, a "bionic bar" with a robot bartender, three main pool areas, a water slide complex, an adults-only solarium, an ice skating rink, two rock climbing walls, a basketball court and a mall-like indoor promenade with shops, bars and eateries. There's also an open-air, tree-lined area called Central Park with restaurants, bars and upscale shops such as Bulgari.
Symphony will be joined in Miami on Saturday by Bliss, which debuted in April. The 4,004-passenger vessel is moving to Port of Miami for the winter after spending its inaugural summer sailing to Alaska out of Seattle. It'll sail to the Caribbean out of Miami. 
At 168,028 tons, Bliss is Norwegian's largest ship ever, and it ranks among the 10 largest cruise vessels of all time. Designed to have all the trappings of a major megaresort, it features such over-the-top amusements as a two-deck-high racing course where passengers compete against each other in electric go-carts – a first for a vessel based in North America – and a sprawling water park with multistory water slides.
Bliss also offers a restaurant-lined boardwalk; Tony Award-winning production shows, including "Jersey Boys," and a giant spa. Dining options include a modern Texas barbecue eatery called Q that features live pop country music – a new concept for the line.
Miami also recently became home to one of the largest Carnival Cruise Line ships ever, the 3,954-passenger Carnival Horizon. Unveiled in April, the 133,500-ton vessel spent its inaugural the summer operating out of New York City. It's now sailing six- and eight-night voyages out of Miami to the Caribbean. 
Horizon is tied with sister ship Carnival Vista as Carnival's largest vessel ever. 
► New Orleans
Norwegian's 5-year-old Norwegian Breakaway began sailing out of the city Sunday after several years based in New York and Europe. 
The 3,963-passenger vessel is operating a series of five- to 11-day voyages from New Orleans to the western Caribbean through April. The trips will feature stops at such ports as Costa Maya and Cozumel in Mexico; Roatan, Honduras; and Belize City, Belize. Also on the schedule are day visits to Harvest Caye, Norwegian's 2-year-old private cruise hub along the southern coast of Belize. 
At 145,655 tons, Breakaway is Norwegian's fifth-largest ship, and it ranks among the 25 largest cruise vessels of all time.
Unveiled in 2013, Breakaway was the first ship in Norwegian's two-ship Breakaway series, which also includes the 145,655-ton Norwegian Getaway. It boasts 25 dining options, 22 bars and lounges, a water park, a ropes course and The Waterfront, a quarter-mile-long oceanfront promenade. On-board entertainment includes performances of the Tony award-nominated musical "Rock of Ages" and "Burn the Floor," a live dance show.
► Los Angeles
In advance of its move to Miami, Bliss sailed out of Los Angeles for more than a month starting in early October, and it'll be back in the city next spring and fall for a number of voyages. 
When based in Los Angeles, Bliss is mostly being assigned seven-night trips from the city to the Mexican Riviera. The sailings feature stops at Puerto Vallarta, Mazatlan and Cabo San Lucas.
Bliss also was the largest cruise ship ever to sail of Seattle when it was based there over the summer. Bliss will return to Seattle next summer for weekly voyages to Alaska. 
By Gene Sloan, USA Today
Re-posted on CruiseCrazies.com - Cruise News, Articles, Forums, Packing List, Ship Tracker, and more
For more cruise news and articles go to https://www.cruisecrazies.com