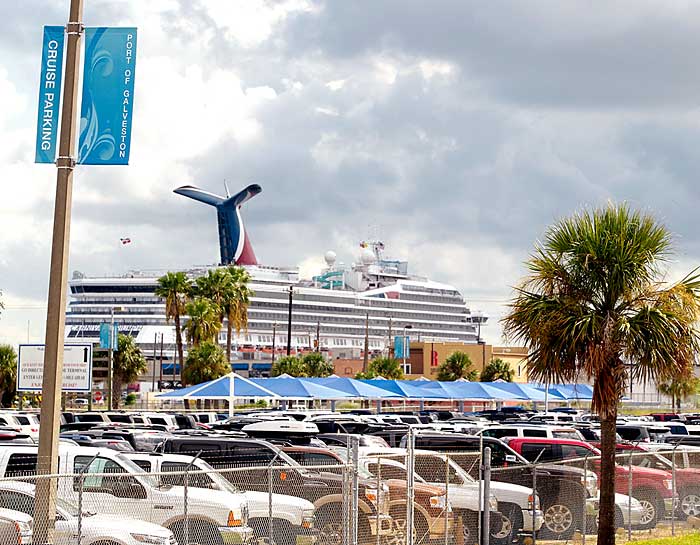 GALVESTON — The Port of Galveston plans to up the ante in the multimillion-dollar cruise ship parking game.
The port, which owns 2,750 parking spaces, competes with companies operating a combined 700 spaces on privately owned lots on the island. But that number doesn't include spaces used as incentives by island hotels and motels offering shuttle services from their properties.
Ever since cruise ships began sailing from the island 12 years ago, private lots have proliferated and competition plays out each cruise day, especially on Harborside Drive, where workers for private lots wave signs and sometimes wear costumes and other attention-grabbing attire as they try to direct cruisers into their lots.
Each private lot, no matter how small, takes away from the port's bottom line, Port Director Michael Mierzwa said.
"It's death by a thousand cuts," Mierzwa said. "Somebody might open a small lot with 25 spaces, but that's 25 less vehicles in port parking lots."
And there's no doubt that cruise-ship parking is a big moneymaker for the port, averaging gross revenues of about $3.4 million in the past three years. The budgeted gross parking revenue for this year is $4.3 million, or slightly less than $4 million after the port pays sales tax. To put that in perspective, the port last year posted operating revenues of about $25 million.
Last month, the Wharves Board of Trustees, which governs the port, discussed its yearly goals and objectives; boosting cruise-ship parking revenue was chief among them. Among the ideas the port is floating is to work with Miami-based Carnival Cruise Lines to increase parking revenue.
Trustee Benny Holland has asked Mierzwa and other port staff to meet with officials from Carnival and possibly other cruise lines to discuss giving passengers the option of paying for parking in Port of Galveston lots at the same time they buy their tickets, an agreement that could help the port capture more market share.
Holland said he's taken cruises in which the parking price was included in the ticket, making it convenient for passengers.
Talks are in the very early stages, and Carnival hasn't agreed to include port parking rates in its ticket price.
"Carnival has had some initial discussions with the port on parking initiatives, but those discussions have been very preliminary in nature," said Jennifer de la Cruz, the cruise line's spokeswoman. "I'm not able to offer more specifics at this time."
Carnival already makes parking information available on its website, including rates and a link to the port's website, de la Cruz said.
The port years ago broached the subject with Carnival, but the cruise line was reluctant to do anything that might make its prices seem higher in a hotly competitive industry, Mierzwa said.
This time, Carnival has more reason to want cruise passengers to park in Port of Galveston-owned lots. When Carnival agreed to homeport Magic and Triumph on the island — the cruise ships last year began sailing from the island, marking the largest-ever capacity commitment by a cruise line to Texas — it also negotiated to receive a 25 percent cut of Port of Galveston parking revenues from passengers sailing on its ships. That 25 percent slice kicks in after the port collects $2.5 million. The operating year between Carnival and the port is from Sept. 28, 2011, to Sept. 27 this year. The $2.5 million threshold was reached in June.
Neither Holland nor Mierzwa was apologetic about trying to gain advantage in the parking wars.
The port, which is a utility of the city but not supported by taxes, has invested more than $60 million developing two cruise ship terminals — at piers 25 and 27 — and in attracting cruise lines. The port's investment will significantly increase if it decides to build a third terminal beginning next year for times when three passenger liners will be in the port on the same day.
Five cruise ships — some seasonal and some year-round — will be sailing from Galveston by the end of the year.
The port also must help to pay for dredging the channels to make way for ever larger passenger ships, along with other expenses that come with being the No. 1 cruise ship port in the Gulf of Mexico.
Holland and Mierzwa have heard the many and varied complaints from owners of private lots. The port angered some owners of private lots and hotels by assessing fees each time a private lot van or bus drops off passengers at the cruise ship terminals. The port charges hotel shuttle buses $10 a trip. For private lots, the port assesses a shuttle access fee of $8 a month per parking space. For a parking lot with 200 spaces, that's $1,600 a month. Large coach buses are assessed a $50 fee for picking up passengers. The fees allow the port to recoup some of the costs for security and officers to direct traffic on cruise days, Mierzwa said.
While the cruise industry has been good for Galveston, it doesn't come cheap, Holland said. Owners of private lots shouldn't complain about the port's efforts to make money on parking, Holland said.
"They have no complaint coming," Holland said. "Without the port, they don't have a business."
By Jennifer Reynolds, Galveston Daily News