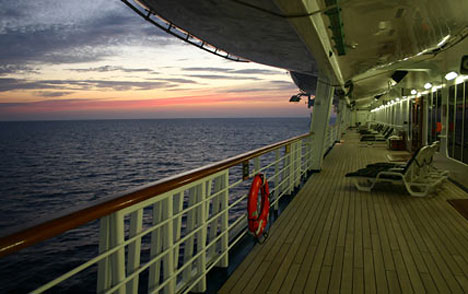 A new piece of federal legislation could give the public a more accurate picture of how often crime occurs aboard cruise ships.
Rep. Doris Matsui (D-Sacramento) on Tuesday introduced the Cruise Passenger Protection Act, which strengthens provisions in the Cruise Vessel Security and Safety Act that Congress passed in 2010.
This development comes more than a year after the Investigative Unit first raised questions about the accuracy of crime statistics reported at sea.
The bill requires the Department of Transportation to publicly post an account of all instances of alleged cruise ship crime reported to the Federal Bureau of Investigation. Currently, only crimes that are investigated—and closed—by the FBI are included in crime statistics and posted on the U.S. Coast Guard's website. The bill also requires the reporting of alleged crime against children and the number of passengers that fall overboard.
"This new bill is very important because our original intent was to allow people to see what alleged crimes may have happened—not those that have been closed," Matsui said in a one-on-one interview with NBC Bay Area at the State Capitol on Saturday.
Critics of the 2010 law say the legislation did not go far enough in making instances of crime transparent to cruise passengers.
"I think the public needs to know that what's been put up on the website of the Coast Guard is not even beginning to be accurate," said Kendall Carver, a passenger advocate. "It's a total distortion of the actual crime rates."
Last year, just 15 cases of crime were documented on the Coast Guard's website. But Carver said his organization, the International Cruise Victims Association, has received hundreds of calls and e-mails from those who say they were the victim of crime aboard a cruise ship. Carver started ICVA after his daughter disappeared on an Alaskan cruise in 2004.
In a letter from the FBI sent to Carver in response to a Freedom of Information Act Request, the agency indicated that it documented more than 400 reports of crime in 2012, including 29 sexual assaults.
The statistics online reflect 11 sexual assault cases closed by the FBI last year. "That totally misleads the public about the safety going on a cruise ship," Carver said.
The Cruise Passenger Protection Act also requires cruise companies to install surveillance cameras in all common areas on-board and gives victims the right to obtain video surveillance records if they are part of a civil action against a cruise line.
By Elyce Kirchner and Liz Wagner, NBC Bay Area
For more cruise news & articles go to http://www.cruisecrazies.com/index.html
Re-posted on CruiseCrazies.com - Cruise News, Articles, Forums, Packing List, Ship Tracker, and more