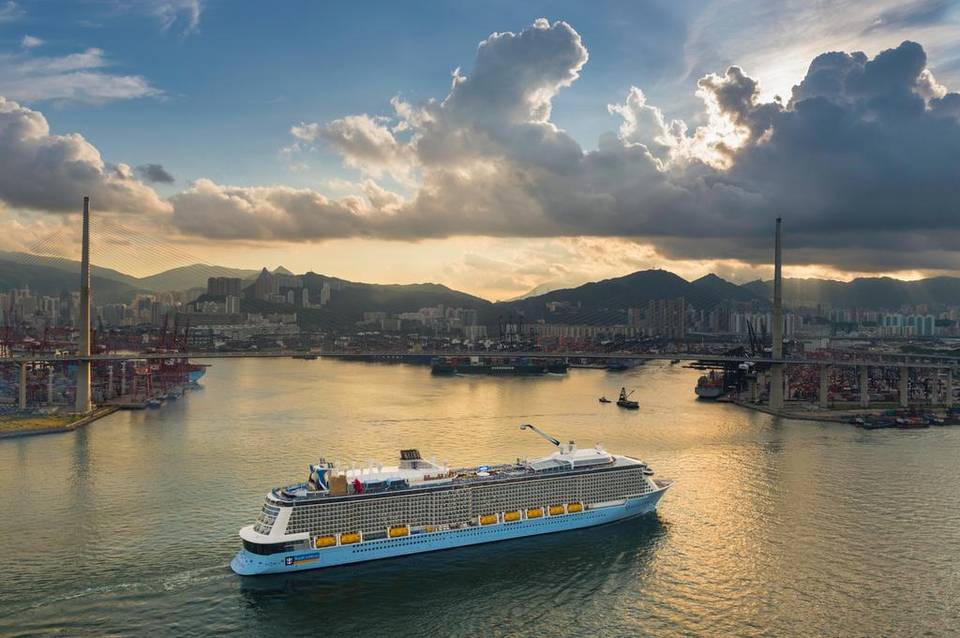 In early 2014, the cruise industry was steaming ahead with few surprises. New ships were on the horizon, including Royal Caribbean International's Quantum of the Seas, which was headed where most new ships from North American companies sail: the Caribbean.
But seven months before the ship's launch, the Miami-based cruise line revealed a twist: After an initial season sailing to the islands from New Jersey, the 4,180-passenger "smart ship" would cross the globe for its new year-round home.
In Shanghai.
"I think that surprised a lot of people in the industry," said UBS Investment Research analyst Robin Farley. "Because the growth in China had really ratcheted up in the last few years. I think it's a decision they might not have made a year earlier."
Royal Caribbean's move was just the first of a flurry of new deployment decisions that will send a parade of ships to China and its more than 1.3 billion residents in the next couple of years. Industry leaders are seeking to capitalize on a growing and affluent middle class, increased demand for outbound leisure travel and a government eager to build cruise infrastructure.
Between 2012 and 2014, the number of passengers from mainland China grew 79 percent a year, from 216,700 to 697,000, according to a report released by Cruise Lines International Association. Globally, 22.1 million people took a cruise last year, the trade group says, up from 20.9 million in 2012.
Estimates call for the Chinese cruise market to grow to more than 4 million passengers over the next several years. By comparison, in 2014, 11.3 million passengers from the United States took an ocean cruise, followed by nearly 1.8 million Germans, 1.6 million people from the UK and Ireland, and about a million from Australia and New Zealand.
International cruise lines only ventured into China as a home base for ships in 2006, when Costa Cruises, Carnival Corporation's Italian line, first deployed a vessel there catering to Chinese travelers. Royal Caribbean followed in late 2007, sailing itineraries from Shanghai and Hong Kong.
But those lines typically tested the waters with older, smaller vessels that might not have commanded top fares elsewhere.
With the Quantum move — and several since — that strategy is clearly changing. Royal Caribbean surprised observers yet again in March with the news that Ovation of the Seas, a Quantum sister, will sail from Tianjin, near Beijing in northern China, starting in the summer of 2016.
Just last month, Doral-based Carnival Corp. revealed that its 2016 China deployment would include two vessels from Princess Cruises as well as four from Costa. Princess started serving the market last year with Sapphire Princess deployed seasonally in Shanghai; that vessel, which carries 2,670 passengers, returned this June. Next year, it will sail full-time from Shanghai, while the 2,636-passenger Golden Princess will be based seasonally in Tianjin.
July's announcement followed news in May that the next new ship from Princess Cruises would be designed specifically for Chinese guests. The 3,600-passenger vessel, which is under construction, will be based in Shanghai when it launches in summer of 2017.
Analysts are expecting even more announcements in the near future, especially from major players that don't yet have capacity based in China, such as Miami-based Norwegian Cruise Line and European brand MSC Cruises.
"You now have completely changed the formula for what's going to happen in China," said Mitchell Schlesinger, a longtime industry sales and marketing executive who runs MJS Consultants in Miami.
Schlesinger, who last year spoke to students in Shanghai Maritime University's executive MBA program aimed at cruise industry development, said he expects that Norwegian Cruise Line and MSC will both earmark an upcoming ship for the China market.
"You want to get there in the throes of the excitement of all of these new ships going to China and be part of this incredible growth," he said.
Norwegian hasn't yet committed, but executives have suggested that a decision on whether and how to move forward in China is near.
During an earnings call with analysts earlier this month, Norwegian Cruise Line Holdings President and CEO Frank Del Rio said the company had expected to announce plans by spring of 2016, but now believes a decision will come sooner. He said the company has had "the benefit of learning from the industry's initial entry into the market."
"Other lines mention how their highest yielding ships are based in China," Del Rio said. "Everything we have seen indicates that is correct. We want in on that action."
NEW WEALTH
Why all the fuss over the new frontier?
Cruise industry leaders point to China's long period of sustained growth that has rapidly expanded the middle class, even with a recent slowdown and shaky stock market performance.
"There's a massive emerging middle-class [of] Chinese consumers who like American stuff," said Michael Bayley, president and CEO of Royal Caribbean International. "They like American brands, they like the American way of life."
An analysis by Bank of America Merrill Lynch suggested that 174 million Chinese tourists would spend $264 billion by 2019, up from 109 million travelers who dropped $164 billion last year, Bloomberg reported in March.
Looking to benefit from anticipated growth in tourism, the Chinese government has made growth in cruising a priority, industry players say.
After meeting with management from Carnival Corp., William Blair analyst Sharon Zackfia wrote last month that officials in China have "ambitious plans for coastal port development" over 15 years, which include eight ports being built currently.
Carnival and Royal Caribbean both say China's interest in expanding cruising has fostered their companies' growth there.
"As we were interacting with the various government authorities, they had really clear vision about how they wanted to grow what effectively for them was a small, tiny piece of their tourism business," said Bayley, who formerly oversaw international business development for parent company Royal Caribbean Cruises. "They were remarkably cooperative and collaborative and encouraged development of the cruise economy."
Much of the appeal also lies in China's potential, executives said.
"First of all, today it is a sizable market unto itself, but it's a very small percentage of what it can be," said Arnold Donald, president and CEO of Carnival Corp. "Because China can be the largest cruise market in the world."
But to appeal to Chinese vacationers, cruise lines have had to adapt.
Aside from practical changes such as hiring crew members that speak Mandarin and translating signs, Western cruise companies seeking to attract Chinese passengers are tweaking their onboard offering while holding on to their distinguishing characteristics.
The new Princess vessel, for example, will boast the glass-bottomed walkway called SeaWalk found on two sister ships and outdoor movies, a brand favorite. But the ship will also feature market-specific offerings such as a traditional English afternoon tea, hot pot dinner with an ocean view and a focus on "an unparalleled duty-free shopping experience."
Alan Buckelew, the Shanghai-based chief operations officer at Carnival Corp., said breakfast was an especially important meal to get right. Chinese passengers typically want traditional dishes such as congee, a savory rice porridge that can come with fish, meat or poultry. "It's not just bacon and eggs and pancakes," he said.
Donald said traditional wide-open casinos packed with slot machines are not as popular in China, where the gambling offerings are changed to smaller, more private setups and table games. And public spaces — especially outdoors — are important to include for group tai chi, he said.
Also key: high-end retail featuring Western brands and activities that parents can take part in with their children.
Royal Caribbean sent Quantum in part because the company sensed that status-conscious consumers would be drawn to a new, technologically advanced class of ship with simulated skydiving, robotic bartenders and an enclosed lift that stretches high into the sky.
"Chinese cruisers, they take cruises not only because it's holiday making, but also because they pursue this as a lifestyle; they see cruises are important concepts and symbolize the western civilization," said Zinan Liu, Royal Caribbean International's president for the China and North Asian Pacific region. "And they expect the best, the newest, the fanciest and often the most expensive thing."
And, Liu said, they are often willing to pay for it. Yields — or the amount a passenger pays per day — in China are higher than the average fleet, and guests are big spenders on board.
Farley, the analyst, said that in some cases, yields in China have grown at a double-digit rate for a couple years in a row.
"I think the potential for demand is very high," she said. "If the industry grew yields last year at a double-digit rate despite very high capacity increases, you should be sending supply all day long."
YOUNG TRAVELERS
Unlike in the United States, where the average cruise traveler is 49 — and lines have worked hard to attract the key millennial demographic — young Chinese travelers are flocking to cruises. More than four out of 10 passengers there were under 40, according to a CLIA study released earlier this year.
Buckelew said that 25- to 45-year-olds in China tend to have more money. "Unlike most developed counties where the wealth tends to be concentrated in the retired or nearly retired, because of China's history, most of the people who fall into that category lived through the cultural revolution and don't really have a lot of savings to show for it," he said.
But younger passengers, especially those with a child, often travel with their own parents, making it common to see seven-member family groups taking a cruise together, he said.
Because vacation time is limited in China and often scheduled around holidays, the standard cruise offering is much shorter than the weeklong voyages most Americans are accustomed to.
Liu said that while three-night cruises were initially popular on Royal Caribbean, the average is moving closer to five nights.
"I believe that cruises will get longer as [the market] gets more mature," he said.
Traveling abroad is is also regulated in China, where only some of the country's travel agents are authorized to sell outbound travel. And while visa requirements for frequently visited cruise destinations such as Japan and South Korea are being eased, travelers most often obtain required documents through an agent.
Typically, large travel agencies have chartered a block of cabins — or an entire ship — that they then re-sell to passengers. Cruise lines like the arrangement because it shifts the burden of filling staterooms to travel sellers.
But insiders believe the charter approach is already shifting.
"It's evolving very quickly," said Dwain Wall, a former vice president at CLIA and online cruise travel agencies CruiseOne and Cruises Inc. "It's going to become much more of an FIT [free independent traveler] market over the next 5 years or so as the cruise lines build out their distribution systems and travel agents become more familiar."
Wall moved to Beijing last year to serve as co-president of WorldCruise.cn, which is working to be "the leader in online cruise distribution for all the major cruise lines" in China.
He said digital outreach is much more important in China for reaching potential passengers who are accustomed to buying everything from electronics to even groceries on their phones.
"It's hard to imagine buying a cruise on a smartphone, but people are doing it," said wall, who is also president and CEO of consulting company AmChin.
Even as Western cruise lines work to make their product more accessible, they are partnering with homegrown travel companies in China to foster industry growth there.
Royal Caribbean Cruises announced a joint venture last year with Chinese travel company Ctrip to form SkySea Cruises, which the companies described as "a national cruise line for China." The line, in which Royal Caribbean and Ctrip each own a 35 percent share, launched this year using the former Celebrity Century, now renovated for the Chinese market.
And Carnival Corp. is exploring several joint ventures in China, including a possible agreement with Italian shipyard Fincantieri and China State Shipbuilding Corporation to build ships for the market. Other potential collaborations touch on port and destination development and the creation of a domestic Chinese cruise line.
"Our feeling is it's going to happen either with us or without us," Buckelew said. "And so if we're part of it, we can ensure that it's successful."
OBSTACLES
Since the industry started venturing into China, plenty of roadblocks have emerged. The 2011 earthquake and tsunami in Japan, political tensions between Japan and China and the recent Middle East Respiratory Syndrome outbreak in South Korea have all forced cruise lines to be flexible with itineraries.
The June disaster involving the Eastern Star in the Yangtze River, which killed more than 430 passengers when the ship capsized during a storm, does not seem to have scared cruisers away from ocean cruising, executives said.
"In no year do we have no challenges," Liu said. "Every year. But despite challenges, despite obstacles, we grow rapidly."
He said port infrastructure within China and in other countries is a major challenge, as development has not kept up with demand and new ports are not always as functional as they could be.
Donald, Carnival Corp.'s CEO, said the industry's penetration rate in China is so low at this point that external factors have little impact.
"You have to look at it over time," he said. "When you look at it that way, you only see upside."
Eventually, cruise lines are hoping their work cultivating new cruisers within China will translate to increased travel outside Asia.
While only 9 percent of Asian cruise passengers venture outside the region — predominantly to Europe, trailed by Alaska and the Caribbean — cruise lines are looking forward to someday welcoming more on ships across the globe.
"We think that's one of the opportunities. It's not of particular focus at the moment, but we certainly recognize it's a significant opportunity over time," Bayley told an analyst during Royal Caribbean's earnings call last month.
"That outbound market is significant and we do see an increase in outbound to products certainly into Europe and to the West Coast.
"So, yes, we think that's a good opportunity," Bayley said.
ASIAN CRUISE MARKET
The North Asia branch of Cruise Lines International Association released results of a study of the Asian cruise market earlier this year. These are some key findings:
▪ Since 2013, passenger capacity grew at a 20 percent compound annual growth rate and is expected to reach almost 2.2 million in 2015 in Asia.
▪ Almost 1.4 million Asian travelers took a cruise in 2014, a 34 percent compound annual growth rate since 2012.
▪ The number of Chinese passengers alone grew 79 percent a year between 2012 and 2014, when 697,000 passengers from mainland China took a cruise.
▪ Travelers in Asia are young: In China, Malaysia, Indonesia and Philippines, more than four out of 10 cruise passengers were under 40.
▪ In 2015, 52 cruise ships will operate in Asia, with a total of 1,065 sailings scheduled this year.
▪ The vast majority of Asian cruise passengers — 91 percent — visit destinations within Asia.
▪ There are more than 168 destinations for cruise ships to visit in 18 countries across Asia.
▪ Short trips are the way to go for Asian passengers, whose vacation time is limited. Last year, 48 percent of Asian cruisegoers took a trip that lasted four to six days, 38 percent sailed for two or three nights and 12 percent went on a longer cruise between seven and 13 nights.
Source: Cruise Lines International Association's Asia Cruise Trends study
By Hannah Sampson, Miami Herald
For more cruise news & articles go to http://www.cruisecrazies.com/index.html
Re-posted on CruiseCrazies.com - Cruise News, Articles, Forums, Packing List, Ship Tracker, and more