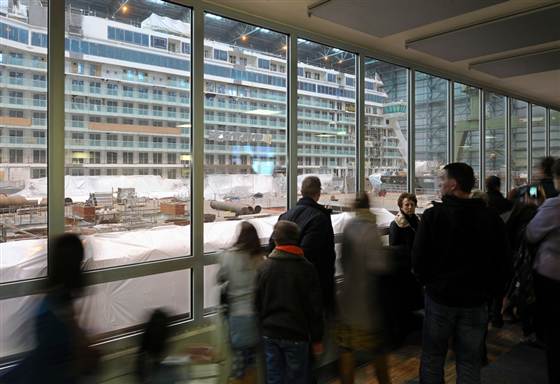 Cruise lines are building and launching bigger, newer ships that pack more cabins into less space, and the industry is riding a wave of optimism that threatens to swamp budget-conscious cruisers' efforts to score a great deal during the busiest booking season of the year.
It's called "Wave Season" and it runs between January and March, when the cruise lines try to drum up interest for the new year with deals and discounts. This year, though, the rebounding economy and strong demand mean cruisers may have to dig a little deeper to find the best deals.
"The cruise lines are coming out with sales but there are no fire sales," said Stewart Chiron, aka, The Cruise Guy. "What they're doing is using shipboard credits, upgrades and other perks to mask significantly higher cruise fares."
Even so, cruisers are likely to get some bang for their buck as the industry upgrades older ships and rolls out new ones, starting this spring and extending for the next several years.
"In the next three years, (our members) will introduce 15 new and diverse ships, ranging from contemporary vessels to smaller European riverboat products," said Lauren Phillips, spokesperson for the Cruise Lines International Association (CLIA), a trade group that represents 26 major cruise lines.
Among the upcoming additions to the fleet(s):
Norwegian Breakaway: As the first of two 146,600-ton sister ships, this 4,028-passenger vessel will be slightly smaller than NCL's flagship, Norwegian Epic, but equally packed with onboard amenities. Offering 7-night cruises from New York to Bermuda, it will launch in late April and be followed by two more ships, Norwegian Getaway in spring and an even larger, as-yet-unnamed ship in fall 2015.
Royal Princess: At 141,000 tons and 3,600 passengers, this ship will be Princess' largest ship when it launches next June. Its most striking feature will be the SeaWalk, a one-of-a-kind walkway that arcs beyond the edge of the ship, 128 feet above the water. It won't be one-of-a-kind for long, however, as a sister ship, Regal Princess, is already under construction and set to launch in spring 2014.
Project Sunshine: The moniker is only a working name and details are still sketchy but two things are already known about the newest ship from Royal Caribbean: the 158,000-ton, 4,100 passenger vessel will launch in fall 2014 and it will be followed by a sister ship in spring 2015. In addition, the company recently announced it had signed a deal to build a third Oasis-class ship to be delivered in 2016.
With so many new ships coming online — Carnival and Holland America also have new vessels on order — cruise fans could be forgiven for thinking that the increased supply will flood the market and lead to lower prices. Alas, industry observers suggest otherwise.
"That conversation comes up every time there are new ships," said Chiron. "Back in 2008–2009, the analysts were asking if it was feasible for the cruise lines to put off new deliveries but it was exactly those new ships that helped stimulate demand during difficult times.
"It's almost like Kevin Costner," he told NBC News. "If you build it, they will come."
In fact, they're coming in droves. According to Phillips, CLIA members carried a record 16.3 million passengers last year, up more than 7 percent from the year before. They're coming from more places, too: "In 2001, 11.5 percent of passengers on CLIA member lines were from outside North America," she said. "By 2011, the number nearly tripled to more than 31 percent."
At the same time, longtime cruisers may feel the crowds are even bigger than they are as the cruise lines are getting more efficient about packing more passengers into the same amount of space. As noted by , Royal Caribbean's Project Sunshine ships are similar in size to the line's Freedom-class ships but will carry 500 more guests.
Per-passenger space ratios are also expected to shrink in the new offerings from Carnival, Holland America and NCL as those lines decrease or eliminate public areas in favor of additional cabins.
Even so, industry observers still expect cruisers to flock to the new ships for the simple reason that they inevitably offer the newest and most exciting amenities.
"There are a lot of people who have been on a lot of cruises and who don't care about ports anymore," said Jay Caulk, general manager of The Travel Experts. "These new ships have enough to keep everybody busy."
In fact, Caulk says he's suggested to one cruise line CEO that the company consider using its biggest ship for a 7-night "cruise to nowhere" that would forgo ports entirely: "They'd save money on fuel and port costs; they'd massively increase their onboard revenues, and they'd have some very happy passengers.
"He did not say yes or no," Caulk told NBC News, "but I've had several e-mail exchanges with him and all of his replies are 'interesting concept.'"
By Rob Lovitt, NBC News contributor
Posted on CruiseCrazies.com:
Cruise News, Articles, Forums, Packing List, Ship Tracker, and more.