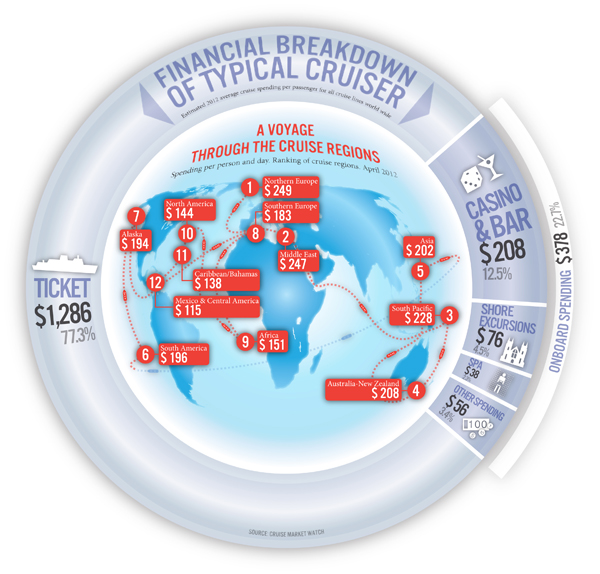 Cruise Market Watch recently researched the cost and average onboard spend per region of the 12 most popular cruise routes, including the Caribbean, Alaska, Southern Europe and the Middle East.
They discovered that the average amount that travellers are willing to spend on a ticket is $1,286, and that this is in fact 77.3% of the amount that they would spend on the trip in total. The remaining 22.7% of their budget was split over 4 other areas – the casino and bar (receiving the most at $208 per day), the spa, shore excursions, and other spending (receiving the least amount of the guest's money at only $56 per day).
The info graphic also provides useful statistics on where to cruise to get the most out of your money – If you're on a budget the most expensive region of Northern Europe ($249 per day) is perhaps not the best choice, whereas a cruise in the cheaper regions of the Caribbean and North America would be far wiser at around $100 cheaper per day.
So when you're looking to book your cruise vacation, take time to research the different options available for your specific budget so as to make the most of it. Just because a particular cruise itinerary is cheaper, doesn't make it boring or the quality any less.
Info graphic originally published on http://www.realadventures.com