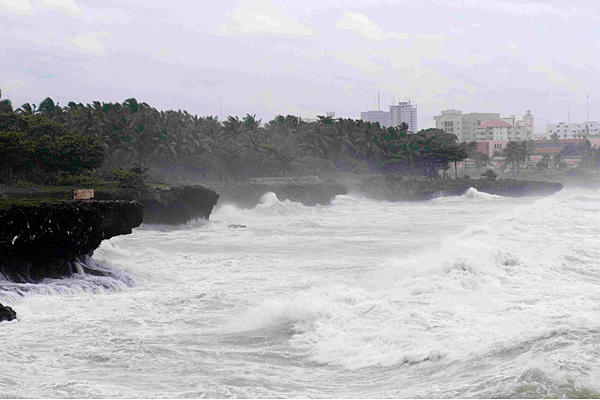 Nearly half a dozen cruise ships scheduled to return to Florida on Sunday or early today remain at sea due to Tropical Storm Isaac.
Industry giant Carnival says the closure of the port of Miami since late Saturday has forced the 2,974-passenger Carnival Valor and 2,052-passenger Carnival Imagination to delay their return to the city. Also delayed returning to Miami are Royal Caribbean's 2,350-passenger Majesty of the Seas and Norwegian Cruise Line's 2,004-passenger Norwegian Sky.
The lines say they expect the ships to return to Miami later today after the port reopens and depart on their next voyages this evening.
Also delayed in returning to Florida is Royal Caribbean's Fort Lauderdale-based, 5,400-passenger Allure of the Seas, the world's largest cruise ship. The line says the ship will return on Tuesday, two days behind schedule.
The delayed returns will have an impact on this week's sailings on several of the ships. The Carnival Valor, which was scheduled to depart Miami on Sunday on a six-night voyage, instead will operate a shortened five-night trip beginning tonight to Grand Cayman and Montego Bay. The vessel will skip a call at Key West.
Also sailing a shortened voyage this week will be Allure of the Seas, which had been scheduled to depart from Fort Lauderdale on Sunday on a seven-night trip to the Western Caribbean. The vessel instead will operate a five-night trip, skipping scheduled calls in Falmouth, Jamaica and Labadee, Haiti and adding a call in Nassau, Bahamas. Read more about changes to Allure's next sailing.
The Carnival Imagination, Majesty of the Seas and Norwegian Sky will depart from Miami several hours later than scheduled tonight but no itinerary changes for the ships have been announced.
The ships are just the latest to be affected by Tropical Storm Isaac, which arrived in the Caribbean early last week. More than half a dozen other vessels have had to alter course due to the storm, including Carnival's Carnival Dream, Carnival Destiny, Carnival Liberty, Carnival Legend and Carnival Ecstasy; Norwegian's Norwegian Gem; and Royal Caribbean's Monarch of the Seas. Read more about other ships that have been affected by the storm.
As of 8 a.m. ET, Isaac was 185 miles west-southwest of Fort Myers, Fla. and moving to the west-northwest at 14 miles per hour. The storm has maximum sustained winds of 65 miles per hour.
The National Hurricane Center says Isaac is likely to strenghten into a hurricane over the next 48 hours as it heads northwestward across the Gulf of Mexico.
By Gene Sloan, USA Today