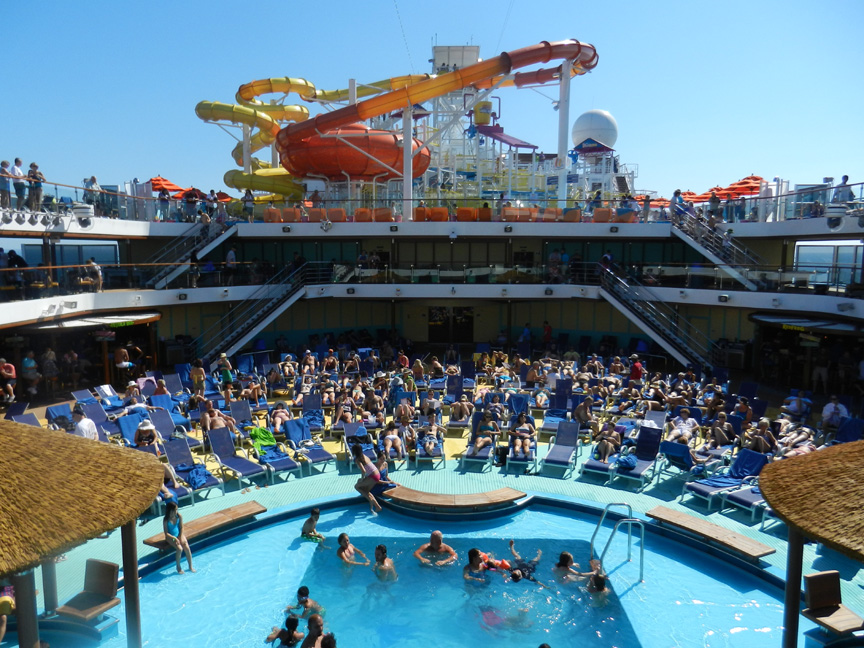 Carnival Cruise Lines is changing its colors. It's moving away from the over-the-top interior designs of the past and toward a more modern decor. And that change is most obvious in the 130,000-ton, 3,690-passenger Carnival Breeze, which is now operating its second revenue cruise in the Mediterranean.
I'm sailing aboard the ship this week as a North American press group gets a first look at the $740 million ship.While some of the new signature features have been introduced on other recently built and renovated ships, the overall new look is most evident in the Breeze, the first newbuild to be completely overseen by Gerry Cahill, who became Carnival president and CEO five years ago, and his hand-picked executive team.
"Carnival Breeze has a different look and feel," Cahill says."It's a little more contemporary, a little more Caribbean.…We are a fun-and-sun brand at our core, and the new design reflects that."
Cahill points out that staterooms have brighter colors punctuated by yellow-and-blue striped cushions and drapes.There's also more of an effort to create indoor-outdoor spaces, such as the Ocean Plaza on Deck 5, which features lanais with hot tubs as well as indoor eateries and entertainment. On sea days, an outdoor grill is set up here as Fat Jimmy's C-Side BBQ, serving up barbecued chicken, grilled sausages and pulled-pork sandwiches. When it was set up on Wednesday, long lines formed but moved quickly through the buffet line. "Our ships spend a lot of time in nice weather, so it makes sense to really develop the outdoor decks," Cahill says.
Carnival also is promoting its "branded experiences," leading off with the already introduced RedFrog Pub, Guy Fieri's Burger Joint and BlueIguana Cantina.It's also introducing new venues such as the a la carte Bonsai Sushi, a full-service restaurant that expands upon the very popular sushi bar on other ships. "We have 23 branded experiences we've introduced in the last 13 months," Cahill says. "We are not selling hardware, we are selling vacation experiences."
Most of the new restaurants and public areas will be added to the rest of the fleet over the next few years."We'll also change the decor of the older ships over time," Cahill adds.
Other notable features introduced on Carnival Breeze include the Thrill Theater, an interactive, multi-dimensional experience.Guests wear 3D glasses, but also feel the special effects of the movie, such as spritzing water, real bubbles, moving chairs, and gusts of air that tickle guests' legs and poke the back of the seats.
I have to admit it was a lot of fun. I viewed two short movies -- none are more than 20 minutes long -- about SpongeBob SquarePants and Mumble the penguin, but there are a number of other films that will be shown.The cost is $7.95 for a one-time visit or $14.95 for unlimited viewings.
Also new is the Punchliners Comedy Brunch Presented by George Lopez, held on sea days in one of the main dining rooms on sea days.The show includes a five- to 10-minute routine by one of the onboard comedians every hour on the hour from 10 a.m. to 1 p.m. The menu includes traditional brunch offerings such as eggs Benedict, blueberry pancakes and a bloody Mary bar with an assortment of hot sauces, but also grilled salmon, macaroni-and-cheese, heuvos rancheros and French toast crusted with Froot Loops, Frosted Flakes, Honey Nut Cheerios or Raisin Bran. While offering another dining option, the comedy brunch also relieves the crush of guests in the Lido Marketplace buffet at both breakfast and lunch on sea days.
A new line-up of evening entertainment by Playlist Productions was a welcome alternative to Vegas revue or Broadway tribute shows.The lively, high-tech production shows last about 30 minutes, which is especially welcome after a late-night dinner. Current shows are "Divas," "Latin Nights," "Motor City," and "The Brits!" Each show will be shown four times during a cruise.
Carnival Breeze now is operating 12-day Mediterranean voyages from Barcelona through Oct. 25.It will depart on a 15-day trans-Atlantic crossing on Nov. 6, arriving in its year-round homeport of Miami on Nov. 21, from where it will offer six- and eight-day Caribbean cruises. The ship will be christened in Miami and is one of many Carnival Cruises for a perfect cruise vacation.
So far, with a few more days to go, the new look and feel of the Carnival Breeze is being enthusiastically welcomed by guests.I'll have a full review in an upcoming issue of Vacation Agent magazine. Stay tuned!
By Theresa Norton Masek, editor in chief of Vacation Agent magazine, who covers cruises for TravelPulse