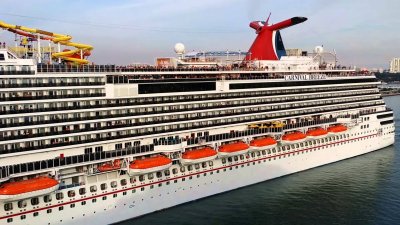 After extra week at sea due to storm,passengers reflect on their experience
For the more than 3,000 passengers aboard the Carnival Breeze, an extra week at sea due to Harvey's wrath ended on a steamy Saturday morning in Galveston.
The Breeze was the last of four ships to dock in the Port of Galveston's cruise terminal after being turned away Aug. 25 as Harvey strengthened from a tropical storm to a hurricane - leaving upward of 20,000 vacationers stranded at sea. The cruise was originally supposed to end Aug.  27 and was given clearance to dock early Saturday.
"They were amazing, Carnival took such good care of us," said Vicky Knuckles of Dallas. "They treated all of us like we were VIPs; we just continued with our cruise."
Many of the passengers were from Houston and the surrounding areas - Baytown's Kenneth and Sandra Martinez and their four kids said they were prepared for the long road to recovery ahead as their extended vacation came to a close.
"We were trying to connect with neighbors; it was hard being out there," Sandra Martinez said.
Both of the Martinezes had family members suffer losses in the storm. Sandra's brother in Baytown had 2 feet of water in his home; Kenneth's brother had 6.
"There is a small feeling of guilt," Sandra Martinez said. "Even though we were stuck, we felt guilty to be there while everyone else is going through so much and we're not there to help."
Those on board not from the afflicted areas were given a chance to disembark in New Orleans, where the ship docked twice, but Carnival advised against it, citing the inaccessibility of roads approaching Houston and Galveston.
"They highly encouraged us to stay because it was the safest place to be," passenger Meghan Gray said.
While they were unable to make port, Knuckles said, the crew went to great lengths to make the extended stay comfortable with free WiFi, phone calls and a continuation of all-inclusive amenities such as food and entertainment.
Cruising is big business for Galveston, which reported nearly 1.1 million passengers through the first seven months of this year, an increase of 8 percent from the same period last year.
More than 1.7 million passengers set sail in 2016 on cruises from Galveston, and an expanded cruise terminal also opened last year.
By Marialuisa Rincon, Houston Chronicle
Edited by Jason