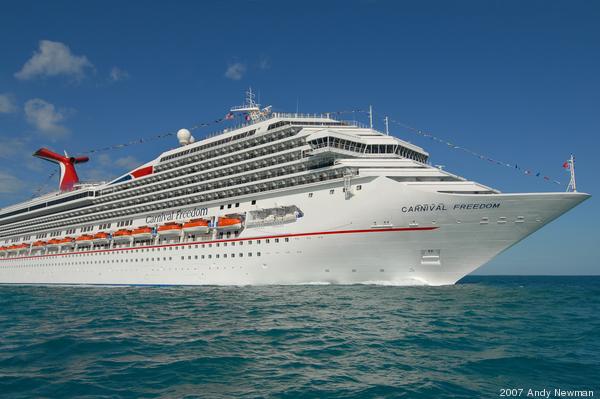 Carnival Cruise Lines recently agreed to add a third year-round ship and extend its operating agreement at the Port of Galveston.
Carnival Freedom will launch a seven-day cruise schedule from Galveston in February 2015, Miami-based Carnival Corp. (NYSE: CCL) said April 24. That will make Carnival the first cruise line to deploy three year-round ships in Texas — it also sails Carnival Magic and Carnival Triumph from Galveston.
Gerry Cahill, president and CEO of Carnival, called Galveston "one of our most popular embarkation ports."
"In partnership with the Port of Galveston and the local community we have been able to increase our passenger counts five-fold since we first launched service from Galveston in 2000," Cahill said in a statement.
This week, the Port of Galveston and Carnival approved an operating agreement that extends through 2022, according to reports. The previous agreement had been set to expire in 2017.
The new agreement has an option for one six-year renewal period, the Galveston County Daily News reports. It also includes a bump in minimum revenue for the port to $2.1 million for the first year, which begins June 1, and to $3.6 million in the following years, the Houston Chronicle reports.
The Port of Galveston is pursuing growth in the face of new local competition from the Port of Houston Authority's Bayport Cruise terminal, which began operating cruises at the end of 2013 after sitting vacant for years.
In January, the Port of Galveston said it is investing about $10 million to expand its second cruise terminal, which will help accommodate bigger ships and more passengers.
Also, with the $10 million investment, Miami-based Royal Caribbean Cruises Ltd. (NYSE: RCL) agreed to bring more cruises into Galveston. Royal Caribbean's Navigator of the Seas cruise ship, which resumed year-round service from Galveston in February, claims to be the most advanced ship in Galveston.
In February, the port's governing board also approved spending up to $100,000 to commission design plans for a third cruise terminal. Although the port has not designated a size for the new terminal, in order to serve the types of cruise ships the port is looking to attract, the building will have to be about 150,000 square feet.
The Port of Galveston ranks as the fourth busiest cruise port in the U.S.
By Olivia Pulsinelli, Houston Business Journal
For more cruise news & articles go to http://www.cruisecrazies.com/index.html
Re-posted on CruiseCrazies.com - Cruise News, Articles, Forums, Packing List, Ship Tracker, and more